5 containers of Ethiopian coffee arrived in Oakland. Here's when you can expect them.
UPDATE September 17th:
Exactly 1 container's been released to us since publishing this post, a box filled with mid-sized lots from Western Ethiopia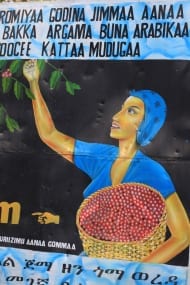 Ethiopia is the birthplace of coffee: it is in the forests of the Kaffa region that coffee arabica grew wild. Coffee is "Bun" or "Buna" in Ethiopia, so Coffee Bean is quite possibly a poor. Unfortunately, we weren't able to turn around the coffee to our own warehouse fast enough to get something listed today. We promise to add a few Ethiopia's next week, including two coffees from the Gera region, Genji Challa and Telila. Thanks again for your patience!
---
I hope I don't sound like I'm griping in this post, as there's a lot to be excited about. 5 containers of Ethiopian coffees are here, now, in Oakland, and all signs point to them being available next week. There are so many coffees it will take us weeks to list them all! There are some heavy hitting wet mills represented in these arrivals, and based on the samples we cupped, we expect big things. Their path to Oakland has been less than normal, however, and most of what's caused the delays is out of our control. Here's a more granular update on Ethiopia specifically to help you plan ahead – what you can expect, and when you can expect them – and some ramblings about what's at the heart of the shipping delays that have plagued much of 2021. Thanks for your patience! -Dan
We are going into the first week of September, and still waiting for the bulk of our Ethiopian coffees to become available. 24 lots of wet and dry processDry process coffee is a method for taking the fruit from the tree to an exportable green bean. The whole intact coffee cherry is dried in the sun with the green bean inside. Later it coffees just arrived in Oakland, but our patience continues to be tested by long queues to process incoming shipments at the port and offsite storage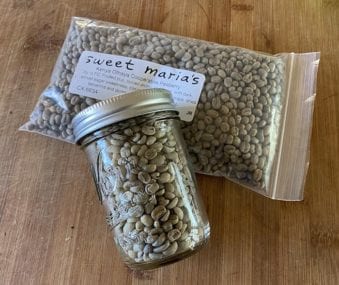 Green coffee can be stored much longer than roasted coffee: Roasted coffee starts to lose its aromatics in 10 days after roasting. Green coffee can be stored months without degrading quality.  Very often the type facilities. It's frustrating, to say the least, but is starting to look like the "A" in "ETA" is finally within reach.
So when exactly will you see new Ethiopias on the site? Other than a blip of a dry process on September the 3rd, we expect to start listing the coffee in groups in the next 2 weeks. That's the short of it. Check out the longer answer below, with a list of the coffees on deck at the end (or just jump to the list).
If you've been following Green Coffee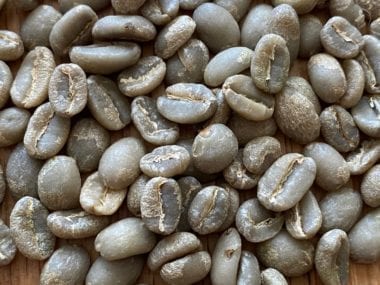 Green coffee refers to the processed seed of the coffee tree fruit. Coffee is a flowering shrub that produces fruit. The seeds of the fruit are processed, roasted, ground and prepared as an infusion.: Coffee Outlooks, or the news for that matter, you're well aware that we're in the midst of a global shipping crisis. An exponential rise in demand for consumer goods has stretched land and sea freight well beyond its limits, triggering unprecedented delays due to a shortage on shipping containers, limited capacity on vessels, and the ability to process the record breaking volume of freight at ports here and abroad.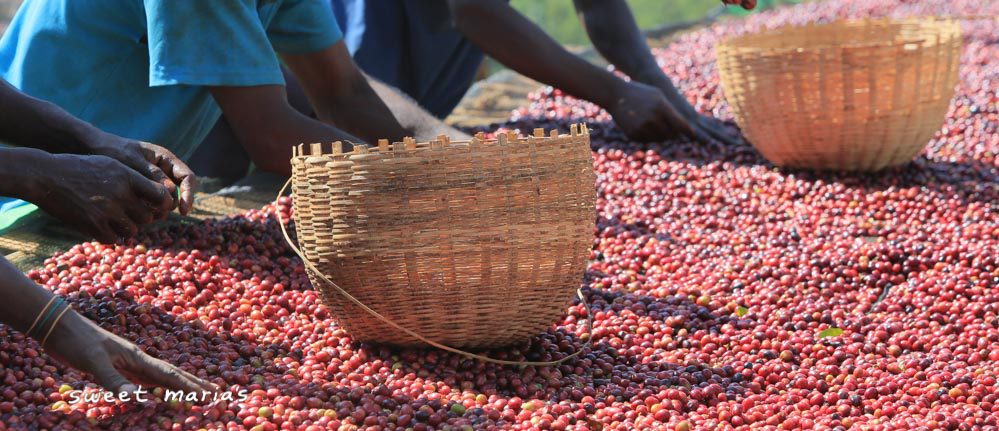 While this didn't happen overnight, we started to see delays at the Oakland Port early this year, around the time that Ethiopian coffees began shipping from originIn coffee talk, it refers to a coffee-producing region or country; such as, "I was just at origin." Of course "Origin" for most product we use is not a beautiful farm in a temperate climate,. By the time our first lots left the port of Djibouti in Ethiopia, container ship backups and materials shortages had worked their way across shipping routes, affecting both ends of the maritime journey, and all stops in between.
To give you an idea of how indirect and staggered some of these journeys have been, the 24 coffees that just arrived were packed into 5 different shipping containers, on different cargo ships, their departures staggered by as much as a month. But somehow along the way, long delays at transshipment ports, and a shortage of boat space, led to all 5 containers rendezvousing at a transfer port onto a single boat for the final leg of their journey. Sure, that makes tracking them all a lot easier. But the time it tacked onto the overall trip is a real bummer.
Even now that the coffees have finally landed, the wait is far from over. It's currently taking the Port of Oakland 2 weeks on average to process incoming cargo. Then the coffee is moved by tractor trailer to our offsite storage facility where it takes another 1-2 weeks to unload, though we're finding that the last part can take even longer if there are multiple lots in the container (shipping containers filled a single coffee are prioritized since they're easier to unload then a container with a dozen different coffees – like most of our Guatemalan and Colombian shipments for example).
Thankfully we're talking about Ethiopian coffee here, who happen to produce some of the most physically stable coffees in the world. As such, quality degradation is not a concern. Our July Ethiopia arrivals were nearly 3 months late and the coffee tasted as fresh as the offer samples from origin. If you had the pleasure of buying any of those coffees when they were available (Worka Wuri, Ajere, Chele'lektu, Aricha, etc), you know what I'm talking about!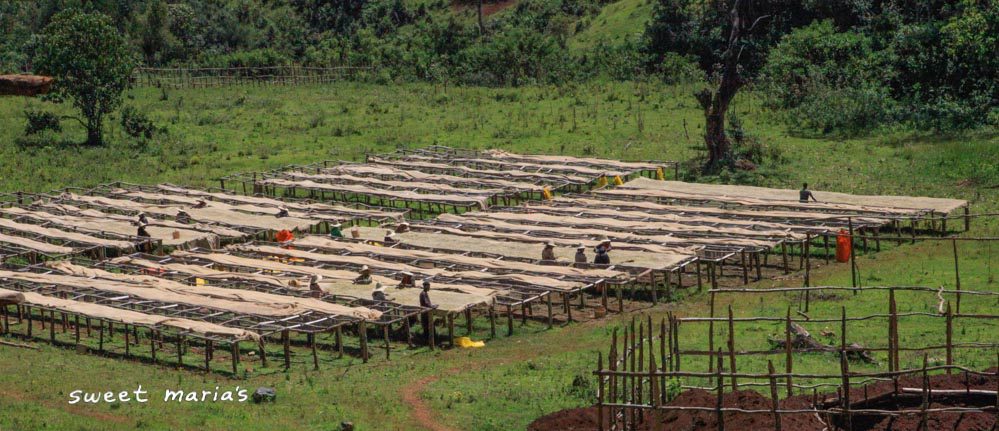 This is just one of the realities of the "Direct Trade" model. Exporting coffee directly from origin exposes you to risks like these, or if you're really unlucky, it could be even worse. Conversely, when you buy from the spot market, you're able to choose from coffees that are available at that moment. No need to wait for delivery, and the samples you taste are representative of the coffee quality as it currently sits.
Think of the food truck owner who buys their meat from Costco. If Costco are out of the organicGrown without the use of artificial fertilizers, herbicides, etc.: Organic coffee has been grown according to organic farming techniques, typically without the use of artificial fertilizers. Some farms have more local Organic Certification than the ground beef they normally buy, there are plenty of other stores with organic meat to fit their needs. It might not be the same price point, or even the same quality, but they are sure to be covered for business.
With Direct TradeA term used by coffee sellers to indicate that the coffee was purchased through a direct relationship with the farmer. Unlike Fair Trade and Organic certifications, Direct Trade is not an official, third-party certification. Our, you own the product before it's even shipped. If something happens to the coffee along the way, you own that coffee. Maybe it's late and you're unable to deliver on your wholesale orders in the contracted time. You still own that coffee, and as a consequence, your customer may buy from another importer. And if the coffee is damaged during the shipment? You still own that coffee.
Usually, routes and transit times are predictable, leaving little room for error. But now and then, things go awry, and when they do, there's little recourse to cover your investment. Even if you have the option to reject the coffee due to quality, a practice we do everything we can to avoid, it's generally the farmer who shoulders such a loss (sadly, and with a touch of irony, we hear such stories from importers, roasters who boast their "Direct Trade" biz model, "paying a fair price to farmers", etc, only to reject coffee on arrival for even the slightest change in quality…not good).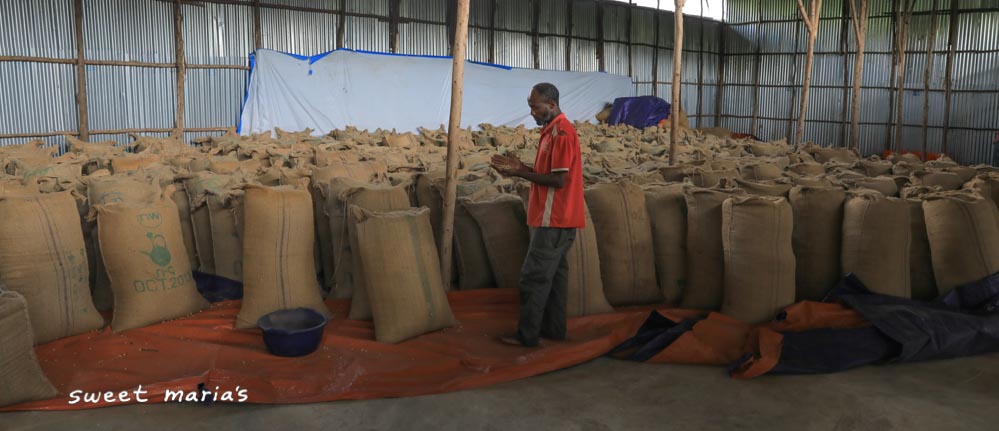 Don't get me wrong, we choose the Direct Trade model because it works best for our needs. Having a direct hand in the negotiations affords us a greater level of price transparencyTransparency is a flavor characterization synonymous with clarity. It is also a business ethics term, implying that as much information as possible about a product is made available to the consumer, and the producer as, and gives us the opportunity to buy coffee from farmers in areas we're interested to work in, the impact of which we often get to see through repeat visits. At the end of the day, we get to buy the coffees we want, rather than what's offered on an importer's list of spot coffees, which is well worth the risk.
If nothing else, this year presented us an opportunity to look at different ways of moving our coffee. The West Coast ports seemed to take the brunt of the congestion, so the East Coast became a real option, moving the coffee cross country by rail or truck. That sounds indirect, but actually saves quite a bit of time given the circumstances, justifying the added cost of logistics in our opinion.
Below is the list of Ethiopian coffees that await unloading in Oakland. So many familiar names here that we've carried in previous seasons who produce competition quality coffees like Genji/Nano Challa, Hambela Dabaye, Dambi Uddo, and more. Most are from washing stations that serve hundreds, if not more than a thousand farmers in the region, though a few are single farm estates (identified by "Aba" in the name (a title of respect, generally meaning "father").
We hope to start trickling these to the list in the next two weeks. What order they go up in depends on when the shipping containers are unloaded. We will firm up our plan next week when we have more info. Expect an update in the 9/10 newsletter.
*Check out all the newly listed coffees on Sweet Maria's HERE or Coffee Shrub HERE
Ethiopia Arrivals
Upcoming green coffees currently on the schedule to be added to our website:
Please keep in mind that the coffees on the Upcoming Coffee Outlook schedule with a location status of "In Transit" are still a bit of a wild card, and the month we have them listed under is based on the current shipping ETA, and subject to interruptions out of our control. Thanks for your patience!
September Coffee Outlook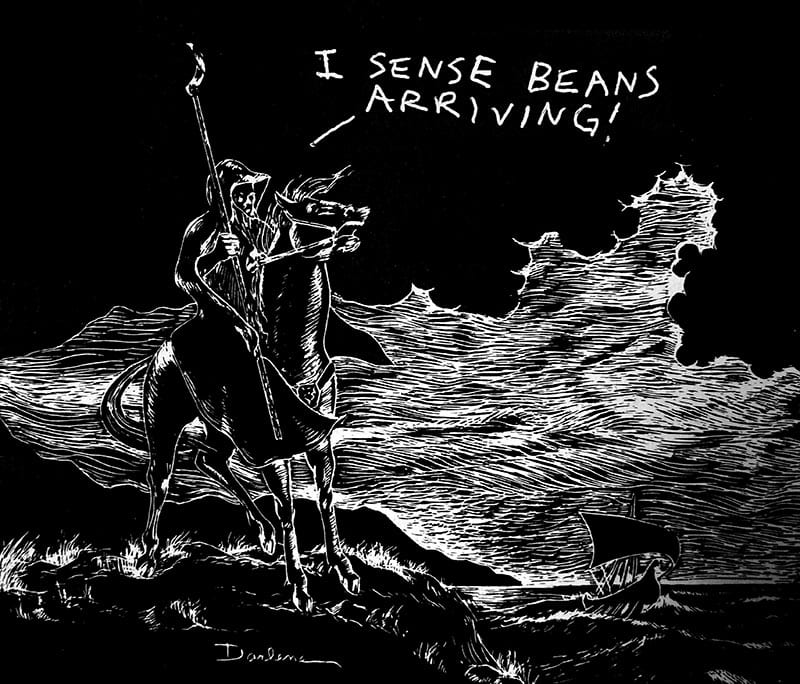 Incoming coffees currently on the water:
Africa Incoming Coffees
Central America Incoming Coffees
South America Incoming Coffees
Indonesia Incoming Coffees