1/31/2019
Here's the emailer that we sent on 1/31. If you want to subscribe, sign up on the bottom of our homepage.

BaliCoffee from the Indonesian island of Bali was formerly sold mainly to the Japanese market. Perhaps it is the changing face of world economics that finds the first... ...more Wet Hulled Bangli Kintamani – Shows some typical wet hulled qualities, unrefined molasses and date sugar, stewed fruits, molasses cookie, rusticA general characterization of pleasantly "natural" flavors, less sophisticated and less refined, but appealing. : What is Rustic? This is a general term we came up with... Dried... ...more cocoa tones, tobacco leaf, muted acidity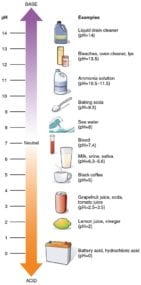 Acidity is a positive flavor attribute in coffee, also referred to as brightness or liveliness. It adds a brilliance to the cup, whereas low acid coffees can seem... ...more and an oily mouthfeelHow a coffee feels in the mouth or its apparent texture, a tactile sensation : A major component in the flavor profile of a coffee, it is a... ...more. Good for espressoA small coffee beverage, about 20 ml, prepared on an espresso machine where pressurized hot water extracted through compressed coffee.: In its most stripped-down, basic form, this is... ...more.
GuatemalaGuatemalan coffee is considered a top quality coffee producer in Central America. Due to our proximity to Guatemala, some of the nicest coffees from this origin come to... ...more Patzun Finca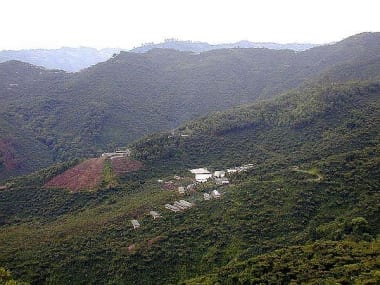 Spanish 101: Finca is the Spanish word for farm. Sometimes the term Hacienda is used to imply an Estate, which would mean the farm has its own wet-mill.... ...more La Florida – La Florida has a honeyIn coffee, honey-like sweetness is often found, but we use terms such as refined honey (highly filtered and processed) as opposed to raw honey rustic honey sweetness. This... ...more and muscovado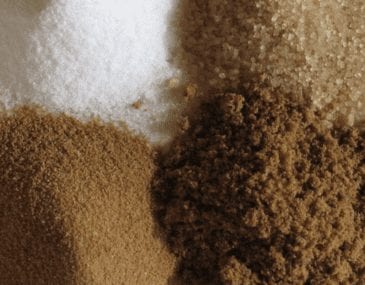 A type of unrefined brown sugar with a strong molasses flavor, although it is not made by combining molasses with white sugar.: Also known as "Barbados sugar" or... ...more sugar sweetnessSweetness is an important positive quality in fine coffees, and is one of five basic tastes: Sour, Sweet, Salty, Bitter, Savory (Umami). In coffee, sweetness is a highly... ...more, oatmeal cookie aroma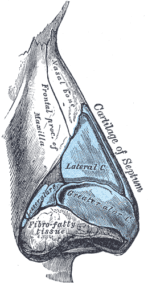 Aroma refers to sensations perceived by the olfactory bulb and conveyed to the brain; whether through the nose or "retro-nasally": The aromatics of a coffee greatly influence its... ...more, green tea-likeA term used to describe coffees with light, tannic, slighly astringent mouthfeel and tea aromatics. We find it in some Rwandan flavor profiles, among others. ...more acidity, and walnut and roasted nib finishing accents. A milder Guatemala that shows best when to City – City+City+ roast is an ideal roast level that occurs roughly between 425 and 435 degrees Fahrenheit in many coffee roasters with a responsive bean probe where First Crack... ...more. Full City will work for espresso.
Guatemala Antigua Pulcal Villa SarchiAn arabica cultivar that is a natural dwarf mutation of Bourbon, and in that way is similar to Caturra (as well as Pacas). ...more – City+ shows balanceSuggests a harmony and proportion of qualities, and implies mildness since no one quality dominates.: Balance is both an obvious and slippery taste term. It implies a harmony... ...more with notes of panela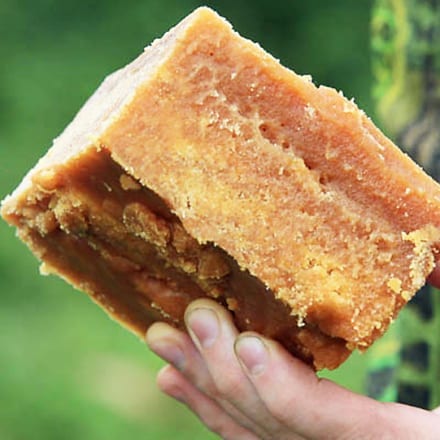 Panela is the minimally processed sugar with floral and vanilla accents: Found in Colombia (and noted to be best in Pitalito and Pedregal), Panela is tan-colored cakes of... ...more sugar, pressed cane juice, burned toffee, caramel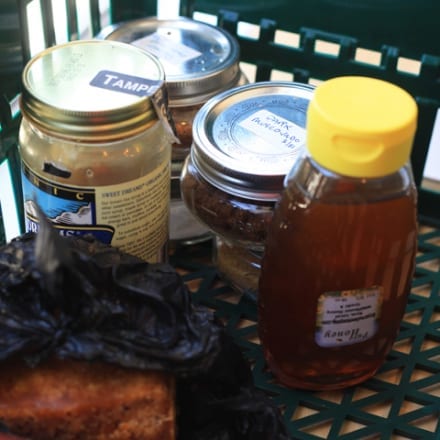 Caramel is a desirable form of sweetness found in the flavor and aroma of coffee, and is an extension of roast taste. Extremely light or dark coffees will... ...more apple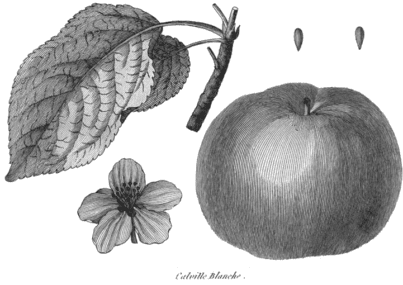 An acid that adds to favorable perceptions of cup quality; malic acid often adds apple-like acidity, and perhaps other taste aspects recalling apples. Malic acid is yet another... ...more, and a mild backing of baking chocolate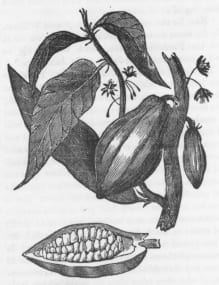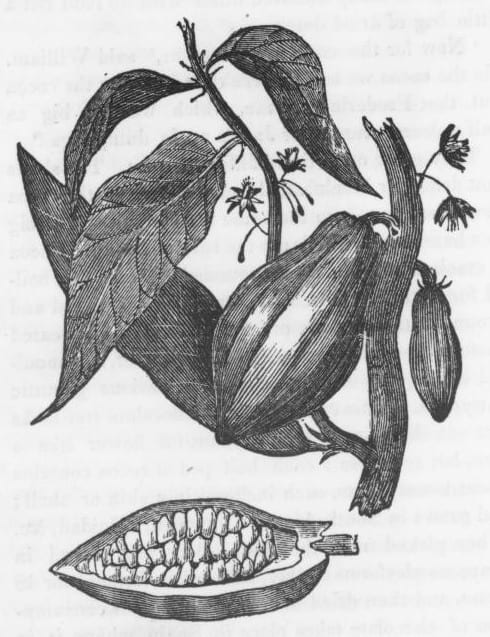 A general flavor or aroma term reminiscent of chocolate. But what type? Usually described with more specifics.: Chocolate is a broad, general flavor or aroma term reminiscent of... ...more (deeper cocoa tones at FC and beyond). Vibrant green apple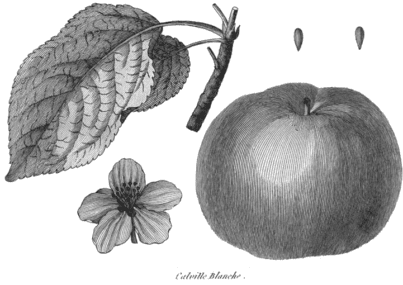 Apple-like flavors in coffee can take on many different forms. The more common ones we use relate to malic acid brightness, which can recall different apple types: green... ...more brightnessA euphemistic term we use often to describe acidity in coffee. A bright coffee has more high, acidic notes. : A euphemistic term to describe acidity in coffee.... ...more. Good espresso.
ColombiaColombian coffee is highly marketed and widely available in the US. They have been largely successful at equating the name Colombian Coffee with "Good" Coffee. This is half-true.... ...more Inzá Las Estrellas – Light roast have honey and raw panela sugar sweetness, hints of apple tea, raisin, green grape-like acidity, and a cinnamon aftertasteAftertaste refers to lingering residual sensations in the mouth after coffee has swallowed. It might be distinguished from "finish" which is the final sensations of the coffee while... ...more. Dark roast show hints of rum-raisin pudding and syrupy dark chocolate. Good for espresso.
KenyaKenya is the East African powerhouse of the coffee world. Both in the cup, and the way they run their trade, everything is topnotch.: Kenya is the East... ...more Kiambu Japem AA – Full City constructs the more well-rounded cup in my opinion, where dark fruit, bittersweetness, and acidity all seemed to fall in place. Delicious blueberry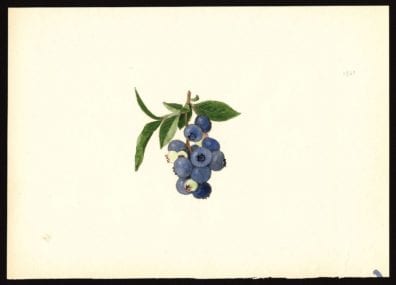 Blueberry flavors in coffee take different forms. Dried blueberry was something we first encountered in natural Harar coffee from Ethiopia. It seemed to be most potent in fresh... ...more, bittersweetBittersweet is from the language of chocolate, and describes the co-presence of positive bittering compounds balanced by sweetness. It is directly related to caramelization, but has inputs from... ...more dark cacao, grapefruit juice, and surprisingly vibrant acidity.
Costa RicaCosta Rican coffee is typically very clean, sweet, with lots of floral accents. hey are prized for their high notes: bright citrus or berry-like flavors in the acidity,... ...more Roger Solis La Casona – A modest brewed coffeeBrewed Coffee refers to all coffee preparations produced by adding non-pressurized water to coffee grounds. Contrasted with espresso coffee, which is produced under pressure, brewed coffee is primarily... ...more, sweetness ranging from light brown sugar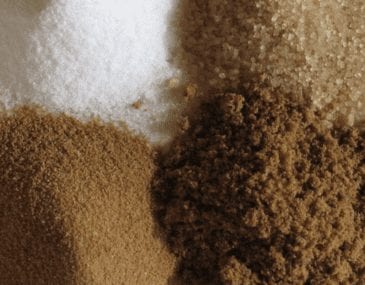 Brown sugar is a type of sweetness found in coffee ...a sweetness characterized by a hint of molasses, yet quite refined as well. Since Brown sugar of the... ...more to caramelizing smokeyUsually a defect of roasting, or of green coffee processing, smokey notes are sometimes found as a positive flavor in a few exotic coffees; This smell and flavor... ...more sweetness when roasted dark. Butter toffee, caramel, roasted almond, and bittering cocoa. Good for espresso.
Papua New GuineaPapua New Guinea (PNG) occupies the eastern half of the island it shares with the Indonesian province of Irian Jaya, part of Indonesia. The two primary areas for... ...more Honey Nebilyer EstateA "coffee estate" is used to imply a farm that has its own processing facility, a wet-mill. In Spanish this is called an Hacienda. A Finca (farm) does... ...more – Honey process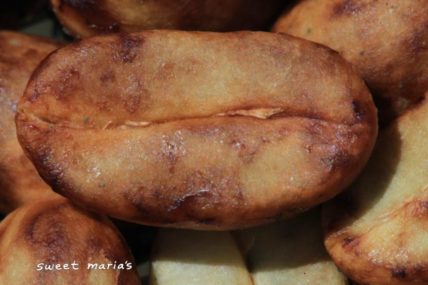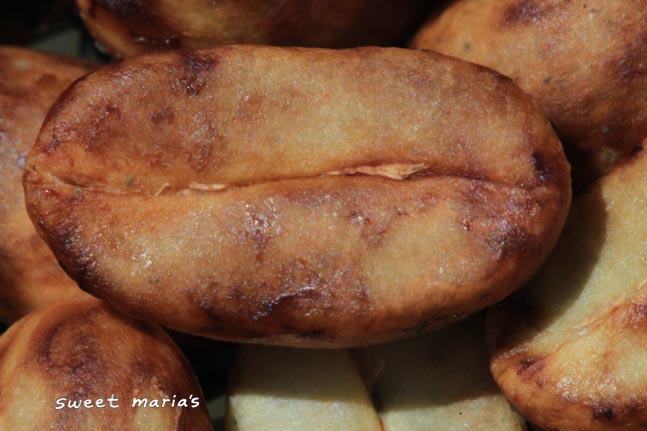 "Red honey" process gesha at a coffee farm in Costa Rica's Central Valley growing region. The honey process has nothing to do with honey other than the fact... ...more seems to bring out fruitedIn some coffee taster's lexicon, "fruity" means the coffee is tainted with fruit, and "fruited" means a coffee is graced by positive fruit notes. We don't exactly see... ...more notes like cranberry, raisin, red grape, and underscored by molasses-like sweetness. This PNG boasts bodyAssociated with and sensed by mouthfeel, body is sense of weight and thickness of the brew, caused by the percentage of soluble solids in the cup, including all... ...more, and with mild acidity, is great espresso too. Good for espresso.
RwandaA Bourbon cultivar variant from Rwanda and Burundi. Bourbon coffees are named for the island in the India Ocean where French colonists grew it. Some history from the... ...more Gikongoro Robusta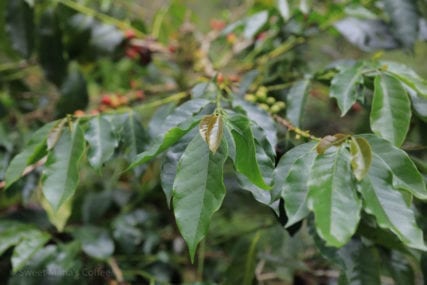 Ateng is a common name for Catimor coffees widely planted in Sumatra and other Indonesia isles.: Ateng, with several subtypes, is a common name for Catimor coffees widely... ...more – The cup is all about bittering cocoa, mild malty sweetness, muted acidity, and massive body. Roasted buckwheat, leather, and nutty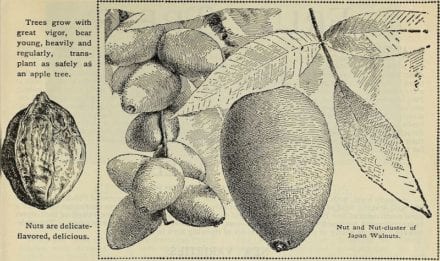 Nutty is a broad flavor term, reminiscent of nuts ... but what kind exactly?: Nutty is a broad flavor term, reminiscent of nuts. It is tied intrinsically to... ...more notes mark the aroma and finishSimilar to aftertaste, but it refers to the impression as the coffee leaves the palate. Aftertaste is the sensations gathered after the coffee has left the mouth. We... ...more. Good for espresso blending.

Last year, Sweet Maria's donations to Beshasha Prep School near Agaro, EthiopiaEthiopia, formerly known as Abyssinia, or a coffee cultivar: Ethiopia, or more specifically the Empire under Haile Selassie,  was known as Abyssinia. The name is Latin, derived from... ...more allowed the the school to purchase computers, desks and other needed supplies. In 2019 we are continuing our efforts and are hoping you can help by purchasing a few pounds of our Ethiopia Agaro coffees. Sweet Maria's will donate $.20 per pound sold.
Ethiopia Agaro Kedamai Cooperative
Ethiopia Agaro Nano Challa Cooperative