Stay up to date on coffee we have coming down the pipeline and our latest green coffee outlook and arrivals schedule.
Green Coffee Notes for August 2021:
So far, a few containers have made their way through the port and into our warehouse in late July/early August, but not without all of the expected shipping delays.
Coffees from Costa RicaCosta Rican coffee is typically very clean, sweet, with lots of floral accents. hey are prized for their high notes: bright citrus or berry-like flavors in the acidity,... ...more, NicaraguaNicaraguan coffees from the Segovia, Jinotega, Ocotal and Matagalpa regions are nice balanced cups. They often possess interesting cup character along with body and balance, outperforming many other... ...more, and GuatemalaGuatemalan coffee is considered a top quality coffee producer in Central America. Due to our proximity to Guatemala, some of the nicest coffees from this origin come to... ...more have finally made it through the excruciating queues that extend from anchoring off the coast, all the way up to the warehouse doors of the offsite green coffee storageGreen coffee is the dried seed from the fruit of a tree. In the past it was shipped in jute or sisal bags, which prevented coffee from becoming... ...more facility we use.
Ethiopia's are so close I can taste them! Seriously, we have 6 containers of coffee on a single vessel scheduled to arrive this weekend (Aug 14). Be that as it may, we still expect 2-4 week delay once it lands, maybe even longer, depending on how long it has to sit off the waiting to land.
I'll try not to agonize too much on the continual backup at West Coast ports as I have in previous updates, but let's just say the situation has gotten worse, not better.
That said, with the help of our import partners we are finding creative ways to expedite the journey from originIn coffee talk, it refers to a coffee-producing region or country; such as, "I was just at origin." Of course "Origin" for most product we use is not... ...more to Oakland, specifically, avoiding the West Coast altogether which has been ground zero for US congestion.
One way we've managed to cut down transit time is by shipping coffee to alternative ports, then moving by rail or truck to our Oakland warehouse. That may not sound like a "direct" path, but winds up saving us weeks and at a minimal cost.
We've finalized our first RwandaA Bourbon cultivar variant from Rwanda and Burundi. Bourbon coffees are named for the island in the India Ocean where French colonists grew it. Some history from the... ...more box early this year (Gitesi, Kageyo, Tumba, etc…see full list below), and plan on retaining that lead by sending the Houston port, which sees a 2+ week difference in shipping time, not to mention cuts down significantly on the 3-4 week turnaround we're currently experiencing going through port Oakland.
We also have a full box of Colombias from Nariño and Inzá heading to Houston in a couple of weeks. Hoping for a mid-September arrival.
New cropRefers to fresh shipments of green coffee within the first month or two of the earliest arrivals ... not quite the same as Current Crop, which means the... ...more BrazilBrazil is a coffee giant . As Frank Sinatra sang, "they grow an awful lot of coffee in Brazil".: Brazil is a coffee giant . As Frank Sinatra... ...more samples are also starting to trickle in slowly. It seems the two frost events in July won't likely have long term affects on crops, however, next year's harvest will be affected by up to 30% in some regions. This comes on the heels of a draught as well, which has made many plants more susceptible to frost damage.
Liquid Amber blend update: We have a line on some fresh, backup ingredients that may get this blend back up and running while we await our own box out of IndiaIndian coffees are under-represented in the coffee market: they are good balanced, mild coffees. You will find the pronounced body, low acidity and subtle spicy notes pleasing, and... ...more that is still in queue to leave the country. Watch the newsletters for an updated status (sign up for the newsletter at the bottom of the homepage)
Upcoming green coffees currently on the schedule to be added to our website:
Please keep in mind that the coffees on the Upcoming Coffee Outlook schedule with a location status of "In Transit" are still a bit of a wild card, and the month we have them listed under is based on the current shipping ETA, and subject to interruptions out of our control. Thanks for your patience!
August Coffee Outlook
September Coffee Outlook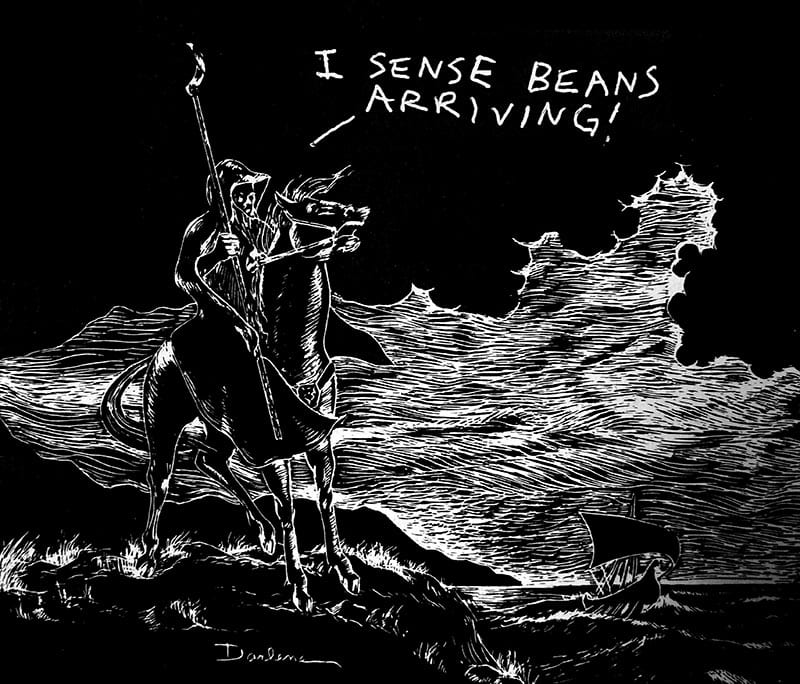 Incoming coffees currently on the water:
Africa Incoming Coffees
Central America Incoming Coffees
South America Incoming Coffees
Indonesia Incoming Coffees