Stay up to date on coffee we have coming down the pipeline and our latest green coffee outlook and arrivals schedule.
Green Coffee Notes for August 2021:
So far, a few containers have made their way through the port and into our warehouse in late July/early August, but not without all of the expected shipping delays.
Coffees from Costa Rica, Nicaragua, and Guatemala have finally made it through the excruciating queues that extend from anchoring off the coast, all the way up to the warehouse doors of the offsite green coffee storage facility we use.
Ethiopia's are so close I can taste them! Seriously, we have 6 containers of coffee on a single vessel scheduled to arrive this weekend (Aug 14). Be that as it may, we still expect 2-4 week delay once it lands, maybe even longer, depending on how long it has to sit off the waiting to land.
I'll try not to agonize too much on the continual backup at West Coast ports as I have in previous updates, but let's just say the situation has gotten worse, not better.
That said, with the help of our import partners we are finding creative ways to expedite the journey from origin to Oakland, specifically, avoiding the West Coast altogether which has been ground zero for US congestion.
One way we've managed to cut down transit time is by shipping coffee to alternative ports, then moving by rail or truck to our Oakland warehouse. That may not sound like a "direct" path, but winds up saving us weeks and at a minimal cost.
We've finalized our first Rwanda box early this year (Gitesi, Kageyo, Tumba, etc…see full list below), and plan on retaining that lead by sending the Houston port, which sees a 2+ week difference in shipping time, not to mention cuts down significantly on the 3-4 week turnaround we're currently experiencing going through port Oakland.
We also have a full box of Colombias from Nariño and Inzá heading to Houston in a couple of weeks. Hoping for a mid-September arrival.
New crop Brazil samples are also starting to trickle in slowly. It seems the two frost events in July won't likely have long term affects on crops, however, next year's harvest will be affected by up to 30% in some regions. This comes on the heels of a draught as well, which has made many plants more susceptible to frost damage.
Liquid Amber blend update: We have a line on some fresh, backup ingredients that may get this blend back up and running while we await our own box out of India that is still in queue to leave the country. Watch the newsletters for an updated status (sign up for the newsletter at the bottom of the homepage)
Upcoming green coffees currently on the schedule to be added to our website:
Please keep in mind that the coffees on the Upcoming Coffee Outlook schedule with a location status of "In Transit" are still a bit of a wild card, and the month we have them listed under is based on the current shipping ETA, and subject to interruptions out of our control. Thanks for your patience!
August Coffee Outlook
| | | | |
| --- | --- | --- | --- |
| Cameroon Caplami Java Cultivar | 10 | 60 KG | Annex |
| Costa Rica Yellow Honey La Casona | 38 | 46 KG | Oakland |
| Costa Rica Helsar Macho Arce Lot 1 | 38 | 46 KG | Oakland |
| Costa Rica Chirripo Finca Jose | 38 | 46 KG | Oakland |
| El Salvador Dry Process Don Ricardo | 40 | 69 KG | Oakland |
| Ethiopia Yirga Cheffe Chele'lektu | 48 | 60 KG | Annex |
| Guatemala Xinabajul Evelio Villatoro | 11 | 69 KG | Oakland |
| Honduras Productores de Lempira | 50 | 69 KG | Annex |
| Nicaragua Dry Process Buenos Aires Maracaturra | 5 | 69 KG | Oakland |
| Nicaragua San Salvador Java Cultivar | 5 | 69 KG | Oakland |
| Sumatra Raja Batak Peaberry | 60 | 60 KG | Oakland |
| Uganda Mount Elgin Budadiri Town | 40 | 60 KG | Annex |
| Sweet Maria's Altiplano Blend | | | |
September Coffee Outlook
| | | | |
| --- | --- | --- | --- |
| Costa Rica Don Mayo La Loma | 38 | 46 KG | Annex |
| Costa Rica Helsar Miguel Rojas | 38 | 46 KG | Annex |
| Costa Rica Yellow Honey Process Las Anonas | 15 | 69 KG | Annex |
| Costa Rica Helsar Cascara Fruit Tea | 50 | 4kg box | Annex |
| El Salvador Matalapa Calagual | 20 | 69 KG | Annex |
| Ethiopia Dry Process Mahamed Aba Nura | 50 | 60 KG | In Transit |
| Ethiopia Dry Process Nebso Aba Geda | 40 | 60 KG | In Transit |
| Ethiopia Dry Process Hambela Dabaye | 120 | 60 KG | In Transit |
| Ethiopia Honey Process Genji Challa | 40 | 60 KG | In Transit |
| Ethiopia Dry Process Dambi Udo | 100 | 60 KG | In Transit |
| Ethiopia Organic Dry Process Daanisa | 100 | 60 KG | In Transit |
| Ethiopia Organic Dry Process Refisa | 70 | 60 KG | In Transit |
| Guatemala Patzun Finca Las Camelias | 35 | 46 KG | Oakland |
| Guatemala Huehuetenango Boqueroncito | 16 | 69 KG | Oakland |
| Kenya Nyeri Ichamama AB | 31 | 60 KG | Oakland |
| Nicaragua Buenos Aires Los Pinos | 30 | 69 KG | Oakland |
| Nicaragua San Salvador Java Cultivar | 5 | 69 KG | Oakland |
| Nicaragua Ojo de Agua | 40 | 69 KG | Oakland |
| Nicaragua Dry Process Buenos Aires Maracaturra | 5 | 69 KG | Oakland |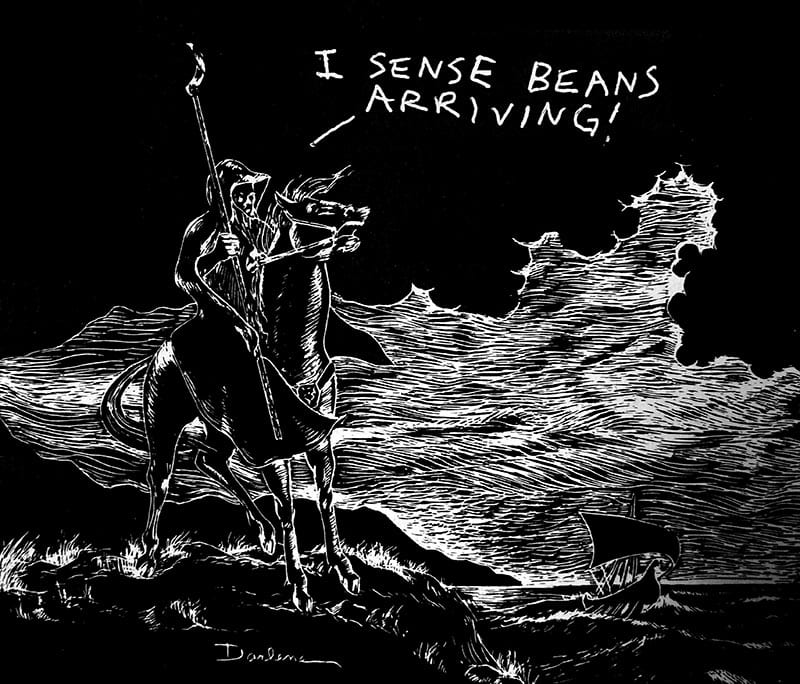 Incoming coffees currently on the water:
Africa Incoming Coffees
| | | | |
| --- | --- | --- | --- |
| Ethiopia Agaro Genji Challa | 30 | 60 KG | Aug 14 |
| Ethiopia Kecho Anderecha | 40 | 60 KG | Aug 14 |
| Ethiopia Honey Process Genji Challa | 40 | 60 KG | Aug 14 |
| Ethiopia Agaro Telila | 40 | 60 KG | Aug 14 |
| Ethiopia Dry Process Mahamed Aba Nura | 50 | 60 KG | Aug 14 |
| Ethiopia Dry Process Nebso Aba Geda | 40 | 60 KG | Aug 14 |
| Ethiopia Limu Musa Aba Lulesa | 40 | 60 KG | Aug 14 |
| Ethiopia Dry Process Mansur Aba Hikam | 40 | 60 KG | Aug 14 |
| Ethiopia Organic Dry Process Daanisa | 100 | 60 KG | Aug 14 |
| Ethiopia Organic Dry Process Bookkisa | 75 | 60 KG | Aug 14 |
| Ethiopia Organic Dry Process Sookoo Birbissa | 50 | 60 KG | Aug 14 |
| Ethiopia Dry Process Dambi Udo | 100 | 60 KG | Aug 14 |
| Ethiopia Dry Process Dari | 100 | 60 KG | Aug 14 |
| Ethiopia Dry Process Hambela Goro | 120 | 60 KG | Aug 14 |
| Ethiopia Dry Process Hambela Dabaye | 120 | 60 KG | Aug 14 |
| Ethiopia Dry Process Benti Nenka | 100 | 60 KG | Aug 14 |
| Ethiopia Hambela Benti Nenka | 50 | 60 KG | Aug 14 |
| Ethiopia Hambela Dabaye | 50 | 60 KG | Aug 14 |
| Ethiopia Dry Process Hambela Buliye | 100 | 60 KG | Aug 14 |
| Ethiopia Dry Process Guji Bukusayisa | 60 | 60 KG | Aug 14 |
| Ethiopia Dry Process Shakiso Allona | 80 | 60 KG | Aug 14 |
| Ethiopia Dry Process Goro Bedesa | 80 | 60 KG | Aug 14 |
| Ethiopia Dry Process Bekele Basha | 50 | 60 KG | Aug 14 |
| Ethiopia Dry Process Bekele Belayecho | 45 | 60 KG | Aug 14 |
| Ethiopia Organic Agaro Duromina | 80 | 60 KG | Sep 6 |
| Ethiopia Agaro Nano Challa | 60 | 60 KG | Sep 6 |
| Ethiopia Agaro Kedamai | 60 | 60 KG | Sep 6 |
| Ethiopia Kennisa Cooperative | 60 | 60 KG | Sep 6 |
| Ethiopia Geta Bore | 60 | 60 KG | Sep 6 |
| Ethiopia Banko Chelchelle | 120 | 60 KG | Sep 6 |
| Ethiopia Dry Process Guji Uraga | 100 | 60 KG | Sep 6 |
| Ethiopia Dry Process Dikitu | 50 | 60 KG | Sep 6 |
| Ethiopia Uraga Raro | 120 | 60 KG | Sep 18 |
| Ethiopia Dry Process Nensebo Refisa | 80 | 60 KG | Sep 18 |
| Ethiopia Yirga Cheffe Chelchele | 120 | 60 KG | Sep 18 |
| Ethiopia Organic Dry Process Mengesha Gumi | 40 | 60 KG | Not Shipped |
| Ethiopia Organic Dry Process Yohanes Degoma | 35 | 60 KG | Not Shipped |
| Rwanda Kivu Kageyo | 50 | 60 KG | Oct 20 |
| Rwanda Peaberry | 50 | 60 KG | Oct 20 |
| Rwanda Karongi Gitesi | 35 | 60 KG | Oct 20 |
| Rwanda Nyamasheke Gitwe | 50 | 60 KG | Oct 20 |
| Rwanda Rulindo Tumba | 40 | 60 KG | Oct 20 |
| Rwanda Nyamasheke Gatare | 50 | 60 KG | Oct 20 |
| Rwanda Nyamasheke Mutovu | 50 | 60 KG | Oct 20 |
Central America Incoming Coffees
| | | | |
| --- | --- | --- | --- |
| Costa Rica Don Senel El Jocote | 10 | 69 KG | Aug 12 |
| Costa Rica Honey Process Las Anonas | 15 | 69 KG | Aug 12 |
| Costa Rica Honey Process Monte Brisas | 30 | 69 KG | Aug 12 |
| Costa Rica Chirripo Corazon de Jesus | 47 | 69 KG | Aug 12 |
| Costa Rica Rio Jorco Tarbaca | 10 | 69 KG | Aug 12 |
| Nicaragua La Bastilla Estate | 87 | 69 KG | Aug 12 |
| El Salvador Finca Miravalle Bourbon | 28 | 69 KG | Aug 12 |
| El Salvador Finca Miravalle Tabi | 40 | 69 KG | Aug 12 |
| El Salvador Santa Ana Pacas | 80 | 69 KG | Aug 12 |
| Guatemala Xinabajul Ader Recinos | 10 | 69 KG | Aug 12 |
| Guatemala Proyecto Xinabajul Bojonalito | 21 | 69 KG | Aug 12 |
| Guatemala Xinabajul Joel Gomez | 10 | 69 KG | Aug 12 |
| Guatemala Xinabajul La Libertad | 38 | 69 KG | Aug 12 |
| Guatemala Huehuetenago Finca Los Suspiros | 12 | 69 KG | Aug 12 |
| Guatemala Xinabajul Pena Roja | 12 | 69 KG | Aug 12 |
| Guatemala Xinabajul Punta del Cerro | 16 | 69 KG | Aug 12 |
| Guatemala Xinabajul Punta del Cerro AA | 23 | 69 KG | Aug 12 |
| Guatemala Huehuetenango Finca Rosma | 20 | 69 KG | Aug 12 |
| Guatemala Xinabajul San Gaspar Ixchil | 32 | 69 KG | Aug 12 |
| Guatemala Xinabajul San Pedro Necta | 26 | 69 KG | Aug 12 |
| Guatemala Xinabajul Tuiloj | 20 | 69 KG | Aug 12 |
| Guatemala Xinabajul Santa Barbara | 20 | 69 KG | Aug 12 |
| Guatemala Xinabajul Producers | 27 | 69 KG | Aug 12 |
| Guatemala Chimaltenango San Martin Jilotepeque Lot 1 | 55 | 46 KG | Aug 12 |
| Guatemala Chimaltenango San Martin Jilotepeque Lot 2 | 80 | 46 KG | Aug 12 |
| Guatemala Acatenango Gesha Lot 3 | 35 | 46 KG | Aug 12 |
| Guatemala Huehuetenango Boqueroncito Lot 1 | 18 | 69 KG | Not Shipped |
| Guatemala Huehuetenango Boqueroncito Lot 2 | 20 | 69 KG | Not Shipped |
| Guatemala Xinabajul Donaldo Villatoro | 23 | 69 KG | Not Shipped |
| Guatemala Michicoy Finca Rosma | 16 | 69 KG | Not Shipped |
| Guatemala Xinabajul Flavio Martinez | 18 | 69 KG | Not Shipped |
| Guatemala Xinabajul Gonzalo Perez | 16 | 69 KG | Not Shipped |
| Guatemala Xinabajul Guilmer Castillo | 21 | 69 KG | Not Shipped |
| Guatemala Xinabajul Herlindo Villatoro | 23 | 69 KG | Not Shipped |
| Guatemala Xinabajul La Libertad | 21 | 69 KG | Not Shipped |
| Guatemala Xinabajul Productores de Peña | 30 | 69 KG | Not Shipped |
| Guatemala Libertad Punta Del Cerro | 36 | 69 KG | Not Shipped |
| Guatemala Xinabajul Santiago Lopez | 9 | 69 KG | Not Shipped |
| Guatemala Xinabajul Producers | 32 | 69 KG | Not Shipped |
South America Incoming Coffees
| | | | |
| --- | --- | --- | --- |
| Colombia Buesaco EA Decaf | 55 | 69 KG | Not Shipped |
| Colombia Caicedo Ruben Gomez | 16 | 69 KG | Not Shipped |
| Colombia Buesaco Nubia Chates | 6 | 69 KG | Not Shipped |
| Colombia Buesaco Alianza Granjeros | 22 | 69 KG | Not Shipped |
| Colombia Narino Vereda Pompeya | 13 | 69 KG | Not Shipped |
| Colombia Honey Aponte | 22 | 69 KG | Not Shipped |
| Colombia Honey El Páramo | 33 | 69 KG | Not Shipped |
| Colombia Vereda San Antonio | 20 | 69 KG | Not Shipped |
| Inzá Las EstrellasColombia | 14 | 69 KG | Not Shipped |
| Colombia Inzá Rio Paez | 20 | 69 KG | Not Shipped |
| Colombia Cresta El Hato | 15 | 69 KG | Not Shipped |
| Colombia Inzá Veredas Vecinas | 46 | 69 KG | Not Shipped |
Indonesia Incoming Coffees
| | | | |
| --- | --- | --- | --- |
| Sumatra Lintong Sigumpar Village | 30 | 60 KG | Not Shipped |
| Sumatra Honey Process Auliya | 15 | 60 KG | Not Shipped |
| Sumatra Wet Hulled Ribang Gayo | 25 | 60 KG | Not Shipped |
| Sumatra Wet Process Ribang Gayo | 25 | 60 KG | Not Shipped |
| Sumatra Dry Process Ribang Gayo | 10 | 60 KG | Not Shipped |
| Sumatra Aceh Bebesen Auliya | 40 | 60 KG | Not Shipped |
| Java Tambak Ruyung | 30 | 60 KG | Not Shipped |
| Sumatra Kerinci Gunung Tujuh | 50 | 60 KG | Not Shipped |
| Sumatra Wet Process Kerinci Gunung Tujuh | 25 | 60 KG | Not Shipped |
| Sumatra Honey Process Kerinci Gunung Tujuh | 25 | 60 KG | Not Shipped |
| Sumatra Honey Labu Gunung Tujuh | 25 | 60 KG | Not Shipped |
| Sumatra Dry Process Gunung Tujuh | 20 | 60 KG | Not Shipped |
| India Honnamatti Estate Ruiru | 20 | 60 KG | Not Shipped |
| India Organic Araku Valley | 20 | 60 KG | Not Shipped |
| India Mahaveer Estate | 20 | 60 KG | Not Shipped |