Stay up to date on coffee we have coming down the pipeline and our latest green coffee outlook and arrivals schedule.
Coffee containers continue to trickle in from East Coast ports, and along the Gulf, albeit at a sluggish pace. Don't get me wrong, we're glad they're moving at all. This time last year we had a half-dozen boxes stuck off the coast of Shanghai with no departure date in sight.
Oakland Port is still the least attractive destination for our coffee. Even with last week's trucker strike over AB-5 quelled, the port continues to be plagued by the number of incoming TEU's (twenty-foot containers) far outnumbering outgoing. With very little space in the yard, incoming containers are shuffled behind stacks of empties where they often sit for weeks on end with a status of "unaccessible". Our last box took over a month to pass through this mess, which is why we continue to move coffee to ports in Texas, and along the East Coast, transferring to Oakland from there.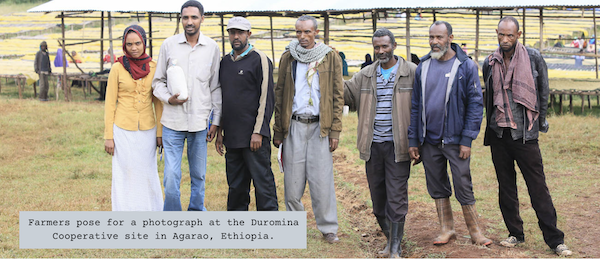 A half-dozen containers from Ethiopia have landed in Houston, and one-by-one are reaching their final Oakland destination at Continental Terminals Annex. If you receive our newsletters you probably saw the latest Ethiopian additions, a pair of organic coffees from the Duromina and Genji Challa cooperatives. These two stellar western coffees are the first of 8, with Yukiro and Nano Challa slated to go up next. Behind them, we have southern lots from Guji and Yirga Cheffe on the way, as well as the beginning of a string of dry processDry process coffee is a method for taking the fruit from the tree to an exportable green bean. The whole intact coffee cherry is dried in the sun with the green bean inside. Later it More lots, which typically come later than washed.
Central American coffees are also coming in hot, the latest being our only two containers from Huehuetenango. These coffees are comprised of coffees from small holders in the upper altitude zones, all part of our Proyecto Xinabajul buying project that we started almost a decade ago. There's a slight delay in getting these into our warehouse, but you can look for the first coffees by the 3rd week of August.
Next up are full container-plus volumes from Nicaragua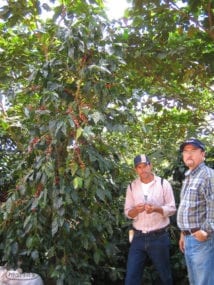 Nicaraguan coffees from the Segovia, Jinotega, Ocotal and Matagalpa regions are nice balanced cups. They often possess interesting cup character along with body and balance, outperforming many other balanced Central American and South American high-grown More, Costa RicaCosta Rican coffee is typically very clean, sweet, with lots of floral accents. hey are prized for their high notes: bright citrus or berry-like flavors in the acidity, with distinct nut-to-chocolate roasty flavors.: Can a More, and El SalvadorEl Salvador coffee had an undeservingly poor reputation for years, marred mostly by the inability to deliver coffee of high quality in an unstable political climate. Unfortunately, agriculture is the first to suffer in revolution, More. The latter arrived a couple weeks ago, and are already safe and sound in Oakland. We have sizable lots from Finca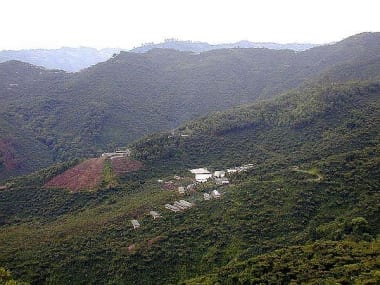 Spanish 101: Finca is the Spanish word for farm. Sometimes the term Hacienda is used to imply an Estate, which would mean the farm has its own wet-mill. A Finca does not necessarily have a More La Esperanza and Finca Miravalle going up over the next two weeks.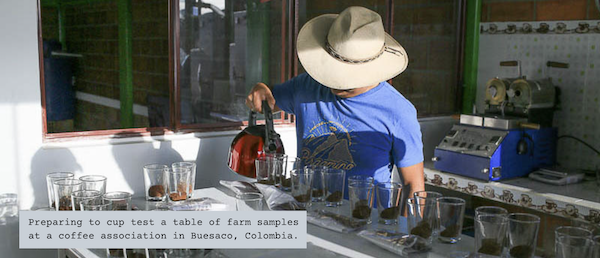 Origin Updates
Colombia: We're selecting coffees from the middle harvests in Nariño, La Plata, and Inzá for a September/October delivery. The Colombian harvest was hit hard by heavy rains that disrupted coffee shrub flowering, and resulted in very low production. Coffee scarcity has worked to reinforce high prices in the region, which puts a strain on the availability of micro-lots. Many farmers would rather take the record base price for all their coffee, then hassle with separating out quality for a second premium that won't paid til the end of the harvest season. Who can blame them? Thankfully, a well-established core of farmers we buy from in these areas continue to do that work, and we don't expect our own volumes to suffer.
PeruPeruvian coffees have Central American brightness but in a South American coffee flavor package overall. The good organic lots do have more of a "rustic" coffee character.: Organic Peru ... you can get it anywhere More: We are trying a new avenue for coffee this year from a coffee cooperative in a region I won't yet mention. I will say that the location is pretty far off the beaten path in a high altitude area unfamiliar to us, which is exciting! This project is being spearheaded by an organicGrown without the use of artificial fertilizers, herbicides, etc.: Organic coffee has been grown according to organic farming techniques, typically without the use of artificial fertilizers. Some farms have more local Organic Certification than the More farmer/coffee exporter we work with in Colombia who was introduced to the coop through an organization he is a part of who promote organic farming methods through education and training. The coop is 500 members strong, and most of their well-established group of producers are already employing organic farming methods. We're excited about the potential from this group, and look forward to tasting the first samples toward the end of August.
BurundiBurundi coffee bears resemblance to neighboring Rwanda, in both cup character, but also the culture surrounding coffee. Burundi is a small landlocked country at the crossroads of East and Central Africa, straddling the crest of More & RwandaRwandan coffee was, at one time, rarely seen in the United States as either a Specialty grade or low-end commercial coffee. There simply was not that much coffee produced in Rwanda that went anywhere besides More: Thankfully for Burundi coffee farmers, the 2022 harvest surpassed the disastrously low numbers of 2021. The quality of this years' coffee has been quite good too. We started cup testing samples on a May visit to neighboring Rwanda, and are now putting the final touches on our contracts for the year. Rwanda had an up-year as well, surpassing last year's harvest volumes. 2022 Rwandan contracts are also being finalized, and the contents of our first containers are already listed in the Incoming Coffee list below. Look for the remaining lots we have coming in from both countries in July.
Upcoming green coffees currently on the schedule to be added to our website:
Please keep in mind that the coffees on the Upcoming Coffee Outlook schedule with a location status of "In Transit" are still a bit of a wild card, and the month we have them listed under is based on the current shipping ETA, and subject to interruptions out of our control. Thanks for your patience!
August Coffee Outlook
| | | | |
| --- | --- | --- | --- |
| Coffee LotCoffee can be separated by lot in any number of ways usually by the processor to distinguish one area of the farm, a particular altitude, particular trees, a particular day's pickings, a particular processing method, More | Bags | Size | Location |
| BrazilBrazil is a coffee giant . As Frank Sinatra sang, "they grow an awful lot of coffee in Brazil".: Brazil is a coffee giant . As Frank Sinatra sang, "they grow an awful lot of More Carmo FazendaFazenda is the Portuguese word for farm, hence it is the term used in Brazil. Fazenda is not a coffee-specific term. More Furnas | 74 | 60 KG | Oakland |
| Colombia Cresta El Hato | 11 | 70 KG | Oakland |
| El Salvador Dry Process Finca San Luis | 6 | 69 KG | Oakland |
| El Salvador Finca Miravalle Tabi | 41 | 70 KG | Oakland |
| El Salvador Finca La Esperanza | 75 | 60 KG | Oakland |
| Ethiopia Yukiro Cooperative | 50 | 60 KG | Oakland |
| Ethiopia Geta Bore SWPSWP means Swiss Water Process is a patented water filtration decaf method, not a chemical solvent method. The plant is in Vancouver, Canada. More Decaf | 39 | 60 KG | Oakland |
| Ethiopia Gera Ayetu Farm | 140 | 60 KG | Oakland |
| Ethiopia Organic Gera Nano Challa | 80 | 60 KG | Oakland |
| FloresFlores is an Indonesian island, and as a coffee bears more resemblance to the coffees of Timor-Leste, New Guinea and Java than to the wet-hulled coffees of Sumatra and Sulawesi. It is sweet, with good More Wolo Wio | 38 | 60 KG | Oakland |
| Flores Dry Process Bei Poso Village | 7 | 60 KG | Oakland |
| GuatemalaGuatemalan coffee is considered a top quality coffee producer in Central America. Due to our proximity to Guatemala, some of the nicest coffees from this origin come to the United States. : Guatemalan growing regions More Xinabajul Peña Roja | 89 | 69 KG | Oakland |
| Guatemala Antigua Pulcal | 40 | 46 KG | Oakland |
| Guatemala Acatenango GeshaGesha is a long-bean Ethiopia selection with unique cup character.: Gesha (often wishfully misspelled as Geisha) is a long-bean Ethiopia cultivar selection with unique cup character. It is most famously grown on the Jaramillo plot More | 40 | 46 KG | Oakland |
| Guatemala Antigua Cabrejo | 50 | 46 KG | Oakland |
| HondurasHonduran coffee was absent from the top ranks of the Specialty market, but that has changed. It has all the environmental factors on its side: soil, altitude, climate. All it's neighbors have sophisticated coffee production: More Ocotepeque San Marcos | 15 | 69 KG | Oakland |
| Honduras Productores de La Paz | 48 | 69 KG | Oakland |
| KenyaKenya is the East African powerhouse of the coffee world. Both in the cup, and the way they run their trade, everything is topnotch.: Kenya is the East African powerhouse of the coffee world. Both More Kiambu Riabai AB | 14 | 60 KG | Oakland |
| Kenya Muranga Kagumoini AB | 40 | 60 KG | Oakland |
| SulawesiSulawesi coffees are low-acid with great body and that deep, brooding cup profile akin to Sumatra. The coffee is sometimes known as Celebes, which was the Dutch colonial name for the island. Indonesians are available More Honey Process"Red honey" process gesha at a coffee farm in Costa Rica's Central Valley growing region. The honey process has nothing to do with honey other than the fact that they're both sticky! It's a term More Gowa | 5 | 60 KG | Oakland |
| Sulawesi Gowa Desa Topidi | 5 | 60 KG | Oakland |
| TimorHibrido de Timor abbreviated HdT is the interspecies hybrid of C. Arabica and C. Canephora (Robusta) that was found in Timor Leste in the 1940s. It has been the bases of plant breeding for disease More Leste Taurema | 18 | 60 KG | Oakland |
| Timor Leste Lekisala | 40 | 69 KG | Oakland |
| YemenYemen has a coffee culture like no other place, and perhaps some of what we enjoy in this cup is due to their old style of trade...: Technically, Yemen is on the Asian continent (on More Khulani Amer | 147 | 32 KG | Oakland |
| ZambiaFrom the country formerly known as upper Rhodesia in a country now named for the Zambezi River, Zambian coffees range from Kenya-like brightness to subtle, balanced coffee with complexity, body and nuanced flavors... Zambia has More Dry Process Kateshi EstateA "coffee estate" is used to imply a farm that has its own processing facility, a wet-mill. In Spanish this is called an Hacienda. A Finca (farm) does not necessarily have a mill. (And Finca More | 15 | 60 KG | Oakland |
September Coffee Outlook (so far!)
| | | | |
| --- | --- | --- | --- |
| Coffee Lot | Bags | Size | Location |
| Brazil Mogiana Vera Lucia | 20 | 60 KG | Oakland |
| Costa Rica Chirripo Corazon de Jesus | 20 | 69 KG | Oakland |
| Costa Rica Zarcero Finca Salaca | 40 | 69 KG | Oakland |
| El Salvador Apaneca Finca Miravalle | 48 | 69 KG | Oakland |
| Guatemala Xinabajul Flavio Del Cerro | 25 | 69 KG | Oakland |
| Guatemala Xinabajul Producers | 40 | 69 KG | Oakland |
| Guatemala Antigua La Parcela Melanie | 5 | 46 KG | Oakland |
| Rwanda HoneyIn coffee, honey-like sweetness is often found, but we use terms such as refined honey (highly filtered and processed) as opposed to raw honey rustic honey sweetness. This form of sweetness is largely a dynamic More Process Karambi | 30 | 60 KG | Oakland |
| Rwanda Nyamasheke Macuba | 45 | 60 KG | Oakland |
| Zambia Mafinga Hills PeaberryA peaberry is a green coffee "bean" that has a rounded form: Coffee is the dried seed from the fruit of a flowering tree - each fruit having 2 seeds facing each other (the flat More (name may change) | 60 | 60 KG | Oakland |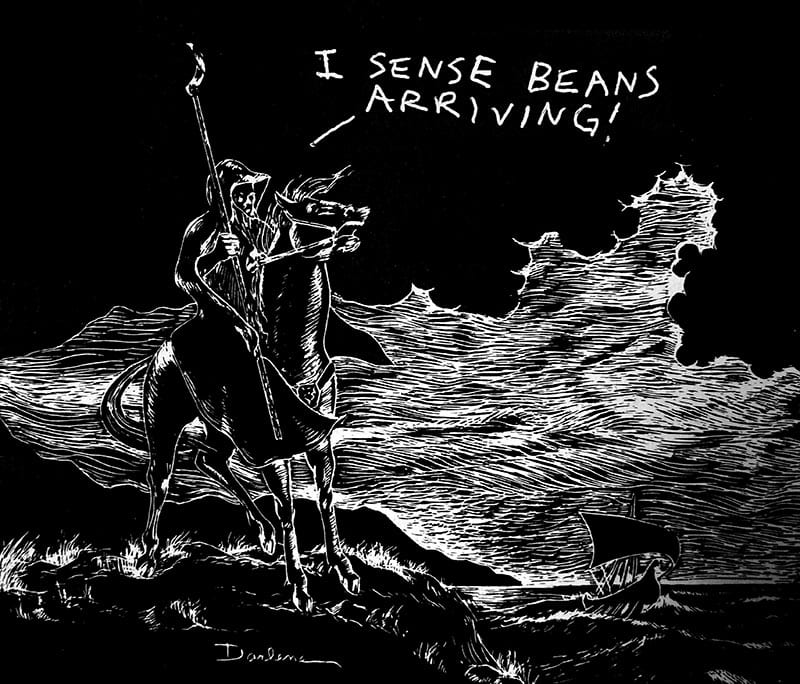 Incoming coffees currently on the water: June – July
African Arrivals
| | | | |
| --- | --- | --- | --- |
| Coffee Lots | Bags | Size | ETA |
| Ethiopia Agaro Kedamai Coop | 60 | 60 KG | LANDED |
| Ethiopia Organic Agaro Hunda Oli Coop | 80 | 60 KG | LANDED |
| Ethiopia Organic Geta Bore Coop | 80 | 60 KG | LANDED |
| Ethiopia Guji Buku Sayisa | 50 | 60 KG | LANDED |
| Ethiopia Yirgacheffee Banko Gotiti | 70 | 60 KG | LANDED |
| Ethiopia Sidama Arsi Refisa | 100 | 60 KG | LANDED |
| Ethiopia Yirgacheffee Chelbesa | 100 | 60 KG | LANDED |
| Ethiopia Dry Process Yirga Cheffe Gedeb | 160 | 60 KG | LANDED |
| Ethiopia Dry Process Yirga Cheffe Idido | 160 | 60 KG | LANDED |
| Ethiopia Kayon Mountain Taaroo | 160 | 60 KG | LANDED |
| Ethiopia Dry Process Hambela Benti Nenka | 160 | 60 KG | LANDED |
| Kenya Thika Oreti AA | 12 | 60 KG | LANDED |
| Kenya Thika Oreti AB | 19 | 60 KG | LANDED |
| Kenya Thika Oreti PeaberryThe Spanish-language term for Peaberry is the same for "snail". See Peaberry for more information on the single bean fruit of the coffee tree. A peaberry is the rounded singular seed found in the coffee More | 1 | 60 KG | LANDED |
| Kenya Kirinyaga Wanja AA | 14 | 60 KG | LANDED |
| Kenya Muranga Nguku AB | 45 | 60 KG | LANDED |
| Kenya Muranga Nguku Peaberry | 4 | 60 KG | LANDED |
| Kenya Kiambu Fram Farm AA | 18 | 60 KG | LANDED |
| Kenya Kiambu Fram Farm AB | 66 | 60 KG | LANDED |
| Kenya Kiambu Fram Farm Peaberry | 4 | 60 KG | LANDED |
| Kenya Nyeri Gichichi AA | 4 | 60 KG | LANDED |
| Kenya Nyeri Gichichi AB | 11 | 60 KG | LANDED |
| Kenya Nyeri Gaikundo AA | 14 | 60 KG | LANDED |
| Kenya Kirinyaga Thunguri AB | 14 | 60 KG | LANDED |
| Kenya Nyeri Rukira AB | 20 | 60 KG | LANDED |
| Kenya Nyeri Maganjo AA | 9 | 60 KG | LANDED |
| Kenya Nyeri Mahiga AA | 19 | 60 KG | LANDED |
| Kenya Nyeri Mahiga PB | 7 | 60 KG | LANDED |
| Kenya Nyeri Gatugi AA | 50 | 60 KG | LANDED |
| Kenya Nyeri Gatugi AB | 70 | 60 KG | LANDED |
| Kenya Nyeri Gatugi PB | 26 | 60 KG | LANDED |
| Kenya Nyeri Kiaguthu AA | 27 | 60 KG | LANDED |
| Kenya Nyeri Kiaguthu PB | 10 | 60 KG | LANDED |
| Kenya Nyeri Kamoini AA | 34 | 60 KG | LANDED |
| Kenya Nyeri Kamoini AB | 53 | 60 KG | LANDED |
| Kenya Nyeri Kamoini Peaberry | 12 | 60 KG | LANDED |
| Kenya Nyeri Kagunyu AA | 15 | 60 KG | LANDED |
| Kenya Nyeri Kagunyu AB | 13 | 60 KG | LANDED |
| Kenya Nyeri Ichamama AA | 50 | 60 KG | LANDED |
| Kenya Nyeri Ichamama PB | 21 | 60 KG | LANDED |
Latin American Arrivals
| | | | |
| --- | --- | --- | --- |
| Latin American Arrivals | Bags | Size | ETA |
| El Salvador Miravalle Centroamericaono | 66 | 69 KG | LANDED |
| El Salvador Apaneca Finca Miravalle | 48 | 69 KG | LANDED |
| El Salvador Miravalle Sampacho | 54 | 69 KG | LANDED |
| Guatemala Xinabajul Aler Villatoro | 66 | 69 KG | LANDED |
| Guatemala Xinabajul Aurelio Del Cerro | 58 | 69 KG | LANDED |
| Guatemala Xinabajul Boqueroncito | 50 | 69 KG | LANDED |
| Guatemala Xinabajul Rosalio Villatoro | 56 | 69 KG | LANDED |
| Guatemala Xinabajul San Pedro Necta | 25 | 69 KG | LANDED |
| Guatemala Xinabajul Jose Villatoro | 20 | 69 KG | LANDED |
| Guatemala Xinabajulu Bojonalito | 16 | 69 KG | LANDED |
| Guatemala Xinabajul Flavio Del Cerro | 25 | 69 KG | LANDED |
| Guatemala Xinabajul Peña Roja | 89 | 69 KG | LANDED |
| Guatemala Xinabajul Virgilio | 25 | 69 KG | LANDED |
| Guatemala Xinabajul Producers | 40 | 69 KG | LANDED |
| Guatemala Xinabajul Idmar de Jesus Velasquez | 25 | 69 KG | LANDED |
| Guatemala Xinabajul El Paraiso | 26 | 69 KG | LANDED |
| Guatemala Xinabajul Michicoy | 29 | 69 KG | LANDED |
| PanamaPanama coffee ranges from medium quality lower altitude farms to those at 1600 - 1800 meters centered in the area of Boquete in the Chirqui district near the border with Costa Rica. Some farms feature More Boquete La Gloria | 50 | 69 KG | LANDED |
| Panama Boquete Gesha | 7 | 69 KG | LANDED |
| Costa Rica Zarcero Finca Salaca | 40 | 69 KG | LANDED |
| Costa Rica Honey Process Palmichal | 40 | 69 KG | LANDED |
| Costa Rica Yellow Honey La Guaria | 50 | 69 KG | LANDED |
| Costa Rica Honey Palmichal Vecindario | 30 | 69 KG | LANDED |
| Costa Rica Red Honey Los Monge | 30 | 69 KG | LANDED |
| Costa Rica Santa Maria Solis y Cordero | 30 | 69 KG | LANDED |
| Costa Rica Red Honey Corazon de Jesus | 20 | 69 KG | LANDED |
Africa Incoming Coffees
| | | | |
| --- | --- | --- | --- |
| Africa | Bags | Size | ETA |
| Ethiopia Dry Process Guji Gerba | 100 | 60 KG | Aug 1 |
| Ethiopia Dry Process Buno Dambi Uddo | 120 | 60 KG | Aug 1 |
| Ethiopia Dry Process Abiyot Bobea | 100 | 60 KG | Aug 1 |
| Ethiopia Organic Dry Process Burka Gudina | 200 | 60 KG | Aug 17 |
| Ethiopia Kecho Anderecha | 130 | 60 KG | ETD 7/30 – ETA 9/17 |
| Ethiopia Dry Process Mansur Aba Hikam | 50 | 60 KG | ETD 7/30 – ETA 9/17 |
| Ethiopia Dry Process Mahamed Aba Nura | 50 | 60 KG | ETD 7/30 – ETA 9/17 |
| Ethiopia Dry Process Aba Mecha | 20 | 60 KG | ETD 7/30 – ETA 9/17 |
| Ethiopia Dry Process Aba Bulgu | 70 | 60 KG | ETD 7/30 – ETA 9/17 |
| TanzaniaIn terms of the Tanzania coffee character, it belongs to the Central/East African family of washed (wet-processed) coffees, bright (acidy), and mostly aggressively flavorful of which Kenya is certainly the dominant coffee. Peaberries are often More Tarime Town AB | 40 | 60 KG | July 26 |
| Tanzania Mara Tarime Peaberry | 10 | 60 KG | July 26 |
| Rwanda Kivu Kageyo | 55 | 60 KG | TBD |
| Rwanda Rulindo Tumba | 40 | 60 KG | TBD |
| Rwanda Karongi Gitesi | 50 | 60 KG | TBD |
| Rwanda Nyamasheke | 50 | 60 KG | TBD |
| Rwanda Rulindo Mutovu | 45 | 60 KG | TBD |
| Rwanda Nyamasheke Gitwe | 50 | 60 KG | TBD |
| Rwanda Rulindo Tumba | 10 | 60 KG | TBD |
| Rwanda Honey Process Gatare | 20 | 60 KG | TBD |
| Rwanda Nyamasheke Peaberry | 30 | 60 KG | TBD |
| Rwanda Nyamasheke Peaberry | 35 | 60 KG | TBD |
| Rwanda Gatare | 54 | 60 KG | TBD |
Indonesia & SE Asia Incoming Coffees
| | | | |
| --- | --- | --- | --- |
| Coffee Lot | Bags | Size | ETA |
| SumatraIndonesians are available as a unique wet-hulled or dry-hulled (washed) coffees. Giling Basah is the name for the wet-hulling process in Bahasa language, and will have more body and often more of the "character" that More Kerinci Barokah Bersama | 50 | 60 KG | Not Shipped |
| Sumatra Wet ProcessWet-processing starts by removing the outer skin of the coffee cherry with a machine called a pulper, then fermenting the remaining fruit (with green bean inside) in water for 8-36 hours. The fermentation breaks down More Barokah Coop | 30 | 60 KG | Not Shipped |
| Sumatra Honey Process Barokah Coop | 30 | 60 KG | Not Shipped |
| Sumatra Honey Labu Barokah Bersama | 30 | 60 KG | Not Shipped |
| Sumatra Dry Process Barokah Coop | 20 | 60 KG | Not Shipped |
| Sumatra AcehThe northernmost district in SumatraL Aceh District is north of North Sumatra and produces some very classic Sumatra coffees. The center of coffee in Aceh is Lake Tawar and Takengon, the city by the lake. More Bebesen Aulia | 20 | 60 KG | Not Shipped |
| Sumatra Honey Process Bebesen Aulia | 10 | 60 KG | Not Shipped |
| Sumatra Anaerobic Bebesen Aulia | 10 | 60 KG | Not Shipped |
| Sumatra Wet Process Ribang GayoGayo is ethnic group from the area of Aceh Sumatra around Lake Takengon. They use the name Gayo Coffee to market their production. The Acehnese are a different ethnic group, more centered in the lower More | 40 | 60 KG | Not Shipped |
| Sumatra Lintong Sigumpar Village | 30 | 60 KG | Not Shipped |
| Sumatra Aceh Teritit | 50 | 60 KG | Not Shipped |
Central America Incoming Coffees
| | | | |
| --- | --- | --- | --- |
| Central America | Bags | Size | ETA |
| El Salvador Santa Ana PacasA mutation of Bourbon cultivar that appeared in El Salvador in 1949: Pacas is a natural mutation of Bourbon cultivar that appeared in El Salvador in 1949. It has good cup character, and is an More | 50 | 69 KG | July 30 |
| El Salvador Santa Ana PacamaraAs the name implies, Pacamara is a large bean cultivar, a cross between Pacas and Maragogype with unique flavor properties. This variant originated in El Salvador in 1958, and has spread to nearby Central American More | 10 | 69 KG | July 30 |
| El Salvador Honey Process Santa Ana | 10 | 69 KG | July 30 |
| Nicaragua Jinotega La Bastilla Estate | 20 | 69 KG | Aug 1 |
| Nicaragua Altiplanos JavaThere are several types of Abyssinia, but they are not from Ethiopia but rather Indonesia. Abyssinia 3 = AB3. PJS Cramer, a Dutch plant researcher, introduced this variety in 1928, supposedly from Ethiopia seed stock. It was More | 49 | 69 KG | Aug 1 |
| Nicaragua Buenos Aires Los Pinos | 30 | 69 KG | ETD 7/31 – ETA 8/29 |
| Nicaragua Finca El Lino | 20 | 69 KG | ETD 7/31 – ETA 8/29 |
| Nicaragua Ojo de Agua | 30 | 69 KG | ETD 7/31 – ETA 8/29 |
| Nicaragua Finca Buenos Aires | 40 | 69 KG | ETD 7/31 – ETA 8/29 |
| Nicaragua Dipilto Finca La Laguna | 40 | 69 KG | ETD 7/31 – ETA 8/29 |
| Nicaragua Buenos Aires San Salvador | 10 | 69 KG | ETD 7/31 – ETA 8/29 |
| Nicaragua Buenos Aires MaracaturraAs the name indicates cross between large-bean Maragogype and Caturra cultivars. : As the name indicates cross between large-bean Maragogype and Caturra cultivars. It seems to be found most in Nicaragua, although I am not More | 10 | 69 KG | ETD 7/31 – ETA 8/29 |
| Nicaragua Maracaturra Juniors | 20 | 69 KG | ETD 7/31 – ETA 8/29 |
| Nicaragua Honey Process Buenos Aires | 10 | 69 KG | ETD 7/31 – ETA 8/29 |
| Nicaragua Honey Process San Salvador Java | 2 | 69 KG | ETD 7/31 – ETA 8/29 |
| Nicaragua Dry Process Buenos Aires | 5 | 69 KG | ETD 7/31 – ETA 8/29 |
| Nicaragua Dry Process El Suyatal | 10 | 69 KG | ETD 7/31 – ETA 8/29 |
| Nicaragua Acopio Suyatal | 40 | 69 KG | ETD 7/31 – ETA 8/29 |
| Nicaragua Buenos Aires San Salvador | 20 | 69 KG | ETD 7/31 – ETA 8/29 |
| Nicaragua Finca Buenos Aires | 20 | 69 KG | TBD |
| Nicaragua Buenos Aires San Salvador | 20 | 69 KG | TBD |
| Nicaragua Buenos Aires Maracaturra Juniors | 20 | 69 KG | TBD |
| Costa Rica Tarrazú Cerro La Cruz | 25 | 69 KG | TBD |
| Costa Rica Jardin de Aromas | 25 | 69 KG | TBD |
| Costa Rica Helsar Eliomar Lopez | 25 | 69 KG | TBD |
| Costa Rica Don Oscar Hermanos Solis | 25 | 69 KG | TBD |
| Costa Rica Tarrazú Cerro La Cruz | 25 | 69 KG | TBD |
| Costa Rica Tarrazú La Casona | 20 | 69 KG | TBD |