Big Differences and Dumb Details
In my experience, people come to home coffee roasting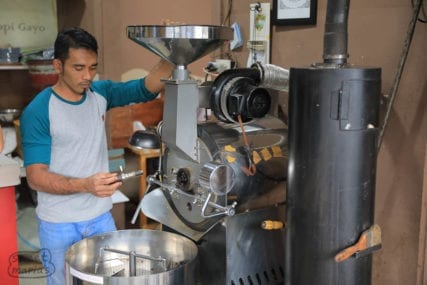 The application of heat to green coffee seeds (beans) to create palatable material for brewing a great cup!: Coffee roasting is a chemical process induced by heat, by which aromatics, acids, and other flavor components because they want consistently better coffee, and because they don't mind (or even enjoy!) the craft of roasting. But certainly even the most diehard "do-it-yourselfer" does not start roasting because they lack an abundance of nagging details and unpleasant tasks in their workaday world.
It might seem shocking at first to find out how much there is to know about coffee, and all the minutia about coffee-producing origins, processingThe removal of the cherry and parchment from the coffee seed.: Coffee is either wet-processed (also called washed or wet-milled) or dry-processed (also called wild, natural or natural dry, and we abbreviate it DP sometimes). methods, roast styles and brewing options that result in that great cup of coffee. The amount of coffee knowledge you care to digest, about all that happens from the farm until the green coffee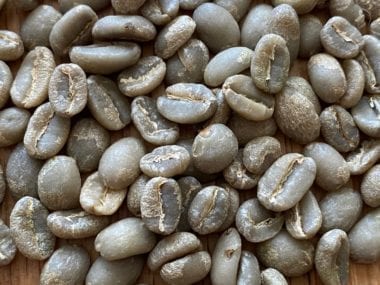 Green coffee refers to the processed seed of the coffee tree fruit. Coffee is a flowering shrub that produces fruit. The seeds of the fruit are processed, roasted, ground and prepared as an infusion.: Coffee arrives at your door, is up to you (and we hope our web site is useful to you in this regard). But in terms of your end of the deal (roasting, grinding and brewing), there are several critical factors that need your attention if you want that optimal cup, and a bunch of tiny details that (unless you are a complete coffee nut) you may want to pass over.
The first critical factor is to chose the "right" green coffee … that is, the right green coffee for your tastes! That is probably not going to be something you can do after your first 5 or 10 home roasts. Perhaps the first thing you notice is that freshly roasted coffee has greatly enhanced aromatics over store-bought pre-roasted types. And you may notice that beyond these lively aromas there are flavor differences with each coffee, or what we call "cup character." Pre-roasted coffee might have nice "coffee flavor" but as coffee ages it there is a general breakdown of the organicGrown without the use of artificial fertilizers, herbicides, etc.: Organic coffee has been grown according to organic farming techniques, typically without the use of artificial fertilizers. Some farms have more local Organic Certification than the components that express it's character in the cup. If you are a coffee "omnivore" like me, your first response may be that each coffee tastes good in its own right. But you might notice a specific quality you especially like in one, and it is important to remember that! Even if a particular coffee sells out, there are certain "families of taste" among coffee origins, closely related cup profiles that, while not identical, express similarly interesting qualities.
Of course, the "cup character" also depends greatly on the "degree of roast", the amount of time the coffee is in a roaster that determines the amount of chemical and physical changes in the seed. Yes, coffee is a dried seed from the fruit of a tree, and all we do when we roast it is incinerate it in a controlled way. The structure of the seed is comprised of woodyGenerally a taste defect from age; old green coffee, perhaps yellowing in color. This is due to the drying out of the coffee over time, and as the moisture leaves the seed it takes organic celluloseCellulose is the principle fiber of the cell wall of coffee. It is partially ordered (crystalline) and partially disordered (amorphous). The amorphous regions are highly accessible and react readily, but the crystalline regions with close, and it will eventually burn like wood if you leave it in the roaster long enough! As the coffee darkens, sugars formed in the middle stages of the roast process are caramelizing (if you have ever burned sugar in a pan, you know something of this color shift) and other pigmenting reactions are occurring too. The second important factor is that you figure out how long you like your coffee roasted, and maintain that level while sampling the different coffee origins. Each of our roast reviews has a recommended roast level, but hey … you're the one drinking it!
The critical factor in grinding your coffee "seeds" is that you do it just before you brew for maximum aromatics, and that the grind is appropriate in fineness and evenness for the brewing method you employ. Some methods require a very specific grind and you need a very good conical burr mill: espressoA small coffee beverage, about 20 ml, prepared on an espresso machine where pressurized hot water extracted through compressed coffee.: In its most stripped-down, basic form, this is a working definition for espresso: A small for example. Drip brewing through a paper filter does not require such a fancy mill, since the paper will hold back particles from entering the brew. But with a French PressA simple coffee brewer also called a Press Pot: grounds and hot water are added to a carafe, allowed to sit for several minutes, and then a filter is pushed down to hold the grounds, fine powder in the grind becomes sludge in the cup; you need an even, coarse grind for this method.
No matter what brewing method you use, there are 2 critical factors that must be met to make a good cup: the water must be hot enough, and secondly the time the coffee and hot water are in contact must be right. For all brewing methods, water should be within several degrees of 200˚ fahrenheit (at sea level, water boils at 212˚). A bit over that is fine for infusion methods like drip brewing, or French Press, because contact with the brewer surfaces instantly moderates the temperature. But 180˚ or 190˚ is not good enough, and many automated brewers only reach these inadequate temperatures. You also need the coffee and water to stay in contact with each other the right time: too little and you under-infuse, and too long results in over-infused bitterness. For direct contact methods like French Press, the time is 3-4 minutes: for vacuum the pre-infusionAn espresso machine is said to use pre-infusion if it applies a moderate amount of pressure to the coffee before applying full brew pressure. Pre-infusion is often said to improve extraction by causing the coffee of the grinds means a much shorter 45 seconds to 2 minutes. ExtractionRefers to the process of infusing coffee with hot water. Hot water releases or "extracts" the flavor from the roasted, ground coffee. The term is used mostly with espresso, adding pressure to the mix as methods like espresso require 25-30 seconds with a 198˚ degree brew-head temperature.
And now, here are some less significant coffee truths:
You don't have to learn Portuguese to drink Brasilian coffee. (There is a limit to the amount of knowledge that has an actual, perceptible bearing on cup character).
Don't store green coffee in pickle juice. (Just keep it in plastic or transfer to cloth if you are keeping in 6 + months. Green coffee is durable stuff!).
You don't taste with your eyeball. (The appearance of green or roasted coffee, or the size of the seed does not always have a bearing on the cup -don't be an "eye-cupper").
Don't keep roasted coffee in your sock drawer. (Glass jars are nice for storage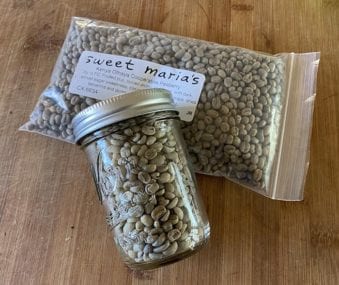 Green coffee can be stored much longer than roasted coffee: Roasted coffee starts to lose its aromatics in 10 days after roasting. Green coffee can be stored months without degrading quality.  Very often the type, at room temp -but hey, it's going to be gone in a few days so it's not a big deal).
If you have any other roast tips email me! [email protected]
Sweet Maria's Coffee Inc.
9 E. 2nd Ave Columbus Ohio 43201
web: www.sweetmarias.com
email: [email protected]
Sweet Marias Green Coffee Offerings on 11/5/01:
This list is always superceded by the current list on our web page! http://sweetmarias.com/prod.greencoffee.shtml
Central American 1 lb 2 lb 5 lb 20 lb
Costa Rican Tres Rios -La Magnolia $5.00 $9.50 $21.75 $77.00
Costa Rican La Minita Tarrazu $7.10 $13.49 $31.60 $113.60
Guatemalan Antigua -La Tacita EstateA "coffee estate" is used to imply a farm that has its own processing facility, a wet-mill. In Spanish this is called an Hacienda. A Finca (farm) does not necessarily have a mill. (And Finca $5.60 $10.64 $24.36 $86.24
Guatemalan Finca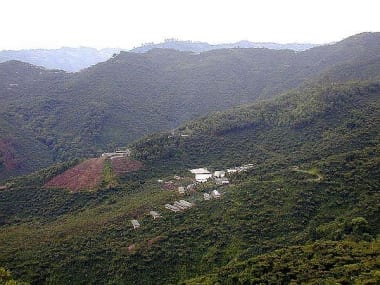 Spanish 101: Finca is the Spanish word for farm. Sometimes the term Hacienda is used to imply an Estate, which would mean the farm has its own wet-mill. A Finca does not necessarily have a El Injerto '01 $4.90 $9.31 $21.32 $75.46
Guatemalan SHB Huehue -Finca Huixoc $4.60 $8.74 $20.01 $70.84
Mexican Chiapas Org.La Alianza $4.50 $8.55 $19.58 $69.30
Mexican Oaxaca San Pablo Becafisa $4.60 $8.74 $20.01 $70.84
Nicaragua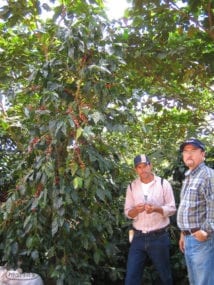 Nicaraguan coffees from the Segovia, Jinotega, Ocotal and Matagalpa regions are nice balanced cups. They often possess interesting cup character along with body and balance, outperforming many other balanced Central American and South American high-grown Matagalpa Eugenio Lopez $4.50 $8.55 $19.58 $69.30
Nicaragua Segovia Canta Gallo Co-op $4.50 $8.55 $19.58 $69.30
PanamaPanama coffee ranges from medium quality lower altitude farms to those at 1600 - 1800 meters centered in the area of Boquete in the Chirqui district near the border with Costa Rica. Some farms feature Boquete -Finca Maunier $5.10 $9.69 $22.19 $78.54
El SalvadorEl Salvador coffee had an undeservingly poor reputation for years, marred mostly by the inability to deliver coffee of high quality in an unstable political climate. Unfortunately, agriculture is the first to suffer in revolution, – San Rafael Naranjo $5.20 $9.88 $22.62 $80.08
South American 1 lb 2 lb 5 lb 20 lb
BrazilBrazil is a coffee giant . As Frank Sinatra sang, "they grow an awful lot of coffee in Brazil".: Brazil is a coffee giant . As Frank Sinatra sang, "they grow an awful lot of Mogiani BourbonA coffee cultivar; a cross between Typica and Bourbon, originally grown in Brazil: Mundo Novo is a commercial coffee cultivar; a natural hybrid between "Sumatra" and Red Bourbon, originally grown in Brazil. It was developed $4.80 $9.12 $20.88 $73.92
Brazil Organic -Blue de Brasil $4.90 $9.31 $21.32 $75.46
Brazil Cerrado-Monte Carmelo $4.20 $7.98 $18.27 $64.68
Colombian Caracol del Abuelo-Peaberry $5.30 $10.07 $23.06 $81.62
Colombian Organic -Mesa de los Santos $5.30 $10.07 $23.06 $81.62
Colombian Santa Isabella Var.Typica $4.80 $9.12 $20.88 $73.92
PeruPeruvian coffees have Central American brightness but in a South American coffee flavor package overall. The good organic lots do have more of a "rustic" coffee character.: Organic Peru ... you can get it anywhere Org-FT Chanchamayo La Florida $5.00 $9.50 $21.75 $77.00
African- Arabian 1 lb 2 lb 5 lb 20 lb
BurundiBurundi coffee bears resemblance to neighboring Rwanda, in both cup character, but also the culture surrounding coffee. Burundi is a small landlocked country at the crossroads of East and Central Africa, straddling the crest of AA Buyendi FWS $5.00 $9.50 $21.75 $77.00
Ethiopian Harar Horse – Lot1900 $5.20 $9.88 $22.62 $80.08
Ethiopian Organic Limmu -Oromia $5.20 $9.88 $22.62 $80.08
Ethiopian Sidamo DP '01 $5.00 $9.50 $21.75 $77.00
Ethiopian Yirgacheffe -Lot 957 $5.50 $10.45 $23.93 $84.70
KenyaKenya is the East African powerhouse of the coffee world. Both in the cup, and the way they run their trade, everything is topnotch.: Kenya is the East African powerhouse of the coffee world. Both AB Gakui Auction Lot'01 $5.70 $10.83 $24.80 $87.78
Kenya AA Auction '01 – Lot 82 $5.30 $10.07 $23.06 $81.62
Kenya AB Gichugu Auction Lot'01 $5.60 $10.64 $24.36 $86.24
Kenya AA Kirigara Auction Lot'01 $5.50 $10.45 $23.93 $84.70
Tanzanian Kibo Peaberry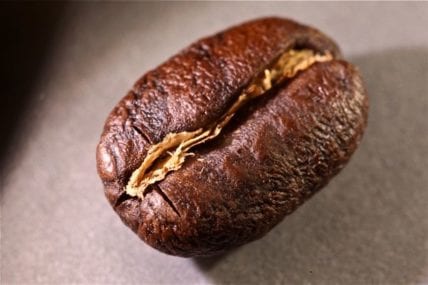 The Spanish-language term for Peaberry is the same for "snail". See Peaberry for more information on the single bean fruit of the coffee tree. A peaberry is the rounded singular seed found in the coffee $4.80 $9.12 $20.88 $73.92
YemenYemen has a coffee culture like no other place, and perhaps some of what we enjoy in this cup is due to their old style of trade...: Technically, Yemen is on the Asian continent (on MokhaThe Yemeni type of coffee, both in terms of the family of cultivars planted there, and the general trade name.: Mokha Yemeni type of coffee, both in terms of the family of cultivars planted there, Ismaili (Hirazi) $7.90 $15.01 $36.74 $126.40
Yemen Mokha Mattari $7.00 $13.30 $30.45 $112.00
Yemen Mokha Raimi (Rimy) $6.90 $13.11 $30.02 $110.40
AGED Yemen Mattari $8.10 $15.39 $37.67 $129.60
Indonesian- Indian 1 lb 2 lb 5 lb 20 lb
Indian Monsooned Malabar AA $5.50 $10.45 $23.93 $84.70
Indian Pearl Mountain Flatbean $4.50 $8.55 $19.58 $69.30
Java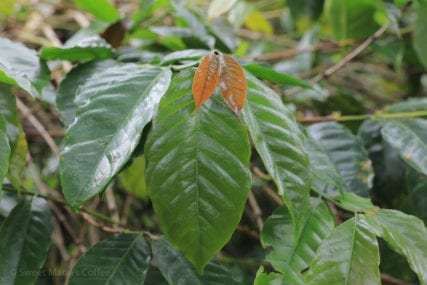 There are several types of Abyssinia, but they are not from Ethiopia but rather Indonesia. Abyssinia 3 = AB3. PJS Cramer, a Dutch plant researcher, introduced this variety in 1928, supposedly from Ethiopia seed stock. It was Govt. Estate -Jampit '01 $4.80 $9.12 $20.88 $73.92
Papua New GuineaPapua New Guinea (PNG) occupies the eastern half of the island it shares with the Indonesian province of Irian Jaya, part of Indonesia. The two primary areas for coffee production can be grouped roughly as Kimel AA $5.00 $9.50 $21.75 $77.00
SulawesiSulawesi coffees are low-acid with great body and that deep, brooding cup profile akin to Sumatra. The coffee is sometimes known as Celebes, which was the Dutch colonial name for the island. Indonesians are available Toraja Gr. 1 '01-02 $4.80 $9.12 $20.88 $73.92
SumatraIndonesians are available as a unique wet-hulled or dry-hulled (washed) coffees. Giling Basah is the name for the wet-hulling process in Bahasa language, and will have more body and often more of the "character" that MandhelingA trade name used for wet-hulled Sumatra coffees. It is an area and a culture group as well (spelled Mandailing often) but there is not as much coffee production in this area anymore, south of DP Gr.1 '01-02 $4.75 $9.03 $20.66 $73.15
Sumatra Lake Tawar 18+ $5.40 $10.26 $23.49 $83.16
Aged Sumatra Mandheling '98 $6.20 $11.78 $26.97 $95.48
Timor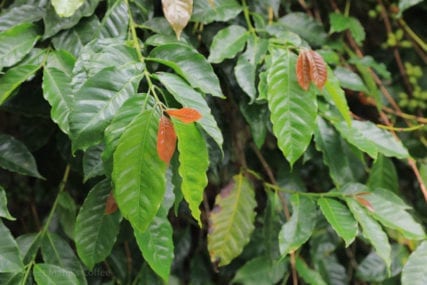 Hibrido de Timor abbreviated HdT is the interspecies hybrid of C. Arabica and C. Canephora (Robusta) that was found in Timor Leste in the 1940s. It has been the bases of plant breeding for disease Organic Aifu '01 $4.90 $9.31 $21.32 $75.46
Islands- Blends -Etc. 1 lb 2 lb 5 lb 20 lb
HawaiiThe Kona district on the big island of Hawaii produces the best coffee from this state - clean, sweet and mild. : Ah, Hawaii... what a nice place. They grow nuts, fruit, and coffee. The Kona-Greenwell Farms '01-02 $15.00 $28.80 $69.75 5 lb limit
Puerto Rican Yauco Selecto AA '02 $10.90 $20.93 $49.60 $189.66
SM's Moka Kadir Blend $5.80 $11.02 $25.23 $89.32
SM's Espresso Monkey Blend $5.00 $9.50 $21.75 $77.00
SM's Classic Italian Espresso Blend $4.80 $9.12 $20.88 $73.92
SM's Decaf Espresso Blend $5.70 $10.83 $24.80 $87.78
SM's French RoastSugars are heavily caramelized (read as burned) and are degraded; the woody bean structure is carbonizing, the seed continues to expand and loose mass, the body of the resulting cup will be thinner/lighter as the Blend $5.50 $10.45 $23.93 $84.70
Decafs 1 lb 2 lb 5 lb 20 lb
Brazil Santos SWPSWP means Swiss Water Process is a patented water filtration decaf method, not a chemical solvent method. The plant is in Vancouver, Canada. Decaf $5.40 $10.26 $23.49 $83.16
Costa Rican SHB Natural Decaf $4.70 $8.93 $20.45 $72.38
Ethiopian Ghimbi MC Decaf $5.10 $9.69 $22.19 $78.54
GuatemalaGuatemalan coffee is considered a top quality coffee producer in Central America. Due to our proximity to Guatemala, some of the nicest coffees from this origin come to the United States. : Guatemalan growing regions Atitlan Org-FT SWP Decaf $6.20 $11.78 $26.97 $95.48
Indonesian Komodo Blend Org SWP D $6.10 $11.59 $26.54 $93.94
Kenya MC Decaf -German KVWA decaf plant in Germany specializing in the methylene chloride solvent method. KVW stands for Kaffee Veredelungs Werk: A decaf plant in Germany specializing in the methylene chloride solvent method. KVW stands for Kaffee Veredelungs $5.25 $9.98 $22.84 $80.85
Mexican Cepco Co-op Natural Decaf $4.60 $8.74 $20.01 $70.84
Mexican Chiapas Org/FT SWP Decaf $6.10 $11.59 $26.54 $93.94
Sumatra Mandheling Natural Decaf $5.20 $9.88 $22.62 $80.08
Sumatra Gayo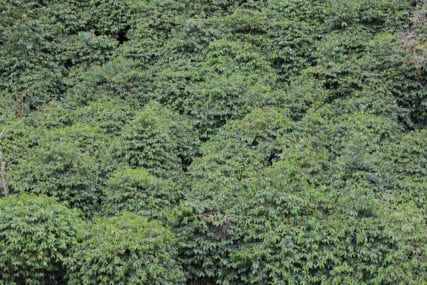 Gayo is ethnic group from the area of Aceh Sumatra around Lake Takengon. They use the name Gayo Coffee to market their production. The Acehnese are a different ethnic group, more centered in the lower Mtn. Org.SWP Decaf $5.80 $11.02 $25.23 $89.32
Premium Robustas 1 lb 2 lb 5 lb 20 lb
Indian Kaapi Royale RobustaRobusta usually refers to Coffea Robusta, responsible for roughly 25% of the world's commercial coffee. Taxonomy of Robusta is debated: some sources use "Robusta" to refer to any variety of Coffea Canephora, and some use $5.00 $9.50 $21.75 $77.00
Indian Monsooned Robusta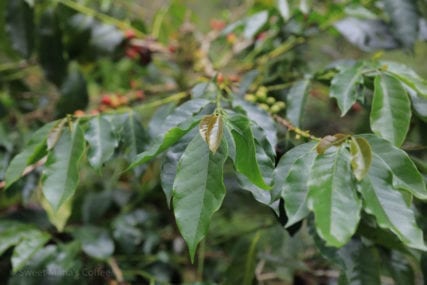 Ateng is a common name for Catimor coffees widely planted in Sumatra and other Indonesia isles.: Ateng, with several subtypes, is a common name for Catimor coffees widely planted in Sumatra and other Indonesia isles. AA $5.20 $9.88 $22.62 $80.08
Java Washed Robusta $4.30 $8.17 $18.71 5 lb limit