What influences cup Flavor – or how did that flavor get there?
There are many things that influence the flavor you taste in the cup – cultivarCultivar is a term used interchangeably with Varietal in the coffee trade to indicate plant material, although there are distinctions.: The naming of a cultivar should conform to... ...more, altitude, processingThe removal of the cherry and parchment from the coffee seed.: Coffee is either wet-processed (also called washed or wet-milled) or dry-processed (also called wild, natural or natural... ...more, roasting, brewing. Missteps along the way can doom the flavor – anything from picking unripe cherry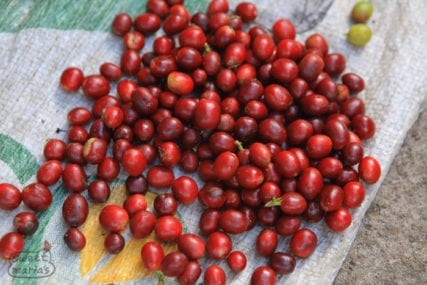 Either a flavor in the coffee, or referring to the fruit of the coffee tree, which somewhat resembles a red cherry.: Either a flavor in the coffee, or... ...more to storage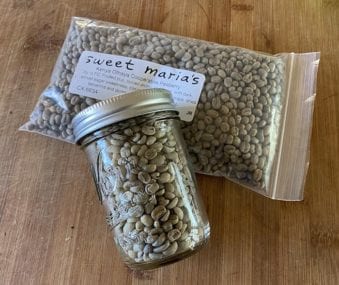 Green coffee can be stored much longer than roasted coffee: Roasted coffee starts to lose its aromatics in 10 days after roasting. Green coffee can be stored months... ...more in bad or tainted burlap, from a container left sitting too long at a tropical port, to too fast or too slow a roast; dirty brewing equipment, low water temperature, the wrong grind, a bad bean or dirt clod… The list of factors that can negatively impact the cup is very long indeed. I want to focus on two factors that positively influence cup quality here: the cultivar/growing conditions and brewing method. Now these two things are at opposite ends of the process – the former seemingly determines the flavor of the coffee before it is picked, and the latter is the final step before you can enjoy the coffee.
Cultivar and Terroir
Cultivar and growing conditions are linked in terms of how they impact cup quality. There are specific flavor characteristics associated with certain true cultivars – for example, BourbonA coffee cultivar; a cross between Typica and Bourbon, originally grown in Brazil: Mundo Novo is a commercial coffee cultivar; a natural hybrid between "Sumatra" and Red Bourbon,... ...more is generally considered to deliver high acidity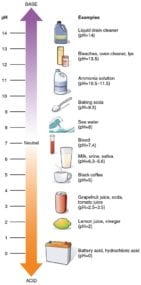 Acidity is a positive flavor attribute in coffee, also referred to as brightness or liveliness. It adds a brilliance to the cup, whereas low acid coffees can seem... ...more, SL-28Scott Labs selection 28 Kenya cultivar, a preferred type with Bourbon and Mokka heritage. It supposedly is selected from Tanganyika DR cultivar, found by A.D. Trench on a... ...more, grown widely in KenyaKenya is the East African powerhouse of the coffee world. Both in the cup, and the way they run their trade, everything is topnotch.: Kenya is the East... ...more, has high acidity and is mild. These characteristics are produced in specific environmental conditions; the cultivar planted in a different environment can yield coffee of different quality. This is one reason why we find the "transplanted" cultivars so interesting – I mean, if you grow a Java cultivarJava Cultivar is planted widely in Cameroon, related to Abyssinia found in East Java. It is distinct from Java Typica types, such as Bergendal, Pasumah or BLP, and... ...more in Nicaragua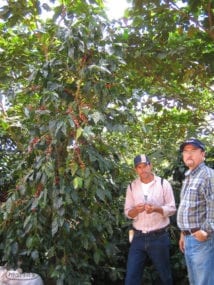 Nicaraguan coffees from the Segovia, Jinotega, Ocotal and Matagalpa regions are nice balanced cups. They often possess interesting cup character along with body and balance, outperforming many other... ...more, and wet processWet-processing starts by removing the outer skin of the coffee cherry with a machine called a pulper, then fermenting the remaining fruit (with green bean inside) in water... ...more it – what do you get? We have sold the Blue Mountain cultivarNamed for the Jamaica coffee brand, a form of Typica. It is an arabica coffee that shares other features of Typica plants, but also shows some resistance to... ...more that Rita and Skip Cowell grow on their farm over the years and it is slightly different from the Kona typicaA variation on Typica grown in the Kona region of Hawaii.: Kona is a special cultivar, Kona Typica, a traditional varietal that cannot be grown at low elevations. ...more they grow on the rest of their farm. Other cultivars, such as typica, caturraCatimor is a broad group of cultivars derived from a Hibrido de Timor (HdT) and Caturra cross, highly productive, sometimes with inferior cup flavor. The main issue is... ...more , etc. are hybrids that are crossed for various reasons not necessarily related to cup quality – for example, disease or pest resistance, yield, etc. So, environmental conditions – "terroir" – combined with cultivar can greatly impact cup quality. These factors include soil, temperature, altitude, the amount of cloud cover, wind, and rainfall, as well as other factors. Beans grown at higher altitudes and in shade, are smaller, denser, and generally have a more pronounced acidity, perhaps because they mature more slowly. These beans also roast somewhat differently. How a coffee is processed and dried during harvest will greatly affect flavor as well. You could say processing acts as a veil or mask but if that implies that there is a possibility of experiencing coffee without the adornment of processing, then this would be a false conclusion. Coffee has to be processed as much as it has to be roasted and brewed. Ideally the processing compliments the cultivar/terroir –as much as the roasting style and brewing does. ( I referred to Wintgens' Coffee Growing, Processing, for many of the details included above. It is a surprisingly readable book, albeit very technically oriented.) Getting the Brew Right Consider too that certain brewing methods compliment some coffees better than others. This is fairly obvious in espressoA small coffee beverage, about 20 ml, prepared on an espresso machine where pressurized hot water extracted through compressed coffee.: In its most stripped-down, basic form, this is... ...more brewing. It is generally accepted that espresso, made either by a pump driven machine or a moka pot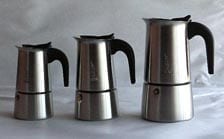 Moka Pot stovetop brewers produce a dense concentrated cup that's something between espresso and Turkish coffee. Coffee is placed into a filter between the lower chamber (that you... ...more, is best made using specific beans – usually a blend – and roasted at least into the start of second crackAfter First Crack, a roast reaction around 440 to 450 degrees that is distinguished by a snapping sound. Second Crack is the second audible clue the roaster-operator receives... ...more since that facilitates extractionRefers to the process of infusing coffee with hot water. Hot water releases or "extracts" the flavor from the roasted, ground coffee. The term is used mostly with... ...more. We do have one employee who brews everything as espresso, light roast, dark roast, Kenya, GuatemalaGuatemalan coffee is considered a top quality coffee producer in Central America. Due to our proximity to Guatemala, some of the nicest coffees from this origin come to... ...more. But he is nuts. We have often found vacuum brewing brings out the best of coffees that are more delicate, floral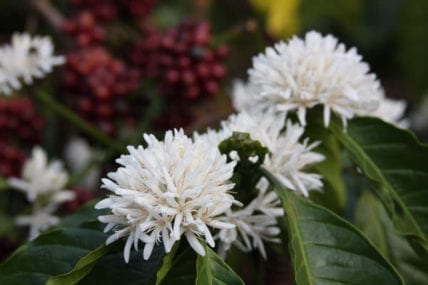 Floral notes in coffee exemplify the connection between taste and smell. Describing the taste of a specific flower is near impossible...we always default to "it tastes like it... ...more or fruityIn some coffee taster's lexicon, "fruity" means the coffee is tainted with fruit, and "fruited" means a coffee is graced by positive fruit notes. We don't exactly see... ...more, with a medium roast. You can brew the same coffee in a French pressA simple coffee brewer also called a Press Pot: grounds and hot water are added to a carafe, allowed to sit for several minutes, and then a filter... ...more, but it will taste different – with the higher notes of the coffee perhaps smothered. Because French press tends to accentuate the bodyAssociated with and sensed by mouthfeel, body is sense of weight and thickness of the brew, caused by the percentage of soluble solids in the cup, including all... ...more of the coffee, allowing more coffee solids to remain suspended in the brew, this method is generally favored for bigger bodied, lower acidity coffees, and darker roasts (which will mask acidity in a coffee). Drip brewing with a filter is very democratic – you can use it to brew any type of coffee. Nothing beats the simple setup and a proper brew is insured since you provide proper hot water from a kettle, not a lukewarm drip machine – you just need to control extraction time.
By May 1st, we will have a new "Coffee Glossary"
feature on the website to cover all the terms mentioned in this article (and more!)
3 Countries/ 7 Days
I took a brief cupping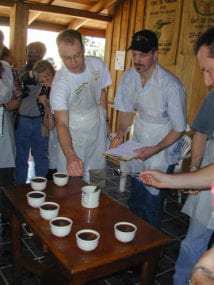 Cupping is a method of tasting coffee by steeping grounds in separate cups for discrete amounts of ground coffee, to reveal good flavors and defects to their fullest.... ...more trip, or a string of them, to PanamaPanama coffee ranges from medium quality lower altitude farms to those at 1600 - 1800 meters centered in the area of Boquete in the Chirqui district near the... ...more, Costa RicaCosta Rican coffee is typically very clean, sweet, with lots of floral accents. hey are prized for their high notes: bright citrus or berry-like flavors in the acidity,... ...more, and Nicaragua in late March 2009. A full trip report is online but I wanted to touch on some points here. The main goal of the Panama leg of the trip was to cup coffee with Carlos Franceschi Aguilar at Carmen EstateA "coffee estate" is used to imply a farm that has its own processing facility, a wet-mill. In Spanish this is called an Hacienda. A Finca (farm) does... ...more, and to view the damage from the storms these past months. Rains and winds combined to wash out the bridge to the farm, splinter trees, and strip some coffee trees bare! I also met up with Daniel Peterson to cup some experimental GeshaGesha is a long-bean Ethiopia selection with unique cup character.: Gesha (often wishfully misspelled as Geisha) is a long-bean Ethiopia cultivar selection with unique cup character. It is... ...more separations at HaciendaHacienda is used to imply an Estate that has a full processing facility (wet mill): Sometimes the term Hacienda is used to imply an Estate, which would mean... ...more Esmeralda. Carmen Estate has been badly hurt by the infrastructure damage. The crop is small as well. It seems to be the same story everywhere I have been, the wrong weather at the wrong time; dry when they need rain, rain when the flower is on the tree, knocking off the blossoms, high winds, etc. Luckily, the quality from Carmen is not affected. The samples we cupped were really nice, classic, bright Carmen coffee. We are making further selections to our 1800+ meter separation, and might have some interesting experimental lots as well. Since micro-mill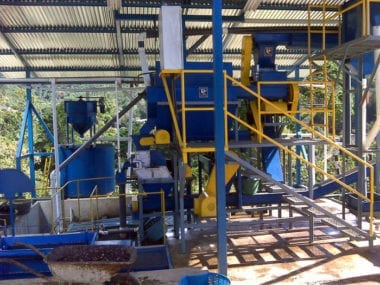 Small independent mills that produced finished coffee, ready for export, usually right on the farm. A Micromill is a tiny low-volume, farm-specific coffee producer who their lots separate,... ...more production has become more widespread and accessible, Costa Rica is a joy to visit. Trips to micro-mills, small individual farms that pick and process coffee from start to finishSimilar to aftertaste, but it refers to the impression as the coffee leaves the palate. Aftertaste is the sensations gathered after the coffee has left the mouth. We... ...more, with control of quality at every step, is like finding the like-minded
double of the micro-roaster at the other end of the coffee chain. There's a similar approach, a kind of handshake of ideas and attitudes. The next stop was Beneficio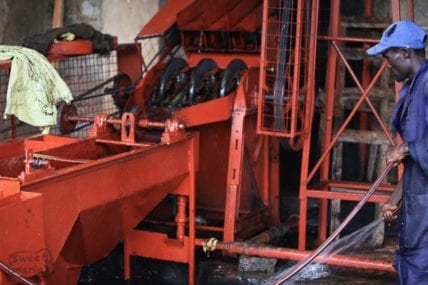 In Kenya, a "Factory" is actually a coffee wet mill (called a washing station in other parts of Africa) where the fresh cherry is brought for wet-processing. It... ...more Don Esteban in Esteli, Nicaragua. I've been happy with the Nicaragua coffees we have received overall, but I am always interested in what more an be done. There are many great initiatives in Nicaragua (Cup of ExcellenceThe Cup of Excellence is a competition held yearly in many coffee-producing countries, designed to highlight the very best coffees from each origin.: The Cup of Excellence (COE)... ...more, the rural cupping program, talented national cuppers, some good cooperatives, many quality small producers) but there is also a large commercial industry that aims to produce the most economical and mediocre arabicaArabica refers to Coffea Arabica, the taxonomic species name of the genus responsible for around 75% of the worlds commercial coffee crop.: Arabica refers to Coffea Arabica, the... ...more coffee possible. Every country has its lower levels of arabica production, but along with Honduras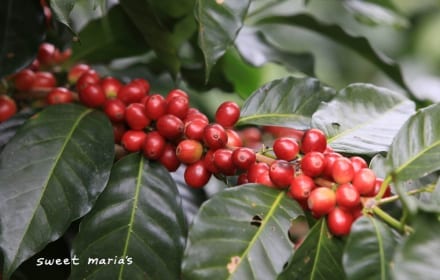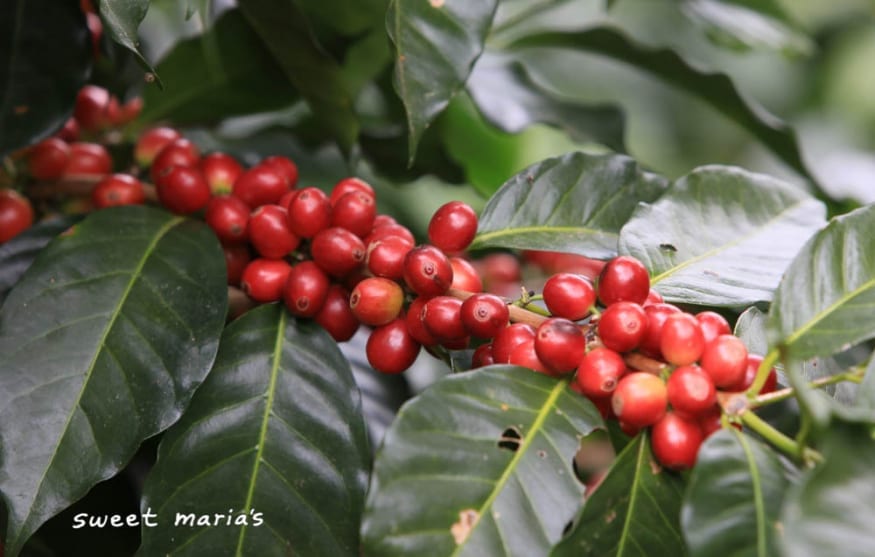 Honduran coffee was absent from the top ranks of the Specialty market, but that has changed. It has all the environmental factors on its side: soil, altitude, climate.... ...more, Nicaragua aims to produce a lot of this. Partly, this is due to the powerful multinationals like Ecom/Atlantic and some big exporters like Mercon which maintain a high demand for lower grades of arabica, which forces small producers to cut every corner possible to produce coffee cheaply. Buying the best quality coffee at the best prices has a positive impact on the zero-sum game of low-end production. Visiting producers, I see the higher prices paid for quality coffee ripple through the economic pool, down to the transient picker who harvests the coffee. My host Erwin Mierisch mentioned that the crop is small this year, down by 30% or so, and he warned that it seemed to be a down year for Nicaragua in general. There will be great coffees, but they will be few and far between, and cupping separate mill batches will be important, even with proven sources like the Java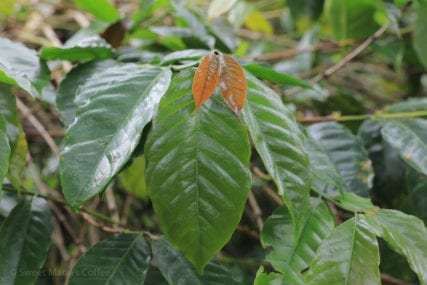 There are several types of Abyssinia, but they are not from Ethiopia but rather Indonesia. Abyssinia 3 = AB3. PJS Cramer, a Dutch plant researcher, introduced this variety in 1928,... ...more cultivar from Limoncillo farm. (In fact, I cupped different Java cultivar batches from various plots and various altitudes. The difference in quality was pronounced, although there was a nice, mild sweetnessSweetness is an important positive quality in fine coffees, and is one of five basic tastes: Sour, Sweet, Salty, Bitter, Savory (Umami). In coffee, sweetness is a highly... ...more to all the lots; I like this varietyA botanical variety is a rank in the taxonomic hierarchy below the rank of species and subspecies and above the rank of form (form / variety / subspecies... ...more of coffee!)
Visit Us Online
Tom's Coffee Travels photologs and travelogs are
posted on our site and also look a little different on
this site –
http://www.sweetmariascoffee.com/gallery/main.php Tom also posts notes from The Cupping Room here:
http://www.sweetmarias.com/weblog
Sweet Maria's Coffee
1115 21st Street, Oakland CA 94607
web: www.sweetmarias.com
email: [email protected]