Coffee is a Crop, Not a Can of Pop.
Can you believe it took me 10 minutes to think up that catchy title? What I mean is that coffee comes and goes based on the crop cycle. It's unreasonable (and undesirable) to expect all origins to be available at all times, stocked like soda pop in the supermarket. Here at Sweet Maria's, it would be a lot easier to have year-round stock on all coffees. I would go so far as to say it is completely insane that we don't. The amount of work we could avoid by simply buying a year-round supply of our micro-lots is staggering. Maybe I could even fix some of those old motorcycles I stashed in the back of the warehouse years ago! But that's just not how it works here, for several reasons. The first is that the supply of green coffee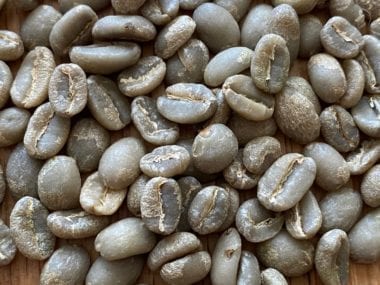 Green coffee refers to the processed seed of the coffee tree fruit. Coffee is a flowering shrub that produces fruit. The seeds of the fruit are processed, roasted, ground and prepared as an infusion.: Coffee of this quality is limited. We deal in micro-lots, coffees either from very small producers, or very specialized and distinct lots from medium-sized Estates or Co-ops. A good example is Carmen EstateA "coffee estate" is used to imply a farm that has its own processing facility, a wet-mill. In Spanish this is called an Hacienda. A Finca (farm) does not necessarily have a mill. (And Finca in PanamaPanama coffee ranges from medium quality lower altitude farms to those at 1600 - 1800 meters centered in the area of Boquete in the Chirqui district near the border with Costa Rica. Some farms feature. An award-winning farm, we buy their coffee grown at altitudes above 1800 meters. The farm ranges from 1500 to 1900 meters, and when you get into that top tier of altitude, each tree produces dramatically less coffee. In total, the farm has 500 to 600 bags of coffee each year. Of our coffee, there are 40 bags or less, and we purchase it all at a price far above the standard price for small-farm Panama coffees, above Fair TradeFair trade is an organized social movement and market-based approach to empowering developing country producers and promoting sustainability.: Fair trade is an organized social movement and market-based approach to empowering developing country producers and promoting prices, above OrganicGrown without the use of artificial fertilizers, herbicides, etc.: Organic coffee has been grown according to organic farming techniques, typically without the use of artificial fertilizers. Some farms have more local Organic Certification than the prices … you get the picture. We must do that, not only because of our relationship with the farmer, Carlos, but because of the added labor to separate our coffee and mill it to the highest standard. It is more effort for the farmer at every step of the process. Not only that, for every 10 good and exportable bags of coffee that leave the farm, there are 2 bags of "seconds": coffee that is rejected in the milling, picked too early or too late, seeds that lack densityThe density of a coffee bean is often taken as a sign of quality, as a more dense bean will roast more with a better dynamic. The density of a coffee bean is often taken, or are broken. This coffee is usually sold off at a pittance to commercial roasters. So the farm must recover top dollar for its true micro-lotA term that designates not only a small volume of coffee, but a lot produced separately, discreetly picked or processed to have special character. Read the full definition!: Micro-Lot is a term ripe and ready of "Gran Cru" coffee to offset the 20% or more of rejected coffee. From this perspective, I see that my former attitude of contempt for commercial-grade roasters, and even for "Specialty" roasters who buy mid-range coffees has changed greatly. I have a new appreciation for the role of each buyer, and their respective quality "tier" of coffee. After all, if no one bought the low grade and mid-grade coffee, the farmer couldn't afford the time, labor and equipment it takes to produce my micro-lots! So the next time you enjoy a really fine coffee, perhaps it would be appropriate to tip your hat to the "Gourmet" coffee store, to the whole-bean supermarket bins and their oily "Columbia SupremoA Colombian coffee grade referring to screen size of 17-18 screen. In the traditional bulk Arabica business, Supremo was the top grade Colombia, with Excelso one step below at 15-16 screen. Neither of these refer" or "Terrazu" coffee, or to that espressoA small coffee beverage, about 20 ml, prepared on an espresso machine where pressurized hot water extracted through compressed coffee.: In its most stripped-down, basic form, this is a working definition for espresso: A small drive-thru that specializes in "Skinny Caramel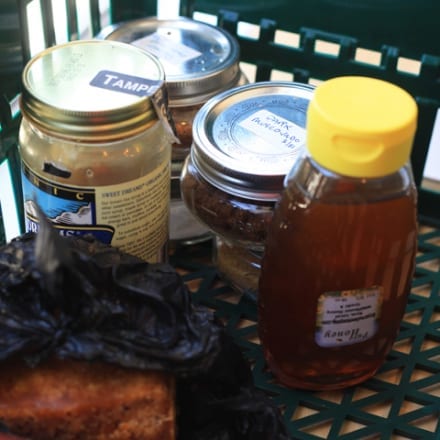 Caramel is a desirable form of sweetness found in the flavor and aroma of coffee, and is an extension of roast taste. Extremely light or dark coffees will lose potential caramel sweetness, as it exists Lattes". It is possible that they sponsored your stash of truly exemplary home-roasted coffee!
New Central America Arrival Highlights
I (Tom) spend so much time cupping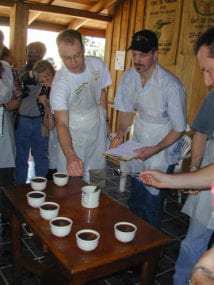 Cupping is a method of tasting coffee by steeping grounds in separate cups for discrete amounts of ground coffee, to reveal good flavors and defects to their fullest. It has formal elements and methodology in coffees and writing reviews that keeping up with the newsletter has become difficult. When I started writing this newsletter, almost 10 years ago, I could not have imagined how quickly the information and the list of coffee offerings would become out of date. Many of our lots sell out so quickly that, when it comes time to write a newsletter, many listed coffees are long gone. Keep that in mind as I highlight some new arrivals, and some micro-lots that will be coming in the next month or two.
Costa RicaCosta Rican coffee is typically very clean, sweet, with lots of floral accents. hey are prized for their high notes: bright citrus or berry-like flavors in the acidity, with distinct nut-to-chocolate roasty flavors.: Can a: I spent some time cupping at the cooperative mills this winter to identify new microlots with exceptional character. The result will be two special Sweet Maria's Peaberry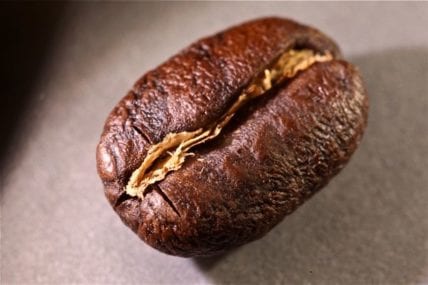 The Spanish-language term for Peaberry is the same for "snail". See Peaberry for more information on the single bean fruit of the coffee tree. A peaberry is the rounded singular seed found in the coffee Reserves (not one as we have had in the past). We are going to have a winey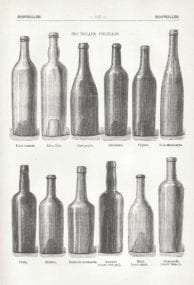 A taste term to describe a wine-like flavor with a similar perceived acidity and fruit, and some level of acetic acid. It is found most commonly in East African specialty coffees as well as in, fruitedIn some coffee taster's lexicon, "fruity" means the coffee is tainted with fruit, and "fruited" means a coffee is graced by positive fruit notes. We don't exactly see the difference in terms of these two PeaberryA peaberry is a green coffee "bean" that has a rounded form: Coffee is the dried seed from the fruit of a flowering tree - each fruit having 2 seeds facing each other (the flat from the Dota Tarrazu region, with welldeveloped chocolate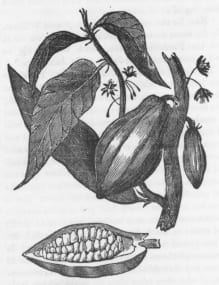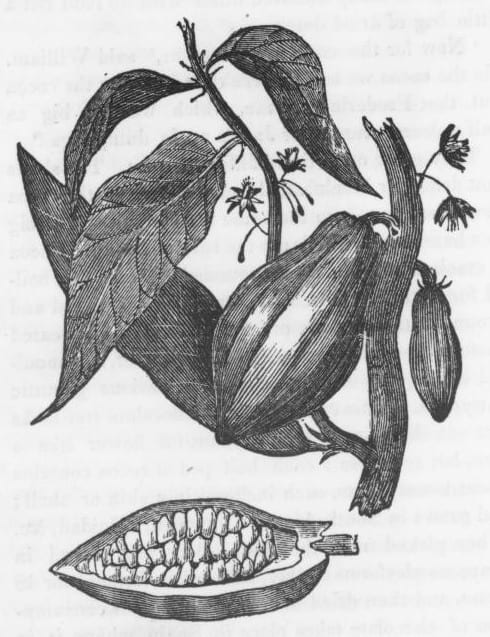 A general flavor or aroma term reminiscent of chocolate. But what type? Usually described with more specifics.: Chocolate is a broad, general flavor or aroma term reminiscent of chocolate. But what type? There are so, silkyA mouthfeel description indicating a delicate, light, elegant softness and smoothness. Usually refers to a lighter body than terms such as velvety, or creamy. bodyAssociated with and sensed by mouthfeel, body is sense of weight and thickness of the brew, caused by the percentage of soluble solids in the cup, including all organic compounds that are extracted from brewing, and fruited hints. And from the region of Naranjo we will have a crystal-clean Peaberry
with citrus blossom aromatics, zingy bright acidity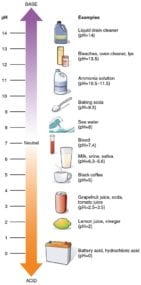 Acidity is a positive flavor attribute in coffee, also referred to as brightness or liveliness. It adds a brilliance to the cup, whereas low acid coffees can seem flat. Acidity can sound unattractive. People may, and light body. We have offered "Miel" coffees before, but another lot from Dota this year is a full-on natural dryprocessed coffee, as they do in Ethiopia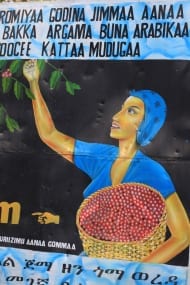 Ethiopia is the birthplace of coffee: it is in the forests of the Kaffa region that coffee arabica grew wild. Coffee is "Bun" or "Buna" in Ethiopia, so Coffee Bean is quite possibly a poor. It has intense body, rusticA general characterization of pleasantly "natural" flavors, less sophisticated and less refined, but appealing. : What is Rustic? This is a general term we came up with... Dried Apricots from Sun Maid at the supermarket, strawberry fruitiness, and fruit-laced chocolate roast tasteThe set of flavors that result from the degree-of-roast.: Roast Taste is a term we started to distinguish it from "Origin Flavor". We use the "roast taste" term define the set of flavors that result. GuatemalaGuatemalan coffee is considered a top quality coffee producer in Central America. Due to our proximity to Guatemala, some of the nicest coffees from this origin come to the United States. : Guatemalan growing regions: We have 2 lots of special 100% BourbonA coffee cultivar; a cross between Typica and Bourbon, originally grown in Brazil: Mundo Novo is a commercial coffee cultivar; a natural hybrid between "Sumatra" and Red Bourbon, originally grown in Brazil. It was developed coffees coming, along the lines of last year's incredible "Blue Quetzal." And we have a very interesting lot from Antigua of 100% Yellow BourbonYellow Bourbon is a subtype that has fruit which ripens to a yellow color, found mainly in Brazil where it was first grown. Bourbon coffees are named for the island in the India Ocean were, a very unusual cultivar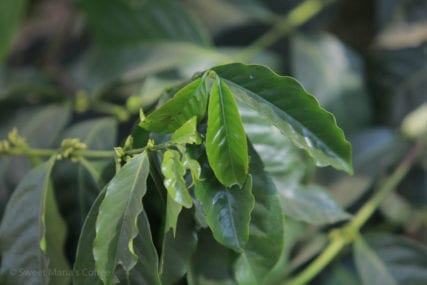 USDA is (obviously) the United States Department of Agriculture. USDA also had coffee plant breeding programs in the past and one variety they distributed to Indonesia and was widely planted is called USDA  (sounds like  to be found in Guatemala. The Fraijanes Agua Tibia is in stock, and is the best lot from this farm that I have cupped in recent years; incredible tangyAn adjective modifying a flavor descriptor, describing a sharp effect; tangy citrus, tangy bittersweet flavor, tangy green apple. bittersweets.
Panama: We have been spoiled with our great Panamas, and this year will include the very-popular Carmen Estate 1800+ meter lot, the HaciendaHacienda is used to imply an Estate that has a full processing facility (wet mill): Sometimes the term Hacienda is used to imply an Estate, which would mean the farm has its own wet-mill. A La Esmeralda GeshaGesha is a long-bean Ethiopia selection with unique cup character.: Gesha (often wishfully misspelled as Geisha) is a long-bean Ethiopia cultivar selection with unique cup character. It is most famously grown on the Jaramillo plot, and perhaps a surprise or two. Our early lot of Panama 12886 was a real sleeper, a fine coffee in a generic wrapper. I am always open to finding such "diamonds in the rough." MexicoMexican coffee originates from South-central to Southern regions of the country. For that reason, coffees from Coatepec and Veracruz are much different from Oaxacan Plumas, which are in turn much different from the Southernmost region: It's rare that I find 2 great Oaxaca coffees, but this is definitely an "up" year for the region in terms of cup quality. Our Fair Trade Organic Oaxaca Pluma has great semi-sweet chocolate notes, and the Oaxaca Pluma Don Eduardo has a winey and fruited subtext in the cup. I was in Chiapas to evaluate micro-regional coffees, and those should be arriving by June.
El SalvadorEl Salvador coffee had an undeservingly poor reputation for years, marred mostly by the inability to deliver coffee of high quality in an unstable political climate. Unfortunately, agriculture is the first to suffer in revolution,: We have 100% Bourbon coffees lined up, as well as a new source for a full-body pulped natural coffee, coming mid May. I am sure the Cup of ExcellenceThe Cup of Excellence is a competition held yearly in many coffee-producing countries, designed to highlight the very best coffees from each origin.: The Cup of Excellence (COE) is a competition held more-or-less yearly in will yield some fine lots too.
Other Origins: I can't fit all I need to in this article, but besides Centrals there are many other new cropRefers to fresh shipments of green coffee within the first month or two of the earliest arrivals ... not quite the same as Current Crop, which means the most recent harvest. As a stable dried arrivals. We have just received our first KenyaKenya is the East African powerhouse of the coffee world. Both in the cup, and the way they run their trade, everything is topnotch.: Kenya is the East African powerhouse of the coffee world. Both from the 2007 Main Crop Auctions, and that is the tip of the iceberg. I have cupped well over 300 lots, and found 8 (at this writing) that are exceptional. Those are all in transit over the next 2 months. Ethiopia: Early dry-processed Harar lots have been disappointing. They had poor weather conditions during the flowering of the coffee trees this season. I have higher expectations for the dry-process Sidamo coffees, and we have some special projects with farms in that region. Our first wet-process Yirgacheffe is here, and it is spectacular, with strong jasmine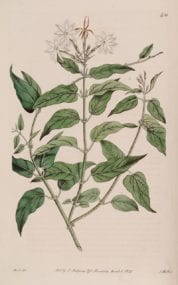 A very positive and intensely floral quality in coffee, usually with a strong aromatic component, reminiscent of jasmine flower or tea. There are many forms of jasmine; the common flowering vines, teas, potpourri, etc. Jasmine aromatics. We will have the dry-process Yirgacheffe Idido Misty Valley in late June or so.
Yet Another Weird T-Shirt.
Note the chicken-n-coffee image in this newsletter? You too could be wearing that all over your city! Would you? Maybe not, but I would. We are t-shirt people here at Sweet Maria's and the odder the better. Maybe that's why we keep trying to make shirts that few people will really like, let alone buy. But what the heck, it's not like we need to advertise, and since when is a weird t-shirt going to hurt anyone? In this case, we have 2 new designs that are based on photographs I took in my coffee travels. I love commercial paintings (the kind you see in Mexico advertising a chicken shack or in Panama advertising an internet café), all quite folksy and one-of-a-kind. So we made a couple shirts based on these. We called this one the "Cubist chicken" not because it is particularly Cubist in style, but because it doesn't make much sense. -Tom
Sweet Maria's Coffee
1115 21st Street, Oakland CA 94607
web: www.sweetmarias.com
email: [email protected]
Sweet Maria's Green Coffee Offering List
as of May 2, 2007 – there are many, many incoming lots weekly
at this time of year, especially Centrals, Kenyas, and Ethiopia.
Check the web site – this list is certainly out-of-date!
Central American 1 lb 2 lb 5 lb 10 Lb 20 lb
Costa Rica Dota Tarrazu -Conquistador $5.00 $9.50 $21.75 $41.50 $77.00
Costa Rica Tres Rios -La Magnolia $4.90 $9.31 $21.32 $40.67 $75.46
Guatemala Fraijanes – Finca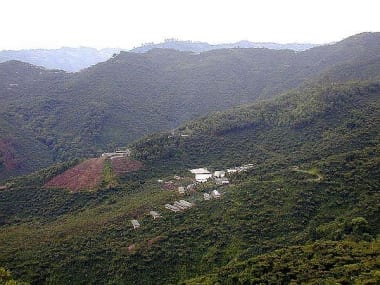 Spanish 101: Finca is the Spanish word for farm. Sometimes the term Hacienda is used to imply an Estate, which would mean the farm has its own wet-mill. A Finca does not necessarily have a Agua Tibia $4.80 $9.12 $20.88 $39.84 $73.92
Mexico FTOFTO is shorthand for a coffee that is certified as both Fair Trade and Organic. Oaxaca Pluma $5.10 $9.69 $22.19 $42.33 $78.54
Mexico Oaxaca Pluma -Don Eduardo $4.90 $9.31 $21.32 $40.67 $75.46
Nicaragua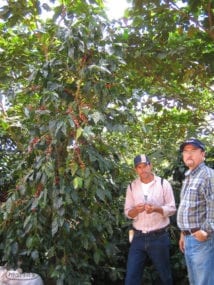 Nicaraguan coffees from the Segovia, Jinotega, Ocotal and Matagalpa regions are nice balanced cups. They often possess interesting cup character along with body and balance, outperforming many other balanced Central American and South American high-grown FTO Esteli – Miraflor Coop $5.15 $9.79 $22.40 $42.75 $79.31
Panama Lot 12686 $4.60 $8.74 $20.01 $38.18 $70.84
South American 1 lb 2 lb 5 lb 10 Lb 20 lb
BoliviaBolivia has always been a coffee origin with great potential, the potential to have a unique Specialty coffee offering with unique cup character.: There's no better way to learn about a coffee-producing country than to FTO SHG EP Caranavi $5.00 $9.50 $21.75 $41.50 $77.00
BrazilBrazil is a coffee giant . As Frank Sinatra sang, "they grow an awful lot of coffee in Brazil".: Brazil is a coffee giant . As Frank Sinatra sang, "they grow an awful lot of Daterra Farms – Yellow Bourbon $5.90 $11.21 $25.67 $48.97 $90.86
Brazil Cachoeira da Grama -Yellow Bourbon $5.60 $10.64 $24.36 $46.48 $86.24
Brazil FTO Dry-Process Poco Fundo $5.10 $9.69 $22.19 $42.33 $78.54
Brazil Screen-Dried Moreninha Formosa $4.90 $9.31 $21.32 $40.67 $75.46
ColombiaColombian coffee is highly marketed and widely available in the US. They have been largely successful at equating the name Colombian Coffee with "Good" Coffee. This is half-true. Colombian can be very balanced, with good Organic Narino – San Lorenzo $5.20 $9.88 $22.62 $43.16 $80.08
PeruPeruvian coffees have Central American brightness but in a South American coffee flavor package overall. The good organic lots do have more of a "rustic" coffee character.: Organic Peru ... you can get it anywhere Tunquimayo – Juan de Dios $5.40 $10.26 $23.49 $44.82 $83.16
Peru Las Delicias – Zenon Vargas $5.40 $10.26 $23.49 $44.82 $83.16
Peru Norte Especial $4.70 $8.93 $20.45 $39.01 $72.38
African- Arabian 1 lb 2 lb 5 lb 10 Lb 20 lb
Ethiopia FTO Yirgacheffe Oromia $5.20 $9.88 $22.62 $43.16 $80.08
Kenya AA Kiambu – Kimathi $5.50 $10.45 $23.93 $45.65 $84.70
RwandaRwandan coffee was, at one time, rarely seen in the United States as either a Specialty grade or low-end commercial coffee. There simply was not that much coffee produced in Rwanda that went anywhere besides Butare Bourbon $5.40 $10.26 $23.49 $44.82 $83.16
Rwanda FT Duhingekawa Womens Coop $5.40 $10.26 $23.49 $44.82 $83.16
TanzaniaIn terms of the Tanzania coffee character, it belongs to the Central/East African family of washed (wet-processed) coffees, bright (acidy), and mostly aggressively flavorful of which Kenya is certainly the dominant coffee. Peaberries are often Mount Meru Nkoanekoli $5.50 $10.45 $23.93 $45.65 $84.70
Tanzania AAA Songea Flat BeanFlat bean simply means "normal" coffee beans with one flat side.: The normal coffee fruit has 2 seeds inside, facing each other on their flat side. A percentage of each plant has peaberries, which are $5.20 $9.88 $22.62 $43.16 $80.08
YemenYemen has a coffee culture like no other place, and perhaps some of what we enjoy in this cup is due to their old style of trade...: Technically, Yemen is on the Asian continent (on MokhaThe Yemeni type of coffee, both in terms of the family of cultivars planted there, and the general trade name.: Mokha Yemeni type of coffee, both in terms of the family of cultivars planted there, Haimi $6.60 $12.54 $28.71 $54.78 $101.64
Yemen Mokha Sana'ani $6.40 $12.16 $27.84 $53.12 $98.56
Indonesian- Indian 1 lb 2 lb 5 lb 10 Lb 20 lb
India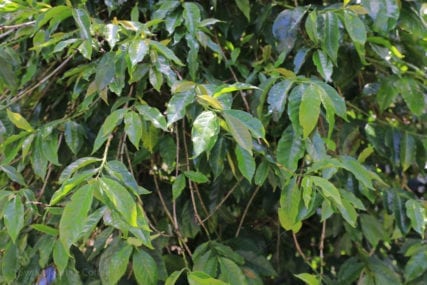 S-795 is a variety based on the " S-Line" coffees of India, and stands for Selection 795, It has a very fine cup, one of the best in Indonesia, but is not a high volume Monsooned Malabar "Elephant" $5.40 $10.26 $23.49 $44.82 $83.16
India Mysore Nuggets Extra Bold $4.75 $9.03 $20.66 $39.43 $73.15
Java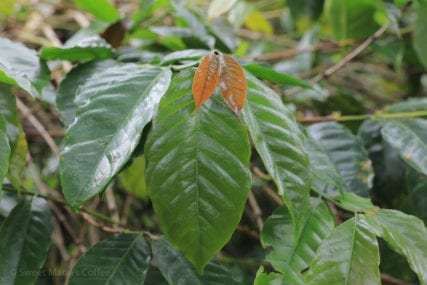 There are several types of Abyssinia, but they are not from Ethiopia but rather Indonesia. Abyssinia 3 = AB3. PJS Cramer, a Dutch plant researcher, introduced this variety in 1928, supposedly from Ethiopia seed stock. It was Government Estate Pancoer $5.20 $9.88 $22.62 $43.16 $80.08
SulawesiSulawesi coffees are low-acid with great body and that deep, brooding cup profile akin to Sumatra. The coffee is sometimes known as Celebes, which was the Dutch colonial name for the island. Indonesians are available Grade One Toraja $5.10 $9.69 $22.19 $42.33 $78.54
SumatraIndonesians are available as a unique wet-hulled or dry-hulled (washed) coffees. Giling Basah is the name for the wet-hulling process in Bahasa language, and will have more body and often more of the "character" that AcehThe northernmost district in SumatraL Aceh District is north of North Sumatra and produces some very classic Sumatra coffees. The center of coffee in Aceh is Lake Tawar and Takengon, the city by the lake. Gold Peaberry $5.90 $11.21 $25.67 $48.97 $90.86
Sumatra Classic MandhelingA trade name used for wet-hulled Sumatra coffees. It is an area and a culture group as well (spelled Mandailing often) but there is not as much coffee production in this area anymore, south of $4.80 $9.12 $20.88 $39.84 $73.92
Sumatra 19+ TP – Lake Tawar $6.00 $11.40 $26.10 $49.80 $92.40
Sumatra FTO Gayo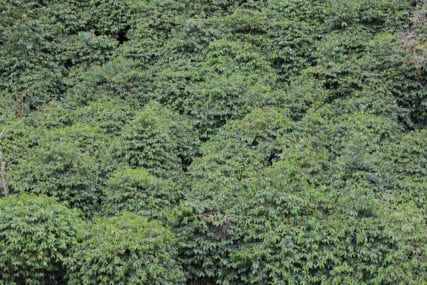 Gayo is ethnic group from the area of Aceh Sumatra around Lake Takengon. They use the name Gayo Coffee to market their production. The Acehnese are a different ethnic group, more centered in the lower – Tanah Tinggi $5.30 $10.07 $23.06 $43.99 $81.62
Timor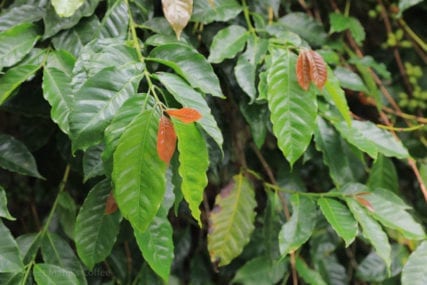 Hibrido de Timor abbreviated HdT is the interspecies hybrid of C. Arabica and C. Canephora (Robusta) that was found in Timor Leste in the 1940s. It has been the bases of plant breeding for disease FTO Maubesse $4.90 $9.31 $21.32 $40.67 $75.46
Islands- Blends -Etc. 1 lb 2 lb 5 lb 10 Lb 20 lb
HawaiiThe Kona district on the big island of Hawaii produces the best coffee from this state - clean, sweet and mild. : Ah, Hawaii... what a nice place. They grow nuts, fruit, and coffee. The KonaKona coffee comes from farms along the Kona Coast on the Big Island of Hawaii: Kona coffee comes from farms along the Kona Coast on the Big Island of Hawaii. Coffee is grown at elevations – Moki's Farm $16.60 $31.54 $72.21 5 lb limit
Hawaii Kowali Extra Fancy In Stock 1 Lb Limit
SM's Moka Kadir Blend $5.60 $10.64 $24.36 $46.48 $86.24
SM's Espresso Monkey Blend $5.00 $9.50 $21.75 $41.50 $77.00
SM's Classic Italian Espresso Blend $4.80 $9.12 $20.88 $39.84 $73.92
SM's Decaf Espresso Blend $5.60 $10.64 $24.36 $46.48 $86.24
SM's Liquid Amber Espresso Blend $5.30 $10.07 $23.06 $43.99 $81.62
SM's French RoastSugars are heavily caramelized (read as burned) and are degraded; the woody bean structure is carbonizing, the seed continues to expand and loose mass, the body of the resulting cup will be thinner/lighter as the Blend $5.00 $9.50 $21.75 $41.50 $77.00
SM's Puro Scuro Blend $5.40 $10.26 $23.49 $44.82 $83.16
SM's Roasted French ChicoryChicory was a popular coffee substitute and economizer for 2 centuries, back when coffee was more prized, and pure coffee was a luxury. : Chicory was a popular coffee substitute and economizer for 2 centuries, $4.80 $9.12 $20.88 $39.84 $73.92
Decafs 1 lb 2 lb 5 lb 10 Lb 20 lb
African Highlands WP Decaf $5.80 $11.02 $25.23 $48.14 $89.32
Costa Rica Tres Rios WP Decaf $5.30 $10.07 $23.06 $43.99 $81.62
El Salvador PN Las Ranas WP Decaf LOW $5.30 $10.07 $23.06 $43.99 $81.62
Ethiopia Yirgacheffe WP Decaf $5.60 $10.64 $24.36 $46.48 $86.24
Guatemala San Marcos WP Decaf LOW $5.20 $9.88 $22.62 $43.16 $80.08
Guatemala Finca Injertal WP Decaf $5.70 $10.83 $24.80 $47.31 $87.78
Indonesian Organic SWPSWP means Swiss Water Process is a patented water filtration decaf method, not a chemical solvent method. The plant is in Vancouver, Canada. Komodo Blend $5.90 $11.21 $25.67 $48.97 $90.86
Mexico Organic Oaxaca WP Decaf $5.30 $10.07 $23.06 $43.99 $81.62
Peru Organic WP Decaf $5.40 $10.26 $23.49 $44.82 $83.16
Sumatra Tapanuli WP Decaf