Stay up to date on coffee we have coming down the pipeline and our latest green coffee outlook and arrivals schedule.
From the Cupping Table
There's been a lot of activity at our Oakland and Seattle cupping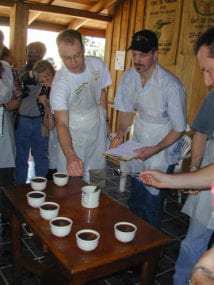 Cupping is a method of tasting coffee by steeping grounds in separate cups for discrete amounts of ground coffee, to reveal good flavors and defects to their fullest. It has formal elements and methodology in labs this past month, with new farm samples from Central America making up a big chunk of our work. GuatemalaGuatemalan coffee is considered a top quality coffee producer in Central America. Due to our proximity to Guatemala, some of the nicest coffees from this origin come to the United States. : Guatemalan growing regions is always a big originIn coffee talk, it refers to a coffee-producing region or country; such as, "I was just at origin." Of course "Origin" for most product we use is not a beautiful farm in a temperate climate, for us, and we've managed to secure our volumes from Antigua, Chimaltenango, and Huehuetenango in about 4 weeks time.
There are well over 200 samples behind that volume, and thankfully, Tom was able to make the trek to the source, managing all of that cupping with the help of our origin partners (check out this tour video of Finca Santa Ines if you haven't already seen it!). One great benefit of coffee travel is having the support of a team to help roast samples and manage the massive cupping sessions. It's a ton of work for just one person!
We're also wrapping up selections from El SalvadorEl Salvador coffee had an undeservingly poor reputation for years, marred mostly by the inability to deliver coffee of high quality in an unstable political climate. Unfortunately, agriculture is the first to suffer in revolution,, Costa RicaCosta Rican coffee is typically very clean, sweet, with lots of floral accents. hey are prized for their high notes: bright citrus or berry-like flavors in the acidity, with distinct nut-to-chocolate roasty flavors.: Can a, and Nicaragua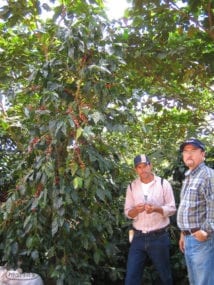 Nicaraguan coffees from the Segovia, Jinotega, Ocotal and Matagalpa regions are nice balanced cups. They often possess interesting cup character along with body and balance, outperforming many other balanced Central American and South American high-grown, and are bringing back coffees from a lot of longtime producer partners such as Cafetalera Buenos Aires in Nicaragua, Corazon de Jesus in Costa Rica, Miravalle farm in El Salvador, and several others. Except for El Salvador, most of these coffees will show up on next months list, once we have contracts in place.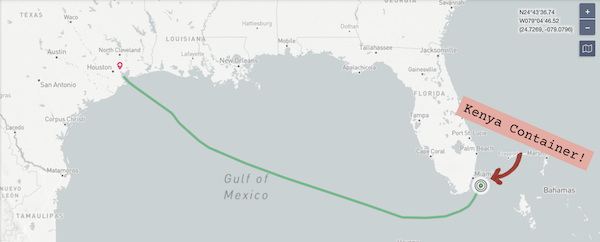 Origin Shipping Updates
2022 Coffee Prices for us and you
With a big chunk of our 2022 buying now behind us, we have a better idea how much of an effect the higher coffee market will have on the price you pay for coffee on our website. On average, we've seen an 20-30% increase on the FOB price of coffee in every single originSingle Origin refers to coffee from one location, in contrast to blended coffee. This term is particularly useful in discussing espresso, since most commercial espressos are made from blends. This is what the term "SO. (FOB = Free on board, the cost of the coffee at the port of departure).
Coffee will be more expensive this year …there's no two ways about it. That's the reality for everyone, not just us.
So where does the extra $.75/Lb (more or less) you'll pay for Ethiopian coffee go? Most importantly, it goes back to the farmers so they are able to cover the higher cost of production they are faced with and remain profitable. It's the smallholders who are hit the hardest by inflation.
It also helps us cover the increased cost of logistics services who are operating with a shortage of materials and labor at a time of record fuel prices. In short, we aren't "raising prices", we are simply covering costs. Our prices are mostly fixed, so none of this increase is for us. When costs return to normal, our prices will trend downward too. Our margins are also mostly fixed too, which means you'll never pay more for coffee simply because the market is up. We never price coffees on a differential basis that fluctuates in real time with market prices.
The reality for most of our Sweet Maria's customers is that the price jump works out to about .02 cents more per cup of coffee. Really, just .02 cents!
Upcoming green coffees currently on the schedule to be added to our website:
Please keep in mind that the coffees on the Upcoming Coffee Outlook schedule with a location status of "In Transit" are still a bit of a wild card, and the month we have them listed under is based on the current shipping ETA, and subject to interruptions out of our control. Thanks for your patience!
April Coffee Outlook
Upcoming Coffees
Bags
Size
Location
Brazil

Brazil is a coffee giant . As Frank Sinatra sang, "they grow an awful lot of coffee in Brazil".: Brazil is a coffee giant . As Frank Sinatra sang, "they grow an awful lot of

Pulp Natural

Pulp natural is a hybrid method of processing coffee to transform it from the tree fruit to a green bean, ready for export. Specifically, it involves the removal of the skin from the coffee, like

Fazenda

Fazenda is the Portuguese word for farm, hence it is the term used in Brazil. Fazenda is not a coffee-specific term.

IP
70
60 KG
Oakland
Brazil Adair Oliveira Neto
25
60 KG
Oakland
Colombia

Colombian coffee is highly marketed and widely available in the US. They have been largely successful at equating the name Colombian Coffee with "Good" Coffee. This is half-true. Colombian can be very balanced, with good

Buesaco Don Nectario
12
69 KG
Oakland
Colombia Honey Process

"Red honey" process gesha at a coffee farm in Costa Rica's Central Valley growing region. The honey process has nothing to do with honey other than the fact that they're both sticky! It's a term

Libardo Gómez
21
70 KG
Oakland
Congo

Kivu is the general name for East Congo (Kinshasa), covering a very broad geographical area, and the lake of the same name that divides them. It borders on Uganda, Rwanda, Burundi, and Lake Tanganyika on

Organic

Grown without the use of artificial fertilizers, herbicides, etc.: Organic coffee has been grown according to organic farming techniques, typically without the use of artificial fertilizers. Some farms have more local Organic Certification than the

Kirumba Kavisa
40
60 KG
Oakland
Costa Rica Tarrazu Cafetales de Dota
50
69 KG
Oakland
Costa Rica Palmichal Rio Jorco
10
69 KG
Oakland
Ethiopia Dry Process Shantawene
40
60 KG
Oakland
Ethiopia Dry Process Bombe Basha
50
60 KG
Oakland
Ethiopia Sidama Bombe
40
60 KG
Oakland
Guatemala Xinabajul Pena Blanca
12
69 KG
Oakland
Guatemala Xinabajul Herlindo Villatoro
23
69 KG
Oakland
Guatemala Xinabajul San Gaspar Ixchil
24
69 KG
Oakland
Honduras

Honduran coffee was absent from the top ranks of the Specialty market, but that has changed. It has all the environmental factors on its side: soil, altitude, climate. All it's neighbors have sophisticated coffee production:

El Cedral Allan Erazo
10
69 KG
Oakland
Honduras Santa Barbara Alexis Pineda
10
69 KG
Oakland
Indonesia

USDA is (obviously) the United States Department of Agriculture. USDA also had coffee plant breeding programs in the past and one variety they distributed to Indonesia and was widely planted is called USDA  (sounds like 

Nusantara SWP

SWP means Swiss Water Process is a patented water filtration decaf method, not a chemical solvent method. The plant is in Vancouver, Canada.

Decaf
52
60 KG
Oakland
Nicaragua Santa Helena Maracaturra

As the name indicates cross between large-bean Maragogype and Caturra cultivars. : As the name indicates cross between large-bean Maragogype and Caturra cultivars. It seems to be found most in Nicaragua, although I am not

6
69 KG
Oakland
Papua New Guinea

Papua New Guinea (PNG) occupies the eastern half of the island it shares with the Indonesian province of Irian Jaya, part of Indonesia. The two primary areas for coffee production can be grouped roughly as

Korgua X
56
60 KG
Oakland
Peru

Peruvian coffees have Central American brightness but in a South American coffee flavor package overall. The good organic lots do have more of a "rustic" coffee character.: Organic Peru ... you can get it anywhere

El Diamante Roger Chilcon
45
69 KG
Oakland
Peru El Paraiso Yoner Arevalo
38
69 KG
Oakland
Sumatra

Indonesians are available as a unique wet-hulled or dry-hulled (washed) coffees. Giling Basah is the name for the wet-hulling process in Bahasa language, and will have more body and often more of the "character" that

Ribang Gayo

Gayo is ethnic group from the area of Aceh Sumatra around Lake Takengon. They use the name Gayo Coffee to market their production. The Acehnese are a different ethnic group, more centered in the lower

25
60 KG
Oakland
Sumatra Wet Process

Wet-processing starts by removing the outer skin of the coffee cherry with a machine called a pulper, then fermenting the remaining fruit (with green bean inside) in water for 8-36 hours. The fermentation breaks down

Barokah Bersama Coop
25
60 KG
Oakland
Yemen Mokha

The Yemeni type of coffee, both in terms of the family of cultivars planted there, and the general trade name.: Mokha Yemeni type of coffee, both in terms of the family of cultivars planted there,

Matari
100
32 KG
Oakland
Espresso

A small coffee beverage, about 20 ml, prepared on an espresso machine where pressurized hot water extracted through compressed coffee.: In its most stripped-down, basic form, this is a working definition for espresso: A small

Workshop #49 Balayage
47
60 KG
Oakland
May Coffee Outlook (so far!)
| | | | |
| --- | --- | --- | --- |
| Upcoming Coffees | Bags | Size | Location |
| Brazil Fazenda Alta Vista | 125 | 59 KG | Oakland |
| Brazil Patrocínio Fazenda Escalada | 56 | 60 KG | Oakland |
| Colombia Honey Process El Páramo | 19 | 70 KG | Oakland |
| Ethiopia Uraga Raro Boda | 105 | 60 KG | Oakland |
| Ethiopia Dry Process Hambela Buliye | 50 | 60 KG | Oakland |
| Ethiopia Dry Process Yirga Cheffe Mengesha Farm | 50 | 60 KG | Oakland |
| Guatemala Xinabajul Ader Recinos | 10 | 69 KG | Oakland |
| Guatemala Cafeteros SWP Decaf | 54 | 60 KG | Oakland |
| Papua New Guinea Kuta Waghi | 30 | 60 KG | Oakland |
| Peru Las Pirias Ramiro Vela | 23 | 69 KG | Oakland |
| Peru Bello Horizonte Andres Burga | 29 | 69 KG | Oakland |
| Sumatra Dry Process Ribang Gayo | 10 | 60 KG | Oakland |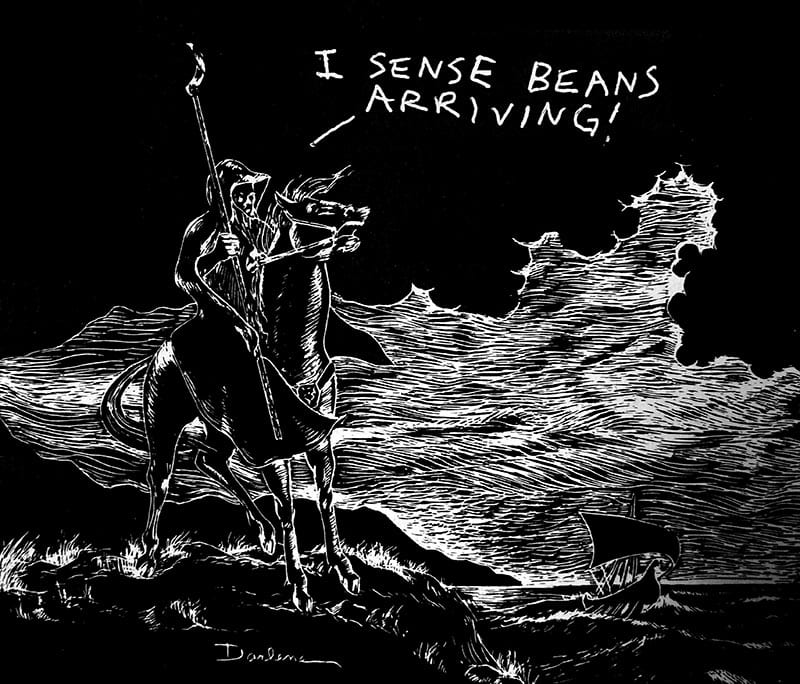 Incoming coffees currently on the water: March – May
Ethiopia Incoming Coffees
| | | | |
| --- | --- | --- | --- |
| Incoming Coffees | Bags | Size | ETA |
| Ethiopia Guji Hambela Dabaye | 100 | 60 KG | 5/9 New Jersey |
| Ethiopia Dry Process Hambela Buliye | 120 | 60 KG | 5/9 New Jersey |
| Ethiopia Dry Process Benti Nenka | 100 | 60 KG | 5/9 New Jersey |
| Ethiopia Agaro Kedamai | 60 | 60 KG | ETD 5/1 |
| Ethiopia Organic Agaro Hunda Oli | 80 | 60 KG | ETD 5/1 |
| Ethiopia Organic Geta Bore Cooperative | 80 | 60 KG | ETD 5/1 |
| Ethiopia Yukiro Cooperative | 50 | 60 KG | ETD 5/1 |
| Ethiopia Organic Gera Genji Challa | 50 | 60 KG | ETD 5/1 |
| Ethiopia Organic Gera Nano Challa | 80 | 60 KG | ETD 5/1 |
| Ethiopia Organic Agaro Duromina | 80 | 60 KG | ETD 5/1 |
| Ethiopia Organic Dry Process Beshasha Birbisa | 160 | 60 KG | ETD 5/1 |
| Ethiopia Organic Dry Process Burka Gudina | 200 | 60 KG | TBD |
| Ethiopia Guji Buku Sayisa | 50 | 60 KG | TBD |
| Ethiopia Yirgacheffee Banko Gotiti | 70 | 60 KG | TBD |
| Ethiopia Sidama Arsi Refisa | 100 | 60 KG | TBD |
| Ethiopia Yirgacheffee Chelbesa | 100 | 60 KG | TBD |
| Ethiopia Dry Process Yirga Cheffe Gedeb | 160 | 60 KG | TBD |
| Ethiopia Dry Process Yirga Cheffe Idido | 160 | 60 KG | TBD |
| Ethiopia Kayon Mountain Taaroo | 160 | 60 KG | TBD |
| Ethiopia Dry Process Hambela Benti Nenka | 160 | 60 KG | TBD |
| Ethiopia Limu Ayetu Gera Farm | 140 | 60 KG | TBD |
| Ethiopia Dry Process Guji Gerba | 100 | 60 KG | TBD |
| Ethiopia Dry Process Buno Dambi Uddo | 120 | 60 KG | TBD |
| Ethiopia Dry Process Abiyot Bobea | 100 | 60 KG | TBD |
| Ethiopia Gera Ayetu | 140 | 60 KG | TBD |
| Ethiopia Kecho Anderecha | 130 | 60 KG | TBD |
| Ethiopia Dry Process Mansur Aba Hikam | 50 | 60 KG | TBD |
| Ethiopia Dry Process Mahamed Aba Nura | 50 | 60 KG | TBD |
| Ethiopia Dry Process Aba Mecha | 20 | 60 KG | TBD |
| Ethiopia Dry Process Aba Bulgu | 70 | 60 KG | TBD |
Kenya Incoming Coffees
Incoming Coffees
Bags
Size
ETA
Kenya Nyeri Kagumo AB
42
60 KG
April 9 Houston
Kenya Kirinyaga Kamwangi Peaberry

The Spanish-language term for Peaberry is the same for "snail". See Peaberry for more information on the single bean fruit of the coffee tree. A peaberry is the rounded singular seed found in the coffee

25
60 KG
April 9 Houston
Kenya Kirinyaga Kamwangi AB
60
60 KG
April 9 Houston
Kenya Muranga Riakiberu Peaberry

A peaberry is a green coffee "bean" that has a rounded form: Coffee is the dried seed from the fruit of a flowering tree - each fruit having 2 seeds facing each other (the flat

16
60 KG
April 9 Houston
Kenya Muranga Kagumoini AB
40
60 KG
April 9 Houston
Kenya Kirinyaga Kainamui Peaberry
31
60 KG
April 9 Houston
Kenya Nyeri Kagumo AA
17
60 KG
April 9 Houston
Kenya Kirinyaga Thunguri Peaberry
9
60 KG
April 9 Houston
Kenya Thika Karatu Peaberry
6
60 KG
April 9 Houston
Kenya Kiambu Ndumberi Peaberry
25
60 KG
April 9 Houston
Kenya Nyeri Gathaithi AA
48
60 KG
April 9 Houston
Kenya Nyeri Kamoini AB
53
60 KG
TBD
Kenya Nyeri Kamoini Peaberry
12
60 KG
TBD
Kenya Nyeri Kagunyu AA
5
60 KG
TBD
Kenya Nyeri Kagunyu AB
13
60 KG
TBD
Kenya Nyeri Ichamama AA
50
60 KG
TBD
Kenya Nyeri Ichamama PB
21
60 KG
TBD
Kenya Nyeri Gichichi AA
4
60 KG
TBD
Kenya Nyeri Gichichi AB
11
60 KG
TBD
Kenya Nyeri Gaikundo AA
14
60 KG
TBD
Kenya Kirinyaga Thunguri AB
14
60 KG
TBD
Kenya Nyeri Rukira AB
20
60 KG
TBD
Kenya Nyeri Maganjo AA
9
60 KG
TBD
Kenya Nyeri Mahiga AA
19
60 KG
TBD
Kenya Nyeri Mahiga PB
7
60 KG
TBD
Kenya Nyeri Gatugi AA
50
60 KG
TBD
Kenya Nyeri Gatugi AB
70
60 KG
TBD
Kenya Nyeri Gatugi PB
26
60 KG
TBD
Kenya Nyeri Kiaguthu AA
27
60 KG
TBD
Kenya Nyeri Kiaguthu PB
10
60 KG
TBD
Kenya Nyeri Kamoini AA
34
60 KG
TBD
Kenya Nyeri Kagumo Peaberry
27
60 KG
TBD
Kenya Nyeri Gatomboya Peaberry
16
60 KG
TBD
Kenya Kirinyaga Kamwangi Peaberry
33
60 KG
TBD
Kenya Kiambu Ngaita Peaberry
16
60 KG
TBD
Kenya Kiambu Riabai AB
14
60 KG
TBD
Kenya Thika Oreti AA
12
60 KG
TBD
Kenya Thika Oreti AB
19
60 KG
TBD
Kenya Thika Oreti Peaberry
1
60 KG
TBD
Kenya Kirinyaga Wanja AA
14
60 KG
TBD
Kenya Muranga Nguku AB
45
60 KG
TBD
Kenya Muranga Nguku Peaberry
4
60 KG
TBD
Kenya Kiambu Fram Farm AA
18
60 KG
TBD
Kenya Kiambu Fram Farm AB
66
60 KG
TBD
Kenya Kiambu Fram Farm Peaberry
4
60 KG
TBD
Africa / Arabia Incoming Coffees
Incoming Coffees
Bags
Size
ETA
Burundi Yeast Fermentation

A key part of the wet process of coffee fruit is overnight fermentation, to break down the fruit (mucilage) layer that tenaciously clings to the coffee seed, so it can be washed off. Fermentation must

Yandaro
20
60 KG
4/10
Burundi Kabarore Commune Yandaro
70
60 KG
4/10
Burundi Kayanza Gahahe
65
60 KG
4/10
Burundi Gatare Masha
45
60 KG
4/10
Burundi Dry Process Kibingo Station
60
60 KG
4/10
Burundi Gaterama Agahore Station
28
60 KG
4/10
Burundi Dry Process Agahore
26
60 KG
4/10
Rwanda Rubavu Rwinyoni
60
60 KG
4/15
Rwanda Rusizi Gaseke
25
60 KG
4/15
Rwanda Nyamasheke Nyakabingo
25
60 KG
4/15
Rwanda Ngororero
25
60 KG
4/15
Rwanda Nyamasheke Macuba
45
60 KG
4/15
Rwanda Dry Process Kanyege
25
60 KG
4/15
Rwanda Honey Process Kanyege
30
60 KG
4/15
Rwanda Dry Process Macuba
40
60 KG
4/15
Rwanda Dry Process Nyamiyaga
20
60 KG
4/15
Rwanda Honey Process Karambi
30
60 KG
4/15
Yemen Khulani Amer
150
32 KG
4/15
Yemen Mokha Matari
150
32 KG
4/15
Yemen Al Qafr Hawari
50
32 KG
4/15
Yemen Bani Haraz
100
32 KG
4/15
Yemen Al-Haimah
50
32 KG
4/15
Yemen Mokha Hajjah
100
32 KG
4/15
South America Incoming Coffees
Incoming Coffees
Bags
Size
ETA
Colombia Pavón Finca

Spanish 101: Finca is the Spanish word for farm. Sometimes the term Hacienda is used to imply an Estate, which would mean the farm has its own wet-mill. A Finca does not necessarily have a

Los Palomos
12
70 KG
4/10
Colombia Inzá Anibal Pillimue
2
70 KG
4/10
Colombia Urrao Heirloom Caturra

Catimor is a broad group of cultivars derived from a Hibrido de Timor (HdT) and Caturra cross, highly productive, sometimes with inferior cup flavor. The main issue is the Robusta content in HdT, although this

6
70 KG
4/10
Colombia Inzá Robinson Pillimué
12
70 KG
4/10
Colombia Urrao John Alexander
13
70 KG
4/10
Colombia Cajamarca Neftali Castro
15
70 KG
4/10
Colombia Inzá Rafael Rivas
28
70 KG
4/10
Colombia Cresta El Hato
15
70 KG
4/10
Colombia Vereda Guanacas
26
70 KG
4/10
Colombia Vereda San Antonio
23
70 KG
4/10
Colombia Honey Process Aponte
9
70 KG
4/10
Colombia Rio Chiquito Don Luis
22
70 KG
4/10
Colombia Veradas Vecinas
79
70 KG
4/10
Central America Incoming Coffees
| | | | |
| --- | --- | --- | --- |
| Incoming Coffees | Bags | Size | ETA |
| Mexico Coatepec Community | 10 | 69 KG | 4/10 |
| Costa Rica La Pradera | 75 | 69 KG | 4/10 |
| Costa Rica Cafetales de Dota Lot 2 | 75 | 69 KG | 4/10 |
| Costa Rica Cafetales de Dota Lot 3 | 50 | 69 KG | 4/10 |
| El Salvador Finca La Esperanza | 75 | 69 KG | TBD |
| El Salvador Miravalle Centroamericaono | 61 | 69 KG | TBD |
| El Salvador Finca Miravalle Tabi | 41 | 69 KG | TBD |
| El Salvador Apaneca Finca Miravalle | 48 | 69 KG | TBD |
| El Salvador Miravalle Sampacho | 54 | 69 KG | TBD |
| El Salvador Dry Process Finca San Luis | 6 | 69 KG | TBD |
Indonesia & SE Asia Incoming Coffees
Incoming Coffees
Bags
Size
ETA
Sulawesi

Sulawesi coffees are low-acid with great body and that deep, brooding cup profile akin to Sumatra. The coffee is sometimes known as Celebes, which was the Dutch colonial name for the island. Indonesians are available

Enrekang Rodo Rodo
17
60 KG
4/1
Sulawesi Wet Hulled Latimojong
40
60 KG
4/1
Sulawesi Panaikang Village Pak Sulaiman
8
60 KG
4/1
Sulawesi Desa Topidi
8
60 KG
4/1
Sulawesi Honey Process Gowa
5
60 KG
4/1
Sulawesi Dry Process Topidi
11
60 KG
4/1
Java

There are several types of Abyssinia, but they are not from Ethiopia but rather Indonesia. Abyssinia 3 = AB3. PJS Cramer, a Dutch plant researcher, introduced this variety in 1928, supposedly from Ethiopia seed stock. It was

Wet Hulled Siki Alit
30
60 KG
4/1
Java Wet Hulled Waspada
40
60 KG
4/1
Flores

Flores is an Indonesian island, and as a coffee bears more resemblance to the coffees of Timor-Leste, New Guinea and Java than to the wet-hulled coffees of Sumatra and Sulawesi. It is sweet, with good

Wawo Muda
18
60 KG
4/1
Flores Gunung Waja Mala
18
60 KG
4/1
Flores Wolo Wio
38
60 KG
4/1
Flores Dry Process Bei Poso Village
7
60 KG
4/1
Java Wet Hulled Waspada
50
60 KG
4/1
Java Dry Process Kuningan Robusta

Robusta usually refers to Coffea Robusta, responsible for roughly 25% of the world's commercial coffee. Taxonomy of Robusta is debated: some sources use "Robusta" to refer to any variety of Coffea Canephora, and some use

30
60 KG
4/1
Timor

Hibrido de Timor abbreviated HdT is the interspecies hybrid of C. Arabica and C. Canephora (Robusta) that was found in Timor Leste in the 1940s. It has been the bases of plant breeding for disease

Leste Dukurai Daurfusu
25
60 KG
4/15
Timor Leste Dukurai Daurfusu
30
60 KG
4/15
Timor Leste Dukurai Daurfusu
10
60 KG
4/15
Timor Leste Honey Process Daurfusu
55
60 KG
4/15
Timor Leste Dry Process Daurfusu
55
60 KG
4/15
Timor Leste Dry Process Lulirema
18
60 KG
4/15
Timor Leste Dry Process Taurema
18
60 KG
4/15
Timor Leste Basargeon Washed
16
60 KG
4/15
Timor Leste Hatletegeo Washed
15
60 KG
4/15
Timor Leste Lekisala
40
60 KG
4/15
Sumatra Kerinci Barokah Bersama
50
60 KG
TBD
Sumatra Wet Process Barokah Coop
30
60 KG
TBD
Sumatra Honey Process Barokah Coop
30
60 KG
TBD
Sumatra Honey Labu Barokah Bersama
30
60 KG
TBD
Sumatra Dry Process Barokah Coop
20
60 KG
TBD
Papua New Guinea Korgua Peaberry
26
60 KG
TBD