Our monthly digest from the Sweet Maria's Email list, announcing new coffees, new content and new events!
October 2020 offerings are all listed here, for your reference. If you want to read about our arriving coffee, events, product and news, sign up for our emailer.
---
October 2, 2020

---
October 7, 2020

Costa RicaCosta Rican coffee is typically very clean, sweet, with lots of floral accents. hey are prized for their high notes: bright citrus or berry-like flavors in the acidity, with distinct nut-to-chocolate roasty flavors.: Can a Helsar Finca Rola – SweetnessSweetness is an important positive quality in fine coffees, and is one of five basic tastes: Sour, Sweet, Salty, Bitter, Savory (Umami). In coffee, sweetness is a highly desirable quality, and the green bean has and brew-versatility in middle and dark roasts, vanilla caramel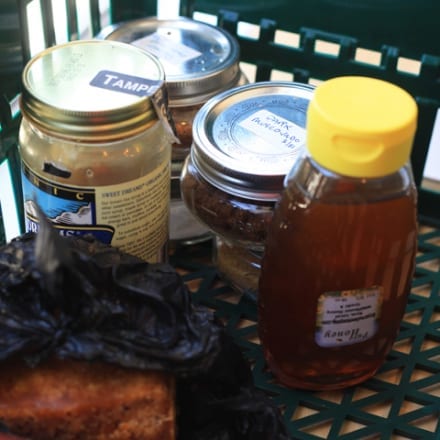 Caramel is a desirable form of sweetness found in the flavor and aroma of coffee, and is an extension of roast taste. Extremely light or dark coffees will lose potential caramel sweetness, as it exists and walnut, coffee candy, nuanced cocoa flavors like tootsie roll, torte and smoked chocolate. Good for espresso.

Costa Rica Helsar Cascara Fruit Tea – It's tea, made from coffee, and you can eat it! Yes, these dehydrated coffee cherries are crispy, tart and sweet. No roasting necessary, just steep a fruited tea, try as sun tea, or use as a snack in place of dried fruit. Flavors of hibiscus, tamarind, passion fruit, apple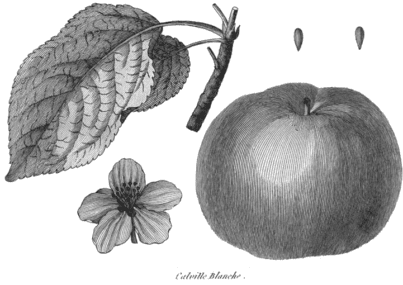 An acid that adds to favorable perceptions of cup quality; malic acid often adds apple-like acidity, and perhaps other taste aspects recalling apples. Malic acid is yet another of the many acids that adds to, raisin. With or without sweetener, this one's great.

GuatemalaGuatemalan coffee is considered a top quality coffee producer in Central America. Due to our proximity to Guatemala, some of the nicest coffees from this origin come to the United States. : Guatemalan growing regions Patzun Finca Las Camelias – Brown sugar, cane juice sweetness and bittering coffee character are at the center, surrounded by fruited accent notes like raisin and blackberryBlackberry flavor in coffee sometimes relates to slightly more developed roast levels.: Blackberry is found as a fragrance, aroma or flavor in some coffees. I find that it is less obvious at very light roast that flourish, with a wine-like aroma as it cools.

Check out a "sciency" new post in our library and take a very close look at the coffee fruit. Tom put together images from some great macro photos and really unwrapped what makes up a coffee bean.
---
October 9, 2020


Wet processing is the most common way coffee goes from fruit to dried seed ready for shipment and is associated with cleaner and brighter coffees. Take a deep dive into wet coffee processing's history and all it's stages in our library.
---
October 13, 2020

Guatemala Acatenango GeshaGesha is a long-bean Ethiopia selection with unique cup character.: Gesha (often wishfully misspelled as Geisha) is a long-bean Ethiopia cultivar selection with unique cup character. It is most famously grown on the Jaramillo plot Lot 4 – Impressive bodyAssociated with and sensed by mouthfeel, body is sense of weight and thickness of the brew, caused by the percentage of soluble solids in the cup, including all organic compounds that are extracted from brewing and sweetness, perfumed floral aroma. Cup flavors hint at red apple, simple syrup, corn silk tea, lime, and grape. Potent floral notes of jasmine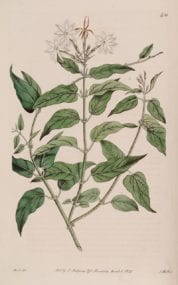 A very positive and intensely floral quality in coffee, usually with a strong aromatic component, reminiscent of jasmine flower or tea. There are many forms of jasmine; the common flowering vines, teas, potpourri, etc. Jasmine and tuberose. Good for espresso.

Timor Leste Organic Letefoho – A wine-like apple flavor that I find delicious atop an underlay of unrefined sugars, a walnut note and mild herbalA flavor descriptor in coffee reminiscent of herbs, usually meaning aromatic, savory, leafy dried herbs. Usually, more specific descriptions are given, whether is is a floral herb, or sage-like, etc. In reality, there are very accents. Light roasts are vibrant and 2nd crackAn audible popping sound heard during roasting. In coffee, one refers to "first crack" and "second crack," which come from two different classes of chemical reactions.: An audible popping sound heard during roasting. In coffee, roasts develop intense bittersweetness.

Burundi Kayanza Gakenke – Gakenke hits familiar Burundi flavor territory, brown sugar, Earl Grey with that bergamotBergamot Orange is the size of an orange, with a yellow color similar to a lemon, and has a pleasant fragrance. The juice tastes less sour than lemon, but more bitter than grapefruit.: Bergamot orange oil aroma, lemon juice, aniseAnise seed is highly aromatic and has a flavor similar to fennel and licorice, used to flavor various foods and liquors: Anise is a flowering plant in the family Apiaceae native to the eastern Mediterranean. Capable of producing rich chocolate with roast development. Good for espresso.

Kenya Kiambu Mandela EstateA "coffee estate" is used to imply a farm that has its own processing facility, a wet-mill. In Spanish this is called an Hacienda. A Finca (farm) does not necessarily have a mill. (And Finca AA – Mandela Farm AA evokes jam-like smells with citrus highlights, and cup flavors like raw sugar, nectarine, orange peel, pomegranate, Earl Grey and Sencha tea are structuredStructure is an esoteric term, characterizing the relation between flavors, acids, mouthfeel and aftertaste as well-defined and comprehensive.: Like Balance, structure is an esoteric term. After all, you can't taste a "structure" nor can you by bracing, citric acidity.

Remember that video we posted a few weeks back? The one with 5 minute answers to coffee questions? Well if you wanted just the audio, here it is in podcast form.
We have been getting up close and personal with green coffee on our Instagram lately. Check it out for some great macro shots.

---
October 16, 2020

Sumatra Wet ProcessWet-processing starts by removing the outer skin of the coffee cherry with a machine called a pulper, then fermenting the remaining fruit (with green bean inside) in water for 8-36 hours. The fermentation breaks down Pantan Musara – A sweet and clean Sumatra, raw sugar and vanilla, honey aroma, root beer, pine, herbal hints. Dark roasts are very different, chocolate bittersweetness prevails. Good for espresso.

Kenya Kiambu Evans Farm AA – Lighter roasts unlock a bittersweet undertone that enhances a citric, and fruit-accented, cup profile. Tart citrus juice, lemon grass tea, cardamom, grape accent and a creamyCreamy is a mouthfeel description indicating thickness and soft, rounded texture. See also buttery. hazelnut note.

Costa Rica Helsar Macho Arce – Demurara sweetness, balanced core coffee flavors are accented by a twist of orange, apple, walnut and hints of both herbal and black teas. We enjoyed dark and light roasts. Good for espresso.

Oven Roasting Is Not Cancelled: It's been years since we updated our information about oven or toaster roasting because honestly it has many drawbacks. Buying a new ConvectionTransfer of heat through the bulk movement of a fluid. In the case of coffee roasting, we discuss convection in the context of heated air moving as a fluid through a roast chamber. Toaster Oven (Air Fryer) made Tom revisit the process, since the high flow of convective air roasts coffee quite well. He discovered using a drum/rotisserie had the worst results in cupping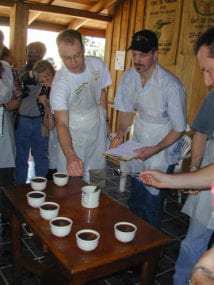 Cupping is a method of tasting coffee by steeping grounds in separate cups for discrete amounts of ground coffee, to reveal good flavors and defects to their fullest. It has formal elements and methodology in, but roasting on the air fry tray worked really well.

Cascara…it's the dried fruit from a coffee seed so it's technically coffee, but you generally steep it in hot water, so it's also tea, but wait, you can eat it too, so it's food as well. Whatever you call it, cold or hot, it's tasty and refreshing. Try some.
If you have been patiently waiting and thinking about buying one, Behmor

A popular electric drum roaster designed for home use, with variable batch sizes (from 1/4 pound to 1 pound) and a smoke-reduction system. It has been modified and upgraded in refining the base model over the years.

roasters are back in stock! Check out the features and pros & cons. It could be the right roaster for you if you want 1lb batches, have enough space for it and don't mind getting used to the controls.
We are working on another Sweet Maria's staff picks feature with all dry processed coffees. Keep an eye out next week.
---
October 23, 2020


---
October 26, 2020

Ethiopia Organic Dry Process Kebele Birbissa – Fruit reductions, dried peach and strawberry, rhubarb pie filling, cranberry juice, a hint of orange points to citric acidity, and a subtle floral aroma. A fairly clean cupClean cup refers to a coffee free of taints and defects. It does not imply sanitary cleanliness, or that coffees that are not clean (which are dirty) are unsanitary. It refers to the flavors, specifically for dry process coffee.

ColombiaColombian coffee is highly marketed and widely available in the US. They have been largely successful at equating the name Colombian Coffee with "Good" Coffee. This is half-true. Colombian can be very balanced, with good Pavón Finca Los Palomos – Intense with complex raw sugar sweetness, viscous in texture and presents notes of stewed plum, black tea with a bracing lemon note, pancake syrup and bittering citrus peel in the aftertaste.

Colombia Urrao Valle del Penderisco – Molasses, demurara sugar, moderate brightnessA euphemistic term we use often to describe acidity in coffee. A bright coffee has more high, acidic notes. : A euphemistic term to describe acidity in coffee. A bright coffee has more high, acidic, accents of berry and hibiscus flower tea. Dark roasts boast heavy-handed cocoa roast flavors and plum. Good for espresso.

Colombia Tolima Productores de Ibagué – Unrefined sugar sweetness is central to the cup, accented by top notes of oatmeal cookie, molasses, dried date and cola nut, with plum-like acidity.

Meet Patrick. He works in our warehouse and makes sure our coffee and merchandise goes to where it needs to go. Like many of the staff at Sweet Maria's, Patrick loves great coffee and has an interesting background story that brought him to his current position with us. Learn more about Patrick and the coffees he chose for this round of Sweet Maria's Staff picks.
As you may have heard, we recently started selling the new Nesco roaster. It works similar to an electric popcorn popper roaster but moves the beans a lot slower. We just added short video to the Nesco page to demonstrate this difference.
---
October 30, 2020

PanamaPanama coffee ranges from medium quality lower altitude farms to those at 1600 - 1800 meters centered in the area of Boquete in the Chirqui district near the border with Costa Rica. Some farms feature Anaerobic Fermentation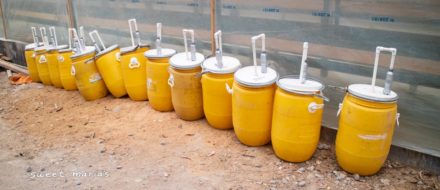 A line of sealed plastic yellow barrels for anaerobic fermentation at Punta del Cerro mill in Huehuetenango. Anaerobic simply means "without air", which makes this term that describes what has become quite a craze in Volcan Baru – Full City roasts manage to pull out an impressive level of toffee sweetness, dried green apple and walnut top notes, fruited acidity and bittersweet finish. Good for espresso.

Colombia Ibagué Rio Combeima – Delicious in the light to middle roasts, panela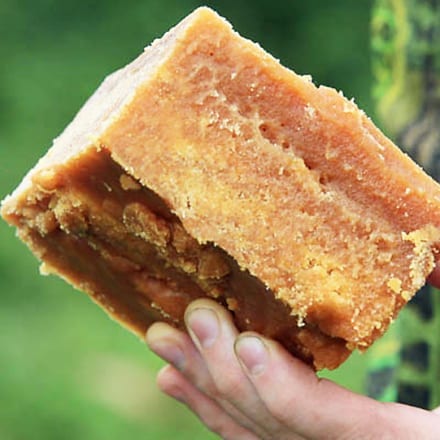 Panela is the minimally processed sugar with floral and vanilla accents: Found in Colombia (and noted to be best in Pitalito and Pedregal), Panela is tan-colored cakes of sugar that are not fully refined. They and molasses sweetness, winey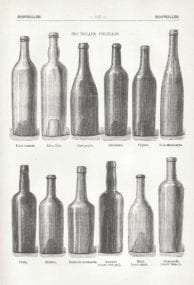 A taste term to describe a wine-like flavor with a similar perceived acidity and fruit, and some level of acetic acid. It is found most commonly in East African specialty coffees as well as in apple and plum hints, a cinnamon note, tannicHaving the bitterness or astringency of Tannins. Tannins are plant polyphenols found across the flora kingdom. The term Tannins refers to the use of wood tannins from oak in tanning animal hides into leather. Having black tea and cranberry-like acidic impression.

Costa Rica Don Oscar Limones – Bittersweet flavor characteristics respond readily to roast development, honey graham and moderate acidity in lighter roasts, reverberant bass notes and carbonized sugars when taken darker.

Guatemala Antigua La Parcela Melanie – Moderate sweetness, honey comb and raw sugar, Sencha tea and black currant hints, and bracing acidity. Full City roasts produce a flavor of berry-laced chocolate.

Guatemala Paraíso La Colibri – A uniquely fruited cup that has characteristics of honey process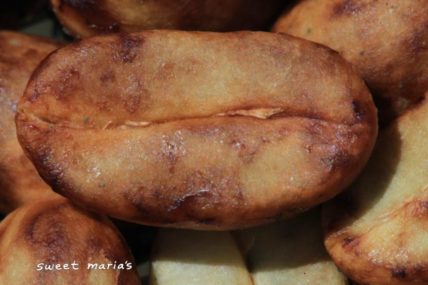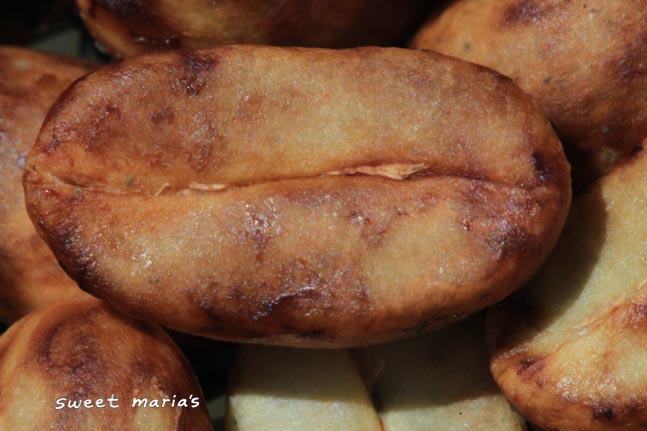 "Red honey" process gesha at a coffee farm in Costa Rica's Central Valley growing region. The honey process has nothing to do with honey other than the fact that they're both sticky! It's a term. Pulpy fruit and green grape flavors come into view, along with a baking spice aroma, once raw sugar and clean nut tones fall away.

Kenya Kiambu Mandela Farm AB – A vibrant Kenya at City+ roast level, citric acidity ties together notes of unrefined sugar, baked goods like peach scone, hints of citrus zest and sweet herbals. Good Kenyan espresso.

Sumatra Honey Process Kerinci Seblat – Layered sweetness like demurara, rice syrup, and honey, accented by dried stone fruit and golden raisin, and herbal aroma of sweet basil and pineapple sageA flavor hint of sage found in coffee, either leafy sage, dried sage, or sage flower. This could indicate a more rustic cup quality, or even defect flavor in dried sage, or a very clean. Good for espresso.

Sweet Maria's Polar Expresso Holiday Blend – Roll out the holiday cheer with our limited edition Polar Expresso blend! VelvetyA mouthfeel description indicating elegant softness, refined smoothness: A mouthfeel description indicating elegant softness, refined smoothness. See Silky as well. shots extract complex layers of dark chocolate truffles, ganache dessert, and bittering roasted cacao nibs, accented by sweetened cranberry juice, citrus peel, spiced aromatics and tart, lemon acidity. Fantastic espresso.

Every once in a while, Sweet Maria's customer, Larry Cotton hits us up with a video of his latest coffee roasting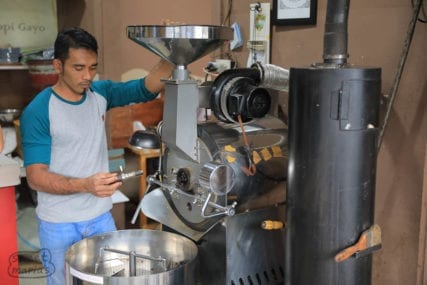 The application of heat to green coffee seeds (beans) to create palatable material for brewing a great cup!: Coffee roasting is a chemical process induced by heat, by which aromatics, acids, and other flavor components creation. Every time, we are impressed with Mr. Cotton's ingenuity and creativity. His latest roaster is an updated version of his Wobble Disk machine.