Our monthly digest from the Sweet Maria's Email list, announcing new coffees, new content and new events!
March 2021 offerings are all listed here for your reference. If you want to receive emails about our arriving coffee, events, product and news, sign up for our emailer.
---
March 3, 2021

Sulawesi

Sulawesi coffees are low-acid with great body and that deep, brooding cup profile akin to Sumatra. The coffee is sometimes known as Celebes, which was the Dutch colonial name for the island. Indonesians are available

Gowa Desa Topidi – Topidi exudes developed sweetness

Sweetness is an important positive quality in fine coffees, and is one of five basic tastes: Sour, Sweet, Salty, Bitter, Savory (Umami). In coffee, sweetness is a highly desirable quality, and the green bean has

that works to bring balance

Suggests a harmony and proportion of qualities, and implies mildness since no one quality dominates.: Balance is both an obvious and slippery taste term. It implies a harmony and proportion of qualities, and perhaps a

at a broad range of roasts, clean acidity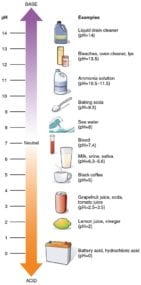 Acidity is a positive flavor attribute in coffee, also referred to as brightness or liveliness. It adds a brilliance to the cup, whereas low acid coffees can seem flat. Acidity can sound unattractive. People may

, and notes of malted milk balls, chocolate-covered pear, and fruit turnover.

Flores

Flores is an Indonesian island, and as a coffee bears more resemblance to the coffees of Timor-Leste, New Guinea and Java than to the wet-hulled coffees of Sumatra and Sulawesi. It is sweet, with good

Wolo Wio – City+

City+ roast is an ideal roast level that occurs roughly between 425 and 435 degrees Fahrenheit in many coffee roasters with a responsive bean probe where First Crack starts in the 395 to 405 degree

is a good starting point, sorghum syrup, marzipan, bran muffin, cacao nibs, toffee, with a chocolatey aftertaste

Aftertaste refers to lingering residual sensations in the mouth after coffee has swallowed. It might be distinguished from "finish" which is the final sensations of the coffee while it leaves the mouth. Also see Afternose.

. Apple-like acidity lends to perception of bouyant body

Associated with and sensed by mouthfeel, body is sense of weight and thickness of the brew, caused by the percentage of soluble solids in the cup, including all organic compounds that are extracted from brewing

. Good for espresso

A small coffee beverage, about 20 ml, prepared on an espresso machine where pressurized hot water extracted through compressed coffee.: In its most stripped-down, basic form, this is a working definition for espresso: A small

.

Java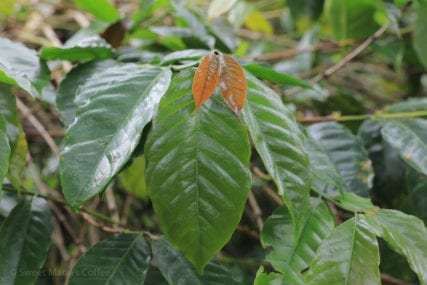 There are several types of Abyssinia, but they are not from Ethiopia but rather Indonesia. Abyssinia 3 = AB3. PJS Cramer, a Dutch plant researcher, introduced this variety in 1928, supposedly from Ethiopia seed stock. It was

Wet Hulled Tambak Ruyung – Tambak Ruyung expresses cacao-like bittering that helps keep top notes like pipe tobacco, pine oil, fresh tarragon and sage

A flavor hint of sage found in coffee, either leafy sage, dried sage, or sage flower. This could indicate a more rustic cup quality, or even defect flavor in dried sage, or a very clean

, close to the ground. Good for espresso.
---

Green coffee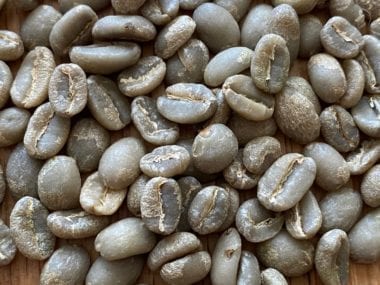 Green coffee refers to the processed seed of the coffee tree fruit. Coffee is a flowering shrub that produces fruit. The seeds of the fruit are processed, roasted, ground and prepared as an infusion.: Coffee is really durable but using high quality storage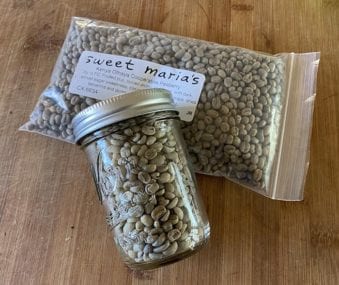 Green coffee can be stored much longer than roasted coffee: Roasted coffee starts to lose its aromatics in 10 days after roasting. Green coffee can be stored months without degrading quality.  Very often the type bags can help extend it's life and flavors. This is why we decided to start selling reusable Ecotact storage bags. Keep an eye out. We should have them available in a few days. In the meantime check out the article and video explaining why we wanted to carry them and how they work.
---
March 5, 2021

Peru

Peruvian coffees have Central American brightness but in a South American coffee flavor package overall. The good organic lots do have more of a "rustic" coffee character.: Organic Peru ... you can get it anywhere

El Diamante Roger Chilcon – The cup is simple, yet refined, minimally-processed sugars, almond biscotti, dark chocolate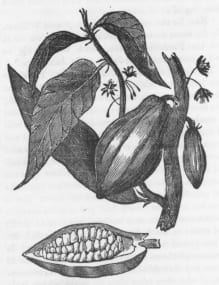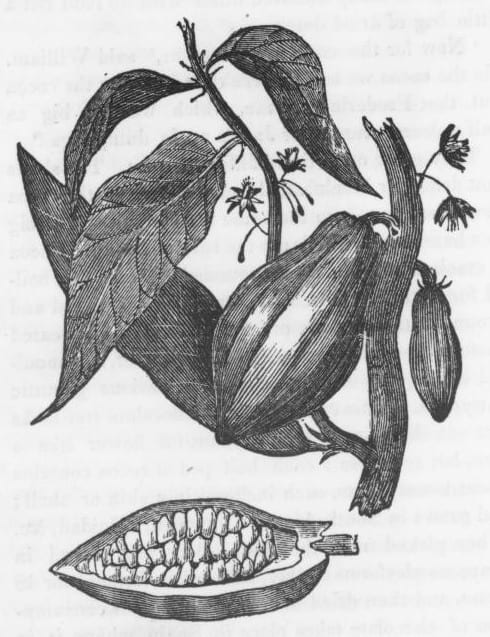 A general flavor or aroma term reminiscent of chocolate. But what type? Usually described with more specifics.: Chocolate is a broad, general flavor or aroma term reminiscent of chocolate. But what type? There are so

and a hint of apple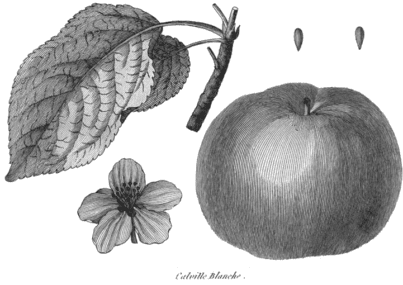 An acid that adds to favorable perceptions of cup quality; malic acid often adds apple-like acidity, and perhaps other taste aspects recalling apples. Malic acid is yet another of the many acids that adds to

tea that adds an elegant acidic impression. City to Full City+.

Sumatra

Indonesians are available as a unique wet-hulled or dry-hulled (washed) coffees. Giling Basah is the name for the wet-hulling process in Bahasa language, and will have more body and often more of the "character" that

Honey Process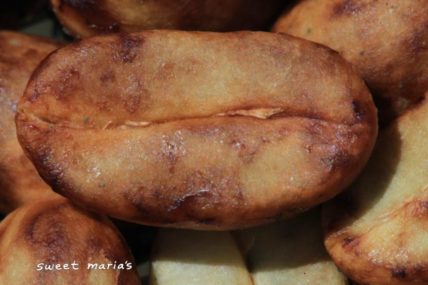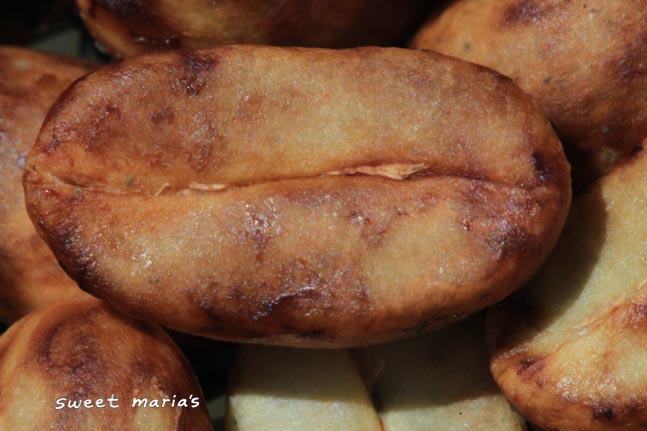 "Red honey" process gesha at a coffee farm in Costa Rica's Central Valley growing region. The honey process has nothing to do with honey other than the fact that they're both sticky! It's a term

Kerinci – Cools to notes of palm sugar, rice syrup, honey

In coffee, honey-like sweetness is often found, but we use terms such as refined honey (highly filtered and processed) as opposed to raw honey rustic honey sweetness. This form of sweetness is largely a dynamic

, aromatics of tobacco leaf and pineapple sage, and opaque bittersweetness if roasted dark. Good for espresso.

Ethiopia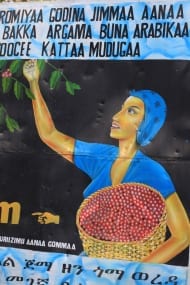 Ethiopia is the birthplace of coffee: it is in the forests of the Kaffa region that coffee arabica grew wild. Coffee is "Bun" or "Buna" in Ethiopia, so Coffee Bean is quite possibly a poor

Dry Process

Dry process coffee is a method for taking the fruit from the tree to an exportable green bean. The whole intact coffee cherry is dried in the sun with the green bean inside. Later it

Tesfaye Doni – Big fruited

In some coffee taster's lexicon, "fruity" means the coffee is tainted with fruit, and "fruited" means a coffee is graced by positive fruit notes. We don't exactly see the difference in terms of these two

flavors of dried strawberry, natural apricot, and banana bread, along with aromatic wood and fruited florals in the nose. Good for espresso.

Guatemala

Guatemalan coffee is considered a top quality coffee producer in Central America. Due to our proximity to Guatemala, some of the nicest coffees from this origin come to the United States. : Guatemalan growing regions

Proyecto Xinabajul Bojonalito – While I pick up on subtle top notes of baked apple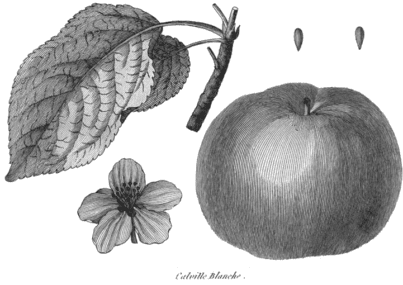 Apple-like flavors in coffee can take on many different forms. The more common ones we use relate to malic acid brightness, which can recall different apple types: green (Granny Smith type for example), red apple

, dark cola and vanilla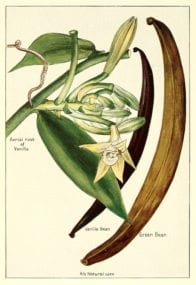 Vanilla notes in coffee are often related to caramelization notes, as butter and vanilla can be found in flavors and aromatics of roast reactions from reducing of sugars.

bean, it's the rich, chocolate bittersweets that are likely to be universal. Good for espresso..

Rwanda

Rwandan coffee was, at one time, rarely seen in the United States as either a Specialty grade or low-end commercial coffee. There simply was not that much coffee produced in Rwanda that went anywhere besides

Rusizi Nyakarenzo – Tea-like

A term used to describe coffees with light, tannic, slighly astringent mouthfeel and tea aromatics. We find it in some Rwandan flavor profiles, among others.

top notes and mouth cleansing acidity found in light roasts make for an elegant pour-over. Transparent sweetness, simple syrup, delicate tea notes of Assam and apple-y Chamomile.

DIY Moka Java Blend Sampler – The Moka Java blend is probably the most widely produced blend in the world, and certainly the oldest. We've grouped together our own coffees to make contemporary version of this old standby. Click here to read more about the world's oldest blend.
---

The Clever Coffee Dripper is in a category of it's own. It's an immersion brewer like a french pressA simple coffee brewer also called a Press Pot: grounds and hot water are added to a carafe, allowed to sit for several minutes, and then a filter is pushed down to hold the grounds, also kind of like a cone dripper, but it also has a cup-activated drain similar to a…hmmm…a sink drain. I you are looking for low-fuss, super-easy way to make a great cup, check it out. Want to win one along with a Baratza grinder, coffee and a few other brewers? Check out Banyan Coffee's contest on IG.
---
March 10, 2021

Rwanda Ngororero – Versatile, light roasts bring out raw sugar, honey aroma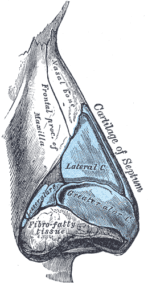 Aroma refers to sensations perceived by the olfactory bulb and conveyed to the brain; whether through the nose or "retro-nasally": The aromatics of a coffee greatly influence its flavor profile and come from the perception

and lemon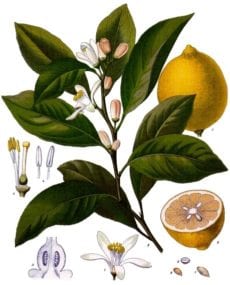 Lemon notes, as well as other related citrusy flavors or acidities, are prized in coffee. These usually express themselves as a bright accent in the cup, or aromatic citrus aspects, but not as blunt sourness.

oil, whereas Full City ties together chocolate bittersweets, graham cracker, and anise

Anise seed is highly aromatic and has a flavor similar to fennel and licorice, used to flavor various foods and liquors: Anise is a flowering plant in the family Apiaceae native to the eastern Mediterranean

accent. Good for espresso.

Costa Rica

Costa Rican coffee is typically very clean, sweet, with lots of floral accents. hey are prized for their high notes: bright citrus or berry-like flavors in the acidity, with distinct nut-to-chocolate roasty flavors.: Can a

Dota El Conquistador – Crowd pleasing, trades brightness

A euphemistic term we use often to describe acidity in coffee. A bright coffee has more high, acidic notes. : A euphemistic term to describe acidity in coffee. A bright coffee has more high, acidic

for body, with chocolate roast flavors, cocoa biscuit, bittering cacao, campfire marshmallow, and toasted almond. Good for espresso.
---

We just started carrying Ecotact zip-seal green coffee stand-up storage pouches. They are a great hiding place for your coffee before it's time to pour it into your roaster. Nine high barrier layers help prevent shifts in moisture levels and will preserve the cup quality of your unroasted coffee, Available in 1KG, 2KG and 5KG sizes.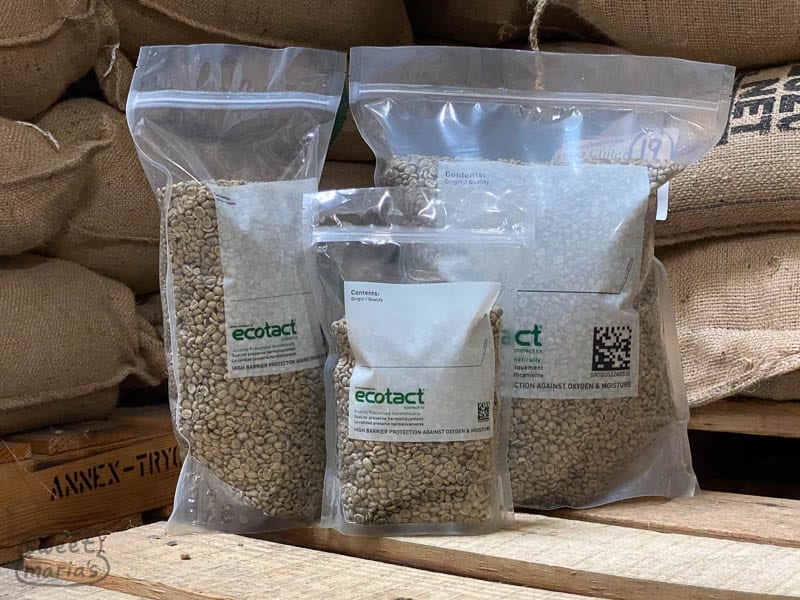 ---

Home coffee roasterA machine for roasting coffee. Or the person operating it! The basic requirements for a coffee roaster are a heating element that gets suitably hot and a mechanism for agitating the beans.: A mechanism for and Sweet Maria's customer, Larry Cotton is at it again with another awesome DIY roasting machine. The difference between this and his past creations is this one is all-in-one, meaning the heating element (heat gun) is built in. Larry says that it does produce some smoke and since there's no chaffChaff is paper-like skin that comes off the coffee in the roasting process. Chaff from roasting is part of the innermost skin (the silverskin) of the coffee fruit that still cling to the beans after collection, it's designated as an outdoor roaster.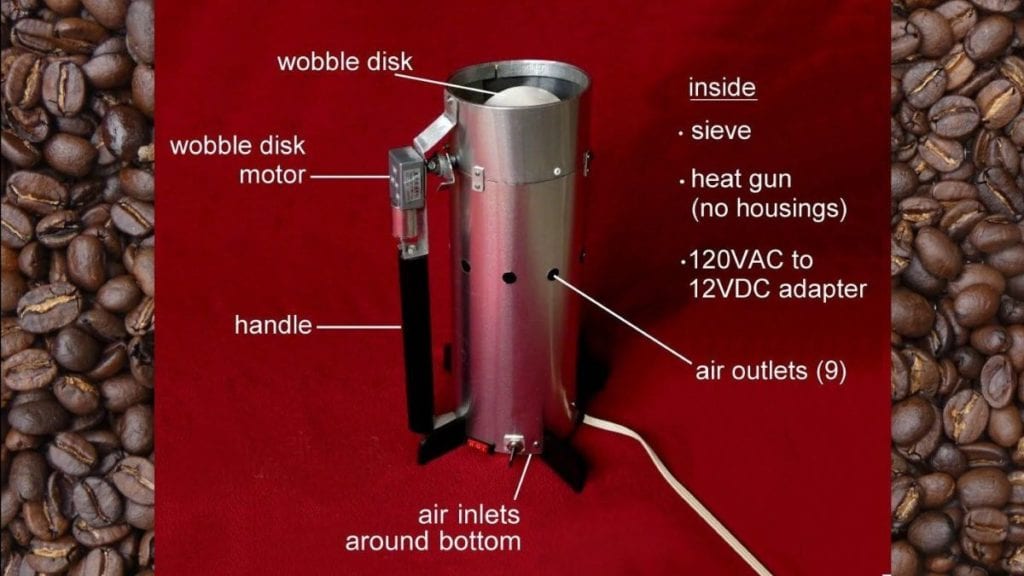 ---
March 12, 2021

Ethiopia OrganicGrown without the use of artificial fertilizers, herbicides, etc.: Organic coffee has been grown according to organic farming techniques, typically without the use of artificial fertilizers. Some farms have more local Organic Certification than the Yirga Cheffe Chelbesa Danche – Classic Yirga Cheffee flavors, rue herbalA flavor descriptor in coffee reminiscent of herbs, usually meaning aromatic, savory, leafy dried herbs. Usually, more specific descriptions are given, whether is is a floral herb, or sage-like, etc. In reality, there are very accents play off perfumed floral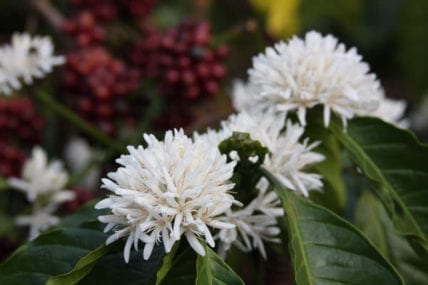 Floral notes in coffee exemplify the connection between taste and smell. Describing the taste of a specific flower is near impossible...we always default to "it tastes like it smells" which, admittedly, isn't the most helpful.  notes, complexThe co-presence of many aroma and flavor attributes, with multiple layers. A general impression of a coffee, similar to judgments such as "balanced" or "structured" sweetness, incense hint, rindy citrus note that has a grabby aspect, surprisingly resilient to Full City roasting. Good for espresso.

Rwanda Yellow Honey Kanyege – Spiced fragrance, aromatic maple, candy corn Halloween candies, with vivid an acidic impression underscored by hints of tart green apple and iced black tea.

Sulawesi Honey Process Tana Luwu – Tana Luwu has plump, juicy body, unrefined sugar sweetness, notes of dried fruit, lime acidic impression, jamaicaJamaica coffee can be excellent mild, lush coffee... sometimes. Like Kona and Puerto Rican coffee, it is soft, mild, clean and well balanced when it is good.: Ah Jamaica, a great place to visit. But tea, and sweet herbal notes accenting the finishSimilar to aftertaste, but it refers to the impression as the coffee leaves the palate. Aftertaste is the sensations gathered after the coffee has left the mouth. We combine these to form the "final flavor. Good for espresso.

KenyaKenya is the East African powerhouse of the coffee world. Both in the cup, and the way they run their trade, everything is topnotch.: Kenya is the East African powerhouse of the coffee world. Both Kiambu Evans Farm Peaberry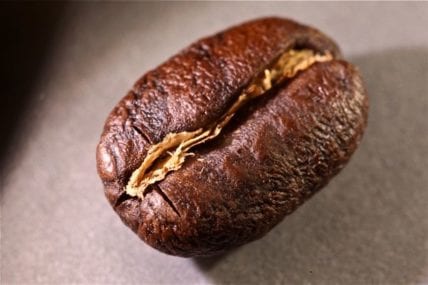 The Spanish-language term for Peaberry is the same for "snail". See Peaberry for more information on the single bean fruit of the coffee tree. A peaberry is the rounded singular seed found in the coffee – The cup is aromatic, sweet, and undoubtedly complex. Packed with unrefined sugar sweetness, cinnamon stick, orange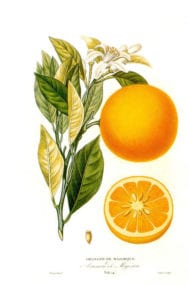 Orange aromatics and flavors are prized in coffee, whether they take the form of sweet orange flesh and pulp, or orange peel. Orange flavors or aromatics can range in degrees of ripeness, which also involves spiced herbal tea, fragrant citrus oil, and an oak barrel hint.

Guatemala Proyecto Xinabajul Paraiso – Dark roasts stick well within a palette of chocolate flavors, pleasantly bittering chocolate alkaloids, unrefined sweetness of caramelized sugars, hints of flan and chocolate stout. Good for espresso.

Sumatra Wet ProcessWet-processing starts by removing the outer skin of the coffee cherry with a machine called a pulper, then fermenting the remaining fruit (with green bean inside) in water for 8-36 hours. The fermentation breaks down Pantan Musara – I found myself comparing this coffee to a wet process Sulawesi. Sweet cup, raw cane sugar

A refined sugar, that has a no rustic sweetness. This was called "refined sugar" but has been rebranded as "cane sugar" thanks perhaps to C and H brand. Previously though, cane sugar referred to a, dark corn syrup, herbal hints, burdock root, pine aroma and clean acidity like citrus peel.

Guatemala Organic Huehuetenango Familia Ovalle – SilkyA mouthfeel description indicating a delicate, light, elegant softness and smoothness. Usually refers to a lighter body than terms such as velvety, or creamy. texture helps convey flavors of caramel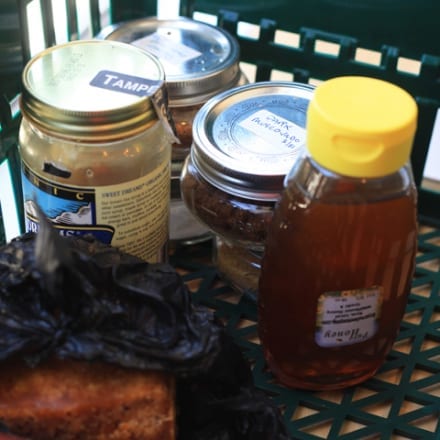 Caramel is a desirable form of sweetness found in the flavor and aroma of coffee, and is an extension of roast taste. Extremely light or dark coffees will lose potential caramel sweetness, as it exists and almond milk, opaque chocolate roast flavors and a roasted pumpkin seed note. A great option for milk drinks. Good for espresso.

Ethiopia Dry Process Bogale Deyaso – RusticA general characterization of pleasantly "natural" flavors, less sophisticated and less refined, but appealing. : What is Rustic? This is a general term we came up with... Dried Apricots from Sun Maid at the supermarket, fruit flavors, molasses sugars, fragrant foresty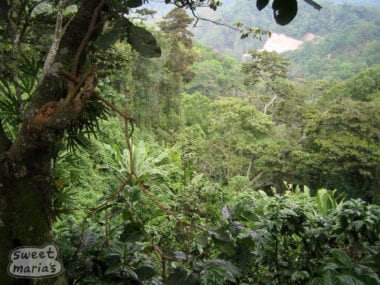 A flavor found in rustic Indonesia coffees, wet-hulled types from Sulawesi and Sumatra in particular, reminiscent of a walk in the woods.: A flavor found in rustic Indonesia coffees, wet-hulled types from Sulawesi and Sumatra accents, notes of dehydrated apricot, prune, and tamarind, aromatic cedar, and bittersweetBittersweet is from the language of chocolate, and describes the co-presence of positive bittering compounds balanced by sweetness. It is directly related to caramelization, but has inputs from other roast reactions, as well as bittering bass notes.
---

Glass chimneys are a helpful tool for home roasters needing to retain heat and airborne coffee beans when roasting with certain air poppers. We currently have them in stock on our website. Check out the video in our library.
Deciding what roaster to purchase can be tough. We are here to help. Consider how much coffee you would like to roast, what your budget is, how much space you have to set up your roaster and if you are the perfectionist type. Knowing these personal facts can make choosing your next machine a breeze after reading our Home Roaster FAQ.
---

Deciding what roaster to purchase can be tough. We are here to help. Consider how much coffee you would like to roast, what your budget is, how much space you have to set up your roaster and if you are the perfectionist type. Knowing these personal facts can make choosing your next machine a breeze after reading our Home Roaster FAQ.
---
March 17, 2021

Congo

Kivu is the general name for East Congo (Kinshasa), covering a very broad geographical area, and the lake of the same name that divides them. It borders on Uganda, Rwanda, Burundi, and Lake Tanganyika on

Kivu Kalehe Cooperative – Sweet, spiced and with tangy

An adjective modifying a flavor descriptor, describing a sharp effect; tangy citrus, tangy bittersweet flavor, tangy green apple.

citrus accents, flavor notes of orange, cardamom pod and clove, marmalade spread, and the acidic impression is grabby like grapefruit.

Honduras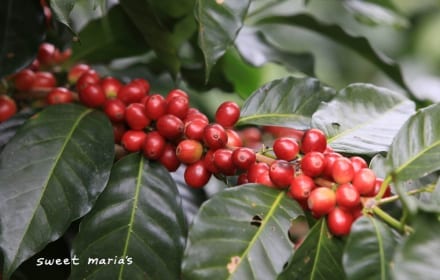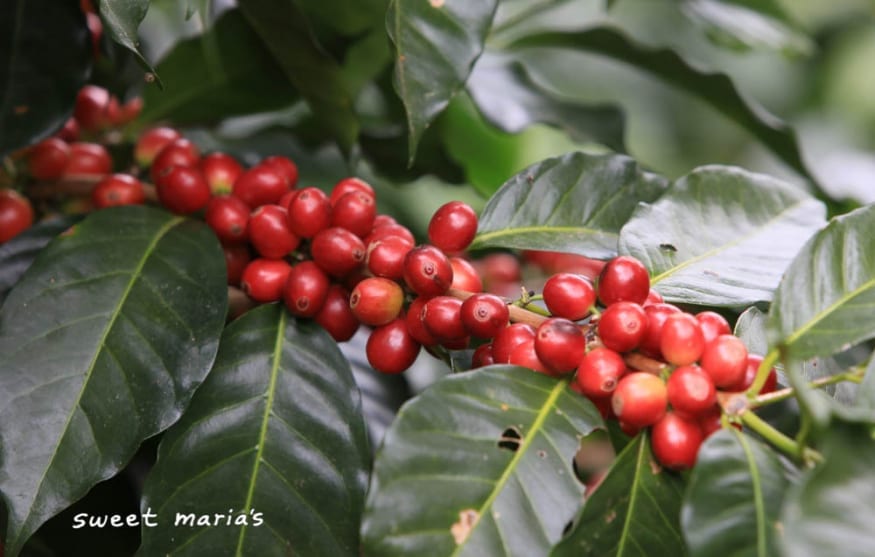 Honduran coffee was absent from the top ranks of the Specialty market, but that has changed. It has all the environmental factors on its side: soil, altitude, climate. All it's neighbors have sophisticated coffee production:

San Vicente Feliciano Sabillon – An all-around accessible, balanced coffee. Honeyed sweetness with notes of caramelized confections like butter brickle and toffee-coated peanut.
---

One of the search categories on our website is "Good for Espresso". What makes a good espresso is a pretty subjective question but we do our best to pick out the ones that to us, are the best to pull shots with. This hopefully saves our espresso drinking customers a lot of time, money and guesswork. Check our recent article about how bitterness, sweetness and mouthfeelHow a coffee feels in the mouth or its apparent texture, a tactile sensation : A major component in the flavor profile of a coffee, it is a tactile sensation in the mouth used in all come into play when we place coffees in "Good for Espresso".
---

One of our favorite shirt designs is back and in black. We hope you like it and that this shirt will always be darker than your roasted coffee beans.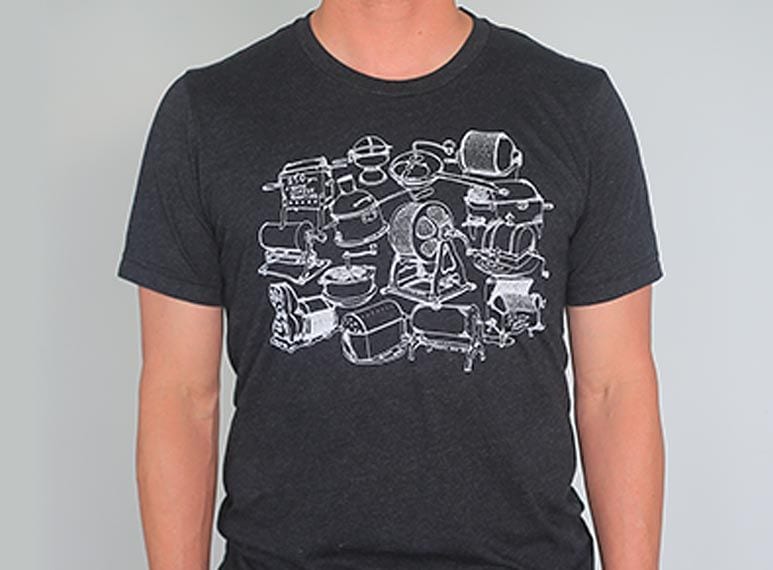 ---
March 19, 2021

Flores Tangkul Village – Balanced sweetness, milky body, notes of brownie batter, earth-toned cacao, dark tobacco leaf, and a finish that's spiced with an aromatic peppercorn note. Good for espresso.

BrazilBrazil is a coffee giant . As Frank Sinatra sang, "they grow an awful lot of coffee in Brazil".: Brazil is a coffee giant . As Frank Sinatra sang, "they grow an awful lot of Dry Process Sítio do Engenho – Core flavors are like rustic palm sugar and reduced balsamic, branching out to accent notes of wheat berry, green melon, toasted sesame seed, nori, dried goji berry and fermentedAs a defect flavor, a fruit quality in a coffee that is excessively ripe, toward rotten. Fermented flavor can be the result of poor wet-processing, over-ripe cherry, or some other contamination in the processing. As miso. A unique Brazil!

Rwanda Rutsiro Mushonyi – A matrix of honey and caramel sweetness, along with top notes of aromatic Earl Grey, apple butter, clove spice and structuring acidic impression like iced black tea. Good for espresso.

Sumatra Raja Batak PeaberryA peaberry is a green coffee "bean" that has a rounded form: Coffee is the dried seed from the fruit of a flowering tree - each fruit having 2 seeds facing each other (the flat – A wet-hulled with classic Lintong character, malty sweetness accented by earthyEarthy is a flavor term with some ambivalence, used positively in some cases, negatively in others.: Sumatra coffees can have a positive earthy flavor, sometimes described as "wet earth" or "humus" or "forest" flavors. But notes of leather and burdock root, bittering cacao, tobacco leaf, and peat. Viscous body lends to a long finish.

Guatemala Patzun Finca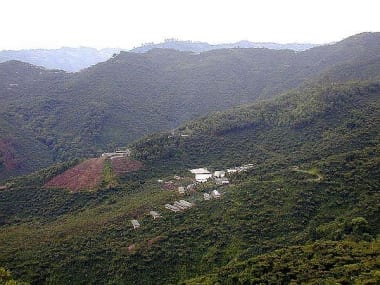 Spanish 101: Finca is the Spanish word for farm. Sometimes the term Hacienda is used to imply an Estate, which would mean the farm has its own wet-mill. A Finca does not necessarily have a Las Camelias – Fruit flavors are most front-facing at Full City, blackberryBlackberry flavor in coffee sometimes relates to slightly more developed roast levels.: Blackberry is found as a fragrance, aroma or flavor in some coffees. I find that it is less obvious at very light roast and red raisin rolled into dense layers of dark chocolate, and Dutch drinking cocoa, accents of torched sugar glaze. Good for espresso.

Java Honey Process Frinsa EstateA "coffee estate" is used to imply a farm that has its own processing facility, a wet-mill. In Spanish this is called an Hacienda. A Finca (farm) does not necessarily have a mill. (And Finca – A cup profile heavily weighted in chocolate bittersweetness, the top note accents are fruityIn some coffee taster's lexicon, "fruity" means the coffee is tainted with fruit, and "fruited" means a coffee is graced by positive fruit notes. We don't exactly see the difference in terms of these two and slightly rustic, like pulpyCan refer to fruited flavor or sometimes mouthfeel. In terms of flavor, which is how we normally use it, pulpy fruit, it tends toward the rustic side of things, distinct from dried fruit or over-ripe berry, dried cherry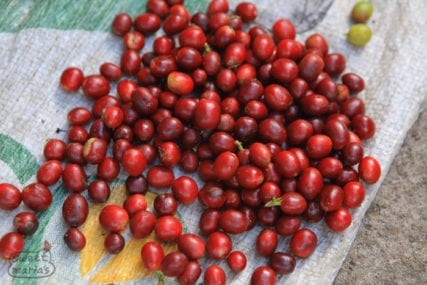 Either a flavor in the coffee, or referring to the fruit of the coffee tree, which somewhat resembles a red cherry.: Either a flavor in the coffee, or referring to the fruit of the coffee, and prune.

Timor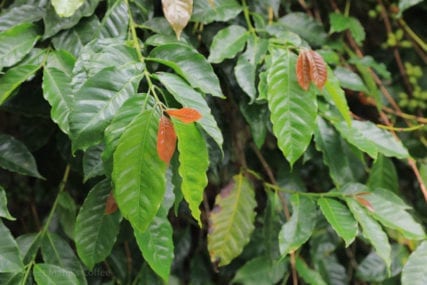 Hibrido de Timor abbreviated HdT is the interspecies hybrid of C. Arabica and C. Canephora (Robusta) that was found in Timor Leste in the 1940s. It has been the bases of plant breeding for disease Organic SWPSWP means Swiss Water Process is a patented water filtration decaf method, not a chemical solvent method. The plant is in Vancouver, Canada. Letefoho Decaf – A relaunch of this decaf that we think is great for drip brewing but perfect for espresso! It's so viscous and chocolatey bittersweet, cinnamon-spiced cocoa, baking chocolate, roasted cacao nibs and more. An ideal base for decaf milk drinks too.
---
What's the right way to roast or brew coffee? Well, if it tastes good, that means you are doing it right. Check out the comments on our recent Instagram post. Most folks agree.
---
March 24, 2021

Ethiopia Organic Nansebo Refisa – An aromatic cup in all of our roasts, dried florals, sweet herbs, and fragrant woody

Generally a taste defect from age; old green coffee, perhaps yellowing in color. This is due to the drying out of the coffee over time, and as the moisture leaves the seed it takes organic

incense, notes of simple syrup, orange essence, fruit gum, and grabby citrus finish.

Flores Golewa Sobo – The bittersweet centerpiece comes off like semi-sweet cocoa powder, with simple brown sugar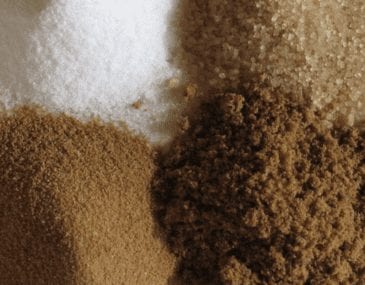 Brown sugar is a type of sweetness found in coffee ...a sweetness characterized by a hint of molasses, yet quite refined as well. Since Brown sugar of the common type is highly refined (made by

, a hint of spice, soft acidity, and sweet potato pie note.

Guatemala Huehuetenango Finca Rosma – A flavor compound of oatmeal-raisin cookie, molasses sugar, rustic dark fruit, cacao bittersweetness, dried coconut, and berry-like acidity. Good for espresso.
---

If you have been with us for a while, you know that we are big fans of roasting with electric popcorn poppers. They are great for first timers since they are inexpensive compared to actual coffee roasters. They also offer a lot of DIY vibes and opportunities for modification so many seasoned home roasters have chosen air poppers as their primary roaster. Check out our popper resource page where we have compiled years of info about this awesome appliance that was never intended to roast coffee.
---
March 26, 2021

BurundiBurundi coffee bears resemblance to neighboring Rwanda, in both cup character, but also the culture surrounding coffee. Burundi is a small landlocked country at the crossroads of East and Central Africa, straddling the crest of Kayanza Dusangirijambo – Balanced sweet and bitter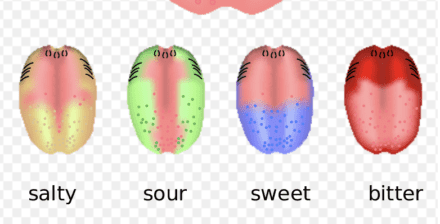 Bitterness is one of 5 basic tastes: Sour, Sweet, Salty, Bitter and Umami (savory flavors). There are many types of bitterness, hence not one avenue to tracking down its source. Bitterness as a positive quality flavors give way to baking spice and accents of crispUsually used as a modifying flavor term, such as "crisp acidity" : Crisp can have several meanings, since it modifies other flavor terms. Crisp acidity might mean bracing, fresh fruit acids. Crisp chocolate notes might apple, raisin, Darjeeling tea, and moderate lemon-like acidity. Darker roasts have a chocolate-cherry flavor note. Check out our video tour of Dusangirijambo.

Brazil Dry Process Lambari Adriana Guerra – Unique flavors, fruited, rustic sweetness, and surprising acidity for Brazil. Flavor notes of melon rind, boiled peanut, rice vinegarA defective flavor taint in coffee, resulting perhaps from poor processing, fermentation, sanitation.: Vinegar-like qualities are a defective flavor taint in coffee, resulting perhaps from poor processing, fermentation, sanitation. Usually, this comes from high levels, sesame butter, and a freeze dried berry accent.

Rwanda Nyamasheke Mutovu – Aromatic sweetness, butterscotch candy, panela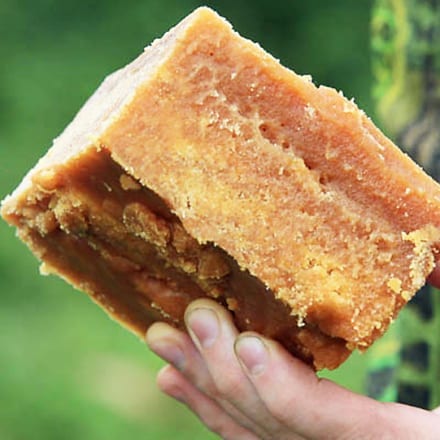 Panela is the minimally processed sugar with floral and vanilla accents: Found in Colombia (and noted to be best in Pitalito and Pedregal), Panela is tan-colored cakes of sugar that are not fully refined. They sugar, with lovely accent notes of golden raisin, apple, warming spiceA term indicating a spice blend with ingredients such as ginger, cinnamon, nutmeg, allspice, clove, anise pepper. While it is not exactly the same thing, warming spice blends are often similar to mulling spice mixes, vanilla, orange oil and a tannicHaving the bitterness or astringency of Tannins. Tannins are plant polyphenols found across the flora kingdom. The term Tannins refers to the use of wood tannins from oak in tanning animal hides into leather. Having hint of black tea. Good for espresso. Take a video tour of Mutovu.

Papua New GuineaPapua New Guinea (PNG) occupies the eastern half of the island it shares with the Indonesian province of Irian Jaya, part of Indonesia. The two primary areas for coffee production can be grouped roughly as Baroida Morita – Vanilla taffy aroma, cup sweetness has palm sugar and molasses, accented by fruited notes of orange, tamarind, and candied lemon, with finishing hints of aromatic tobacco and spice.

Papua New Guinea Kainantu Urara – Sweet flavors of caramel popcorn and toffee, brilliant acidity, pulpy fruited accents, red apple, cooling to hints of cinnamon powder and fruited herbal tea.

Kenya Nyeri Ichamama AB – A butteryA mouthfeel description indicating thickness and creaminess, and can also be a flavor description.: Buttery is primarily a mouthfeel description indicating thickness and creaminess. It indicates a high level of lipids (fats) in the coffee, honey sweetness leaves an aromatic imprint on the cup profile, with notes of cranberry-apple juice, bittersweet grapefruit, dark brown sugar, and a berry hint.

Espresso Workshop #48 Number Forty-Two – Full City whittles down the sharp acidity found in lighter roasts, building out chocolate richnessMrs. Olsen likes rich coffee. At Sweet Maria's, we are not sure what rich means... but if you buy a lot of coffee from us, maybe we will (hint, hint).: Rich almost never refers to, fudgey flavors, fruited hints of plum, pomegranate (not tart though), and tamarind hard candy. Full City+ are packed with carbonized bittersweetness and best for milk drinks. Good for espresso.
---

Rewind to 1984. Purple Rain was released, Reagan was in office, Wendy's asked "Where's the beef?", Alex Trebek asked his first answer and Melitta introduced the first fluid bed coffee roaster.
---
March 31, 2021

Honduras La Peña Denilson Madrid – A well-balanced Central American coffee

Central American coffee is known for its "classic," balanced profile.: Central American coffee is known for its "classic," balanced profile. Centrals are primarily wet-processed since the climate is too humid for dry processing and hence

, with sweet notes of light brown sugar and sucanat, a hint of roasted almond, apple highlight, and malic acidic impression.

Rwanda Dry Process Nyakabingo – Middle roasts move beyond molasses sweetness, to fruit and spice flavors, notes of berry-infused dark chocolate, plum, overripe citrus, and a hint of heart of palm in the finish.
---

Sweet Maria's crew member, Hadley chose this round of our Staff Picks. Check out the coffees he chose, why he chose them and be amazed at how he wrote his reviews while waiting in the Taco Bell drive thru.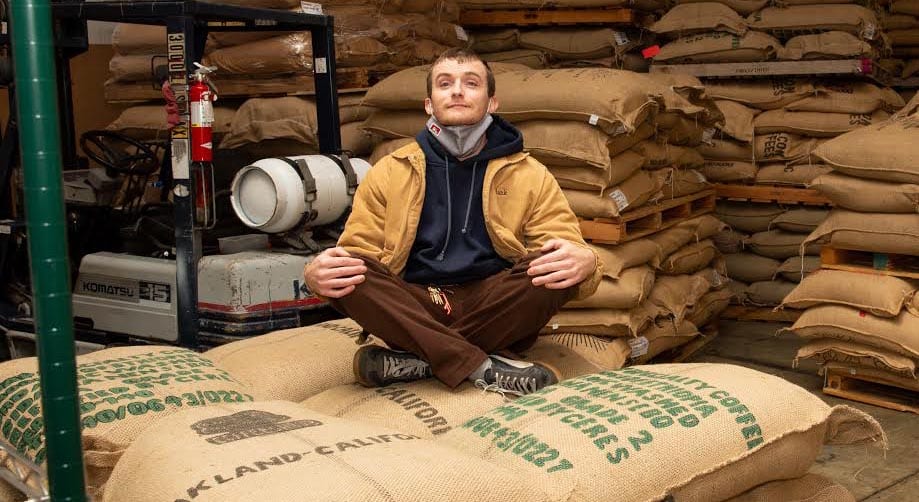 ---

This sample set is a cross-section coffees from Indonesian growing regions more common to our Indonesian coffeeIndonesian coffee is known for its unique earthy, potent flavors. Some like it, some hate it, but it's certainly distinctive. Much of the coffee in Indonesia is processed using the unique method called "Giling Basah," list, and highlights the uniqueness in processingThe removal of the cherry and parchment from the coffee seed.: Coffee is either wet-processed (also called washed or wet-milled) or dry-processed (also called wild, natural or natural dry, and we abbreviate it DP sometimes). traditions and vastly different cup flavors that come with them. It currently includes coffees from Flores, a Sulawesi Honey Process, Sumatra Wet Process and a Sumatra Peaberry