Stay up to date on coffee we have coming down the pipeline and our latest green coffee outlook and arrivals schedule.
May wound up being a fairly quiet month in our cupping labs, mostly consisting of approving pre-ship samples from Central American regions like El Salvador and Nicaragua, and cup testing arrivals from Rwanda, Kenya, and Ethiopia. Don't get me wrong, there's a lot to be excited about, and the work of processing arrivals is about to grow exponentially.
June is shaping up to be a big month for incoming coffees. Running the numbers before sitting down to write this update, I counted a dozen containers of coffee either just arriving, or scheduled to land this month (June). Each one of those boxes holds 42,000 pounds of coffee. That's a whole lot of beans! See the full contents list below.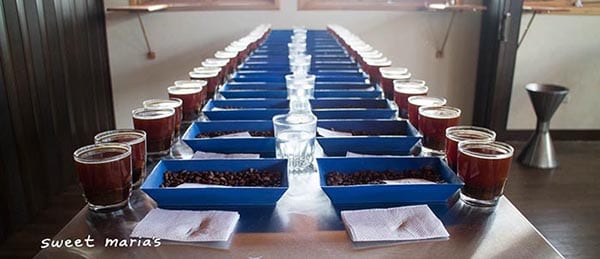 Origin Shipping Updates
Central America: Our first Guatemalan containers have landed in Houston and includes all of our Antigua and Chimaltenango coffees for the year (see below). If all goes as planned, the first lots from these boxes will be available by the 1st week of July. Our Proyecto Xinabajul coffees from Huehuetenango and not far behind, and currently have an ETA of June 15th. A full box of El Salvador coffees have also arrived in Houston carrying several varietal separations from the La Esperanza and Miravalle farms. As you can see from the position below, we have well over 1,000 bags of coffee between Costa Rica, Nicaragua, El Salvador, and Guatemala still en route, and expect to see everything stateside by early July.
Africa: Hopefully you've had a chance to sample our initial offerings from Kenya that we've managed to post on the site in the last two weeks. This is just the tip of the iceberg of what's to come. Our second arrival is currently awaiting transfer from New Jersey, plus almost 2 full boxes nearing the East Coast ports. About half of our Ethiopia's are on the water, and the other half are scheduled to be loaded onto shipping vessels over the next two weeks. We have a limited amount of fresh crop here now, and are listing 1 new coffee each week starting today (6/10) for the next 3 weeks.
Indonesia & SE Asia: Our mixed container of Indonesian coffees from Java, Sulawesi and Flores has finally come ashore. If good things come to those who wait, these just might be the best coffees of the year (Harhar). Seriously, we're glad the wait is almost over and look forward to diving into these arrivals in the next few weeks. We have a few on the July schedule, and will likely add a few more as we continue to fill out that month. Sumatra's are also on the horizon. This month sees the departure of a full container of Sumatra's that include several different process types from coops and collectors in and around the Aceh Tengah region.
Upcoming green coffees currently on the schedule to be added to our website:
Please keep in mind that the coffees on the Upcoming Coffee Outlook schedule with a location status of "In Transit" are still a bit of a wild card, and the month we have them listed under is based on the current shipping ETA, and subject to interruptions out of our control. Thanks for your patience!
June Coffee Outlook
| | | | |
| --- | --- | --- | --- |
| Coffee Lot | Bags | Size | Location |
| Brazil Cerrado Fred Terumi | 35 | 60 KG | Oakland |
| Burundi Dry Process Agahore | 26 | 60 KG | Oakland |
| Colombia Coop de Caldas EA Decaf | 15 | 70 KG | Oakland |
| Colombia Urrao John Alexander | 13 | 70 KG | Oakland |
| Colombia Urrao Heirloom Caturra | 6 | 70 KG | Oakland |
| Colombia Inzá Vereda San Antonio | 13 | 70 KG | Oakland |
| Costa Rica Tarrazu Cafetales de Dota | 75 | 69 KG | Oakland |
| Ethiopia Dry Process Benti Nenka | 100 | 60 KG | Oakland |
| Ethiopia Guji Shakiso Reji | 100 | 60 KG | Oakland |
| Kenya Nyeri Kagumo AB | 43 | 60 KG | Oakland |
| Kenya Muranga Riakiberu Peaberry | 16 | 60 KG | Oakland |
| Mexico Comunidad de Coatepec | 10 | 69 KG | Oakland |
| Rwanda Rubavu Rwinyoni | 50 | 60 KG | Oakland |
| Rwanda Honey Process Kanyege | 30 | 60 KG | Oakland |
| Tanzania Sepukila Cooperative AB | 39 | 60 KG | Oakland |
| Zambia Yeast Fermentation Mafinga | 15 | 60 KG | Oakland |
July Coffee Outlook (so far!)
| | | | |
| --- | --- | --- | --- |
| Coffee Lot | Bags | Size | Location |
| Brazil Carmo Fazenda Furnas | 74 | 60 KG | Oakland |
| Brazil Mogiana Vera Lucia | 20 | 60 KG | Oakland |
| Colombia Pavón Finca Los Palomos | 12 | 70 KG | Oakland |
| El Salvador Finca La Esperanza | 75 | 69 KG | Houston |
| El Salvador Finca Miravalle Tabi | 41 | 69 KG | Houston |
| Flores Wolo Wio | 38 | 60 KG | Oakland |
| Guatemala Antigua Cabrejo | 50 | 46 KG | Houston |
| Guatemala Chimaltenango Jilotepeque | 92 | 46 KG | Houston |
| Guatemala Acatenango Gesha | 40 | 46 KG | Houston |
| Java Wet Hulled Waspada | 40 | 60 KG | Oakland |
| Sulawesi Wet Hulled Latimojong | 40 | 60 KG | Oakland |
| Tanzania Mbamba Namku AA | 30 | 60 KG | Oakland |
| Timor Leste Dry Process Daurfusu | 55 | 60 KG | Oakland |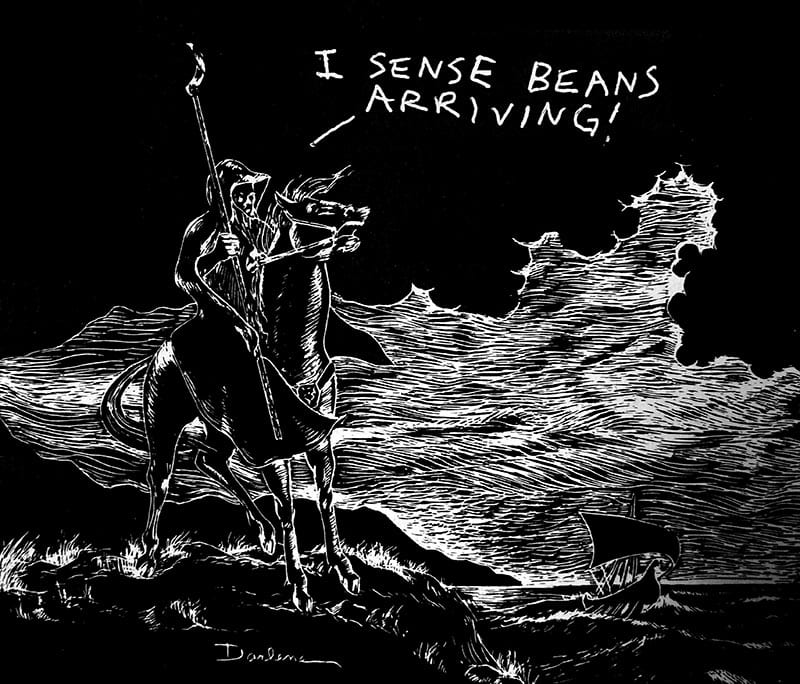 Incoming coffees currently on the water: June – July
Ethiopia Incoming Coffees
| | | | |
| --- | --- | --- | --- |
| Incoming Coffees | Bags | Size | ETA |
| Ethiopia Limu Ayetu Gera Farm | 140 | 60 KG | ETA 6/10 |
| Ethiopia Guji Buku Sayisa | 50 | 60 KG | ETA 6/10 |
| Ethiopia Yirgacheffee Banko Gotiti | 70 | 60 KG | ETA 6/10 |
| Ethiopia Sidama Arsi Refisa | 100 | 60 KG | ETA 6/10 |
| Ethiopia Yirga Cheffe Chelbesa Danche | 100 | 60 KG | ETA 6/10 |
| Ethiopia Agaro Kedamai | 60 | 60 KG | ETA 6/15 |
| Ethiopia Organic Agaro Hunda Oli | 80 | 60 KG | ETA 6/15 |
| Ethiopia Organic Geta Bore Cooperative | 80 | 60 KG | ETA 6/15 |
| Ethiopia Yukiro Cooperative | 50 | 60 KG | ETA 6/15 |
| Ethiopia Organic Gera Genji Challa | 50 | 60 KG | ETA 6/15 |
| Ethiopia Organic Gera Nano Challa | 80 | 60 KG | ETA 6/15 |
| Ethiopia Organic Agaro Duromina | 80 | 60 KG | ETA 6/15 |
| Ethiopia Organic Dry Process Beshasha Birbisa | 160 | 60 KG | ETA 6/15 |
| Ethiopia Dry Process Yirga Cheffe Gedeb | 160 | 60 KG | ETA 6/25 |
| Ethiopia Dry Process Yirga Cheffe Idido | 160 | 60 KG | ETA 6/25 |
| Ethiopia Kayon Mountain Taaroo | 160 | 60 KG | ETA 7/16 |
| Ethiopia Dry Process Hambela Benti Nenka | 160 | 60 KG | ETA 7/16 |
| Ethiopia Dry Process Guji Gerba | 100 | 60 KG | ETA 7/16 |
| Ethiopia Dry Process Buno Dambi Uddo | 120 | 60 KG | ETA 7/16 |
| Ethiopia Dry Process Abiyot Bobea | 100 | 60 KG | ETA 7/16 |
| Ethiopia Kecho Anderecha | 130 | 60 KG | ETA 7/16 |
| Ethiopia Dry Process Mansur Aba Hikam | 50 | 60 KG | ETA 7/16 |
| Ethiopia Dry Process Mahamed Aba Nura | 50 | 60 KG | ETA 7/16 |
| Ethiopia Dry Process Aba Mecha | 20 | 60 KG | ETA 7/16 |
| Ethiopia Dry Process Aba Bulgu | 70 | 60 KG | ETA 7/16 |
| Ethiopia Organic Dry Process Burka Gudina | 200 | 60 KG | Not Shipped |
Kenya Incoming Coffees
| | | | |
| --- | --- | --- | --- |
| Incoming Coffees | Bags | Size | ETA |
| Kenya Nyeri Kagumo Peaberry | 27 | 60 KG | Arrived NJ |
| Kenya Nyeri Gatomboya Peaberry | 16 | 60 KG | Arrived NJ |
| Kenya Kirinyaga Kamwangi Peaberry | 33 | 60 KG | Arrived NJ |
| Kenya Kiambu Ngaita Peaberry | 16 | 60 KG | Arrived NJ |
| Kenya Kiambu Riabai AB | 14 | 60 KG | Arrived NJ |
| Kenya Thika Oreti AA | 12 | 60 KG | ETA 6/10 |
| Kenya Thika Oreti AB | 19 | 60 KG | ETA 6/10 |
| Kenya Thika Oreti Peaberry | 1 | 60 KG | ETA 6/10 |
| Kenya Kirinyaga Wanja AA | 14 | 60 KG | ETA 6/10 |
| Kenya Muranga Nguku AB | 45 | 60 KG | ETA 6/10 |
| Kenya Muranga Nguku Peaberry | 4 | 60 KG | ETA 6/10 |
| Kenya Kiambu Fram Farm AA | 18 | 60 KG | ETA 6/10 |
| Kenya Kiambu Fram Farm AB | 66 | 60 KG | ETA 6/10 |
| Kenya Kiambu Fram Farm Peaberry | 4 | 60 KG | ETA 6/10 |
| Kenya Nyeri Gichichi AA | 4 | 60 KG | ETA 7/10 |
| Kenya Nyeri Gichichi AB | 11 | 60 KG | ETA 7/10 |
| Kenya Nyeri Gaikundo AA | 14 | 60 KG | ETA 7/10 |
| Kenya Kirinyaga Thunguri AB | 14 | 60 KG | ETA 7/10 |
| Kenya Nyeri Rukira AB | 20 | 60 KG | ETA 7/10 |
| Kenya Nyeri Maganjo AA | 9 | 60 KG | ETA 7/10 |
| Kenya Nyeri Mahiga AA | 19 | 60 KG | ETA 7/10 |
| Kenya Nyeri Mahiga PB | 7 | 60 KG | ETA 7/10 |
| Kenya Nyeri Gatugi AA | 50 | 60 KG | ETA 7/10 |
| Kenya Nyeri Gatugi AB | 70 | 60 KG | ETA 7/10 |
| Kenya Nyeri Gatugi PB | 26 | 60 KG | ETA 7/10 |
| Kenya Nyeri Kiaguthu AA | 27 | 60 KG | ETA 7/10 |
| Kenya Nyeri Kiaguthu PB | 10 | 60 KG | ETA 7/10 |
| Kenya Nyeri Kamoini AA | 34 | 60 KG | ETA 7/10 |
| Kenya Nyeri Kamoini AB | 53 | 60 KG | ETA 7/10 |
| Kenya Nyeri Kamoini Peaberry | 12 | 60 KG | ETA 7/10 |
| Kenya Nyeri Kagunyu AA | 15 | 60 KG | ETA 7/10 |
| Kenya Nyeri Kagunyu AB | 13 | 60 KG | ETA 7/10 |
| Kenya Nyeri Ichamama AA | 50 | 60 KG | ETA 7/10 |
| Kenya Nyeri Ichamama PB | 21 | 60 KG | ETA 7/10 |
| Cameroon Wet Process | 40 | 60 KG | ETA 6/23 |
| Tanzania Tarime Town AB | 40 | 60 KG | ETA 7/20 |
| Tanzania Mara Tarime Peaberry | 10 | 60 KG | ETA 7/20 |
Indonesia & SE Asia Incoming Coffees
| | | | |
| --- | --- | --- | --- |
| Incoming Coffees | Bags | Size | ETA |
| Sumatra Kerinci Barokah Bersama | 50 | 60 KG | Not Shipped |
| Sumatra Wet Process Barokah Coop | 30 | 60 KG | Not Shipped |
| Sumatra Honey Process Barokah Coop | 30 | 60 KG | Not Shipped |
| Sumatra Honey Labu Barokah Bersama | 30 | 60 KG | Not Shipped |
| Sumatra Dry Process Barokah Coop | 20 | 60 KG | Not Shipped |
| Sumatra Aceh Bebesen Aulia | 20 | 60 KG | Not Shipped |
| Sumatra Honey Process Bebesen Aulia | 10 | 60 KG | Not Shipped |
| Sumatra Anaerobic Bebesen Aulia | 10 | 60 KG | Not Shipped |
| Sumatra Wet Process Ribang Gayo | 40 | 60 KG | Not Shipped |
| Sumatra Lintong Sigumpar Village | 30 | 60 KG | Not Shipped |
| Sumatra Aceh Teritit | 50 | 60 KG | Not Shipped |
| Sulawesi Enrekang Rodo Rodo | 17 | 60 KG | Arrived Oakland |
| Sulawesi Wet Hulled Latimojong | 40 | 60 KG | Arrived Oakland |
| Sulawesi Panaikang Village Pak Sulaiman | 8 | 60 KG | Arrived Oakland |
| Sulawesi Desa Topidi | 8 | 60 KG | Arrived Oakland |
| Sulawesi Honey Process Gowa | 5 | 60 KG | Arrived Oakland |
| Sulawesi Dry Process Topidi | 11 | 60 KG | Arrived Oakland |
| | | | |
| --- | --- | --- | --- |
| Java Wet Hulled Siki Alit | 30 | 60 KG | Arrived Oakland |
| Java Wet Hulled Waspada | 40 | 60 KG | Arrived Oakland |
| Flores Wawo Muda | 18 | 60 KG | Arrived Oakland |
| Flores Gunung Waja Mala | 18 | 60 KG | Arrived Oakland |
| Flores Wolo Wio | 38 | 60 KG | Arrived Oakland |
| Flores Dry Process Bei Poso Village | 7 | 60 KG | Arrived Oakland |
| Java Wet Hulled Waspada | 50 | 60 KG | Arrived Oakland |
| Java Dry Process Kuningan Robusta | 30 | 60 KG | Arrived Oakland |
Central America Incoming Coffees
| | | | |
| --- | --- | --- | --- |
| El Salvador Finca La Esperanza | 75 | 69 KG | Arrived Houston |
| El Salvador Miravalle Centroamericaono | 61 | 69 KG | Arrived Houston |
| El Salvador Finca Miravalle Tabi | 41 | 69 KG | Arrived Houston |
| El Salvador Apaneca Finca Miravalle | 48 | 69 KG | Arrived Houston |
| El Salvador Miravalle Sampacho | 54 | 69 KG | Arrived Houston |
| El Salvador Dry Process Finca San Luis | 6 | 69 KG | Arrived Houston |
| Guatemala Chimaltenango Tecpan | 37 | 69 KG | Arrived Houston |
| Guatemala Chimaltenango Jilotepeque | 92 | 69 KG | Arrived Houston |
| Guatemala Antigua Santa Ines | 71 | 46 KG | Arrived Houston |
| Guatemala Antigua Santa Ines Bourbon | 26 | 46 KG | Arrived Houston |
| Guatemala Antigua Santa Ines Catuaí | 24 | 46 KG | Arrived Houston |
| Guatemala Antigua Santa Ines Caturra | 20 | 46 KG | Arrived Houston |
| Guatemala San Diego Buena Vista Yellow Bouron | 14 | 46 KG | Arrived Houston |
| Guatemala San Diego Buena Vista | 40 | 46 KG | Arrived Houston |
| Guatemala Antigua Pulcal | 40 | 46 KG | Arrived Houston |
| Guatemala Antigua Pulcal Inteligente | 20 | 46 KG | Arrived Houston |
| Guatemala Antigua Cabrejo | 50 | 46 KG | Arrived Houston |
| Guatemala Patzun Finca Las Camelias | 42 | 46 KG | Arrived Houston |
| Guatemala Antigua La Parcela Melanie | 5 | 46 KG | Arrived Houston |
| Guatemala Acatenango Gesha | 45 | 46 KG | Arrived Houston |
| Guatemala Acatenango Gesha | 40 | 46 KG | Arrived Houston |
| Guatemala Xinabajulu Bojonalito | 16 | 69 KG | ETA 6/15 |
| Guatemala Xinabajul Flavio Del Cerro | 25 | 69 KG | ETA 6/15 |
| Guatemala Xinabajul Peña Roja | 89 | 69 KG | ETA 6/15 |
| Guatemala Xinabajul Virgilio | 25 | 69 KG | ETA 6/15 |
| Guatemala Xinabajul Producers | 40 | 69 KG | ETA 6/15 |
| Guatemala Xinabajul Idmar de Jesus Velasquez | 25 | 69 KG | ETA 6/15 |
| Guatemala Xinabajul El Paraiso | 26 | 69 KG | ETA 6/15 |
| Guatemala Xinabajul Michicoy | 29 | 69 KG | ETA 6/15 |
| Guatemala Xinabajul Aler Villatoro | 66 | 69 KG | ETA 6/15 |
| Guatemala Xinabajul Aurelio Del Cerro | 58 | 69 KG | ETA 6/15 |
| Guatemala Xinabajul Boqueroncito | 50 | 69 KG | ETA 6/15 |
| Guatemala Xinabajul Rosalio Villatoro | 56 | 69 KG | ETA 6/15 |
| Guatemala Xinabajul San Pedro Necta | 25 | 69 KG | ETA 6/15 |
| Guatemala Xinabajul Jose Villatoro | 20 | 69 KG | ETA 6/15 |
| Panama Boquete Finca La Gloria | 50 | 60 KG | ETA 6/29 |
| Panama Boquete Oscarcito Gesha | 7 | 23 KG | ETA 6/29 |
| Costa Rica Zarcero Finca Salaca | 40 | 69 KG | Not Shipped |
| Costa Rica Honey Process Palmichal | 40 | 69 KG | Not Shipped |
| Costa Rica Yellow Honey La Guaria | 50 | 69 KG | Not Shipped |
| Costa Rica Honey Palmichal Vecindario | 30 | 69 KG | Not Shipped |
| Costa Rica Red Honey Los Monge | 30 | 69 KG | Not Shipped |
| Costa Rica Santa Maria Solis y Cordero | 30 | 69 KG | Not Shipped |
| Costa Rica Chirripo Corazon de Jesus | 20 | 69 KG | Not Shipped |
| Costa Rica Tarrazú Cerro La Cruz | 25 | 69 KG | Not Shipped |
| Costa Rica Jardin de Aromas | 25 | 69 KG | Not Shipped |
| Costa Rica Helsar Eliomar Lopez | 25 | 69 KG | Not Shipped |
| Costa Rica Don Oscar Hermanos Solis | 25 | 69 KG | Not Shipped |
| Costa Rica Tarrazú Cerro La Cruz | 25 | 69 KG | Not Shipped |
| Costa Rica Tarrazú La Casona | 20 | 69 KG | Not Shipped |
| Nicaragua Finca Buenos Aires | 20 | 69 KG | Not Shipped |
| Nicaragua Buenos Aires San Salvador | 20 | 69 KG | Not Shipped |
| Nicaragua Buenos Aires Maracaturra Juniors | 20 | 69 KG | Not Shipped |
| Nicaragua Jinotega La Bastilla Estate | 20 | 69 KG | Not Shipped |
| Nicaragua Los Altiplanos Java | 49 | 69 KG | Not Shipped |
| Nicaragua Buenos Aires Los Pinos | 30 | 69 KG | Not Shipped |
| Nicaragua Finca El Lino | 20 | 69 KG | Not Shipped |
| Nicaragua Ojo de Agua | 30 | 69 KG | Not Shipped |
| Nicaragua Finca Buenos Aires | 40 | 69 KG | Not Shipped |
| Nicaragua Dipilto Finca La Laguna | 40 | 69 KG | Not Shipped |
| Nicaragua Buenos Aires San Salvador | 10 | 69 KG | Not Shipped |
| Nicaragua Buenos Aires Maracaturra | 10 | 69 KG | Not Shipped |
| Nicaragua Maracaturra Juniors | 20 | 69 KG | Not Shipped |
| Nicaragua Honey Process Buenos Aires | 10 | 69 KG | Not Shipped |
| Nicaragua Honey Process San Salvador Java | 2 | 69 KG | Not Shipped |
| Nicaragua Dry Process Buenos Aires | 5 | 69 KG | Not Shipped |
| Nicaragua Dry Process El Suyatal | 10 | 69 KG | Not Shipped |
| Nicaragua Acopio Suyatal | 40 | 69 KG | Not Shipped |
| Nicaragua Buenos Aires San Salvador | 20 | 69 KG | Not Shipped |