Stay up to date on coffee we have coming down the pipeline and our latest green coffee outlook and arrivals schedule.
May wound up being a fairly quiet month in our cupping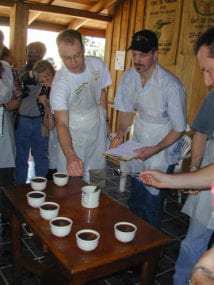 Cupping is a method of tasting coffee by steeping grounds in separate cups for discrete amounts of ground coffee, to reveal good flavors and defects to their fullest. It has formal elements and methodology in labs, mostly consisting of approving pre-ship samples from Central American regions like El SalvadorEl Salvador coffee had an undeservingly poor reputation for years, marred mostly by the inability to deliver coffee of high quality in an unstable political climate. Unfortunately, agriculture is the first to suffer in revolution, and Nicaragua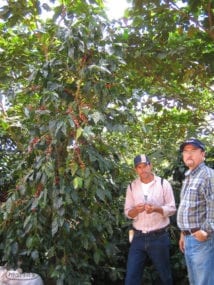 Nicaraguan coffees from the Segovia, Jinotega, Ocotal and Matagalpa regions are nice balanced cups. They often possess interesting cup character along with body and balance, outperforming many other balanced Central American and South American high-grown, and cup testing arrivals from RwandaRwandan coffee was, at one time, rarely seen in the United States as either a Specialty grade or low-end commercial coffee. There simply was not that much coffee produced in Rwanda that went anywhere besides, KenyaKenya is the East African powerhouse of the coffee world. Both in the cup, and the way they run their trade, everything is topnotch.: Kenya is the East African powerhouse of the coffee world. Both, and Ethiopia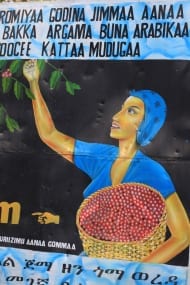 Ethiopia is the birthplace of coffee: it is in the forests of the Kaffa region that coffee arabica grew wild. Coffee is "Bun" or "Buna" in Ethiopia, so Coffee Bean is quite possibly a poor. Don't get me wrong, there's a lot to be excited about, and the work of processingThe removal of the cherry and parchment from the coffee seed.: Coffee is either wet-processed (also called washed or wet-milled) or dry-processed (also called wild, natural or natural dry, and we abbreviate it DP sometimes). arrivals is about to grow exponentially.
June is shaping up to be a big month for incoming coffees. Running the numbers before sitting down to write this update, I counted a dozen containers of coffee either just arriving, or scheduled to land this month (June). Each one of those boxes holds 42,000 pounds of coffee. That's a whole lot of beans! See the full contents list below.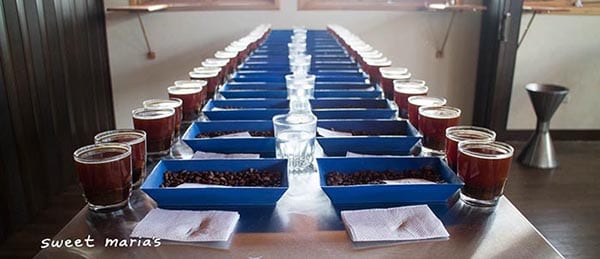 Origin Shipping Updates
Central America: Our first Guatemalan containers have landed in Houston and includes all of our Antigua and Chimaltenango coffees for the year (see below). If all goes as planned, the first lots from these boxes will be available by the 1st week of July. Our Proyecto Xinabajul coffees from Huehuetenango and not far behind, and currently have an ETA of June 15th. A full box of El Salvador coffees have also arrived in Houston carrying several varietal separations from the La Esperanza and Miravalle farms. As you can see from the position below, we have well over 1,000 bags of coffee between Costa Rica

Costa Rican coffee is typically very clean, sweet, with lots of floral accents. hey are prized for their high notes: bright citrus or berry-like flavors in the acidity, with distinct nut-to-chocolate roasty flavors.: Can a

, Nicaragua, El Salvador, and Guatemala still en route, and expect to see everything stateside by early July.
Africa: Hopefully you've had a chance to sample our initial offerings from Kenya that we've managed to post on the site in the last two weeks. This is just the tip of the iceberg of what's to come. Our second arrival is currently awaiting transfer from New Jersey, plus almost 2 full boxes nearing the East Coast ports. About half of our Ethiopia's are on the water, and the other half are scheduled to be loaded onto shipping vessels over the next two weeks. We have a limited amount of fresh crop here now, and are listing 1 new coffee each week starting today (6/10) for the next 3 weeks.
Indonesia

USDA is (obviously) the United States Department of Agriculture. USDA also had coffee plant breeding programs in the past and one variety they distributed to Indonesia and was widely planted is called USDA  (sounds like 

& SE Asia: Our mixed container of Indonesian coffees from Java

There are several types of Abyssinia, but they are not from Ethiopia but rather Indonesia. Abyssinia 3 = AB3. PJS Cramer, a Dutch plant researcher, introduced this variety in 1928, supposedly from Ethiopia seed stock. It was

, Sulawesi

Sulawesi coffees are low-acid with great body and that deep, brooding cup profile akin to Sumatra. The coffee is sometimes known as Celebes, which was the Dutch colonial name for the island. Indonesians are available

and Flores

Flores is an Indonesian island, and as a coffee bears more resemblance to the coffees of Timor-Leste, New Guinea and Java than to the wet-hulled coffees of Sumatra and Sulawesi. It is sweet, with good

has finally come ashore. If good things come to those who wait, these just might be the best coffees of the year (Harhar). Seriously, we're glad the wait is almost over and look forward to diving into these arrivals in the next few weeks. We have a few on the July schedule, and will likely add a few more as we continue to fill out that month. Sumatra's are also on the horizon. This month sees the departure of a full container of Sumatra's that include several different process types from coops and collectors in and around the Aceh

The northernmost district in SumatraL Aceh District is north of North Sumatra and produces some very classic Sumatra coffees. The center of coffee in Aceh is Lake Tawar and Takengon, the city by the lake.

Tengah region.
Upcoming green coffees currently on the schedule to be added to our website:
Please keep in mind that the coffees on the Upcoming Coffee Outlook schedule with a location status of "In Transit" are still a bit of a wild card, and the month we have them listed under is based on the current shipping ETA, and subject to interruptions out of our control. Thanks for your patience!
June Coffee Outlook
July Coffee Outlook (so far!)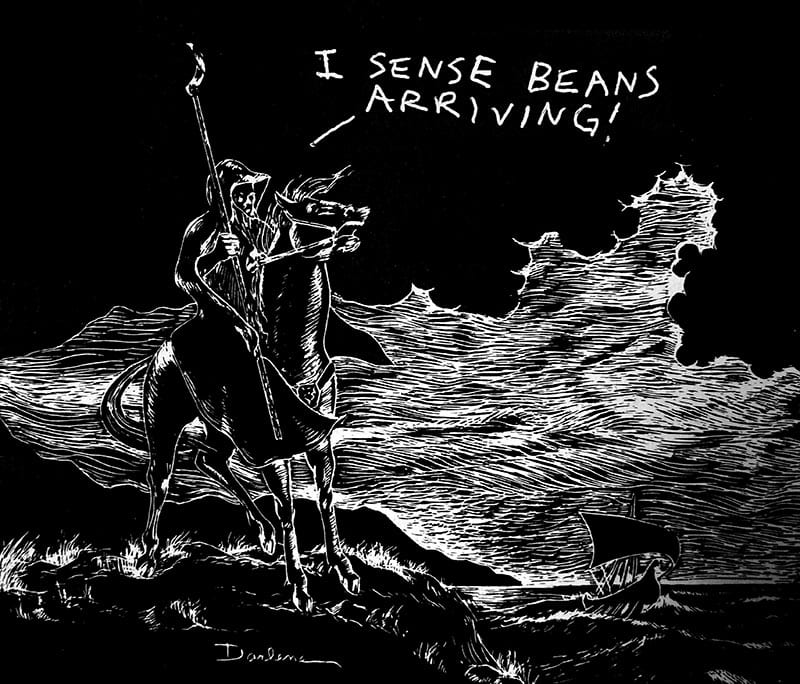 Incoming coffees currently on the water: June – July
Ethiopia Incoming Coffees
Kenya Incoming Coffees
Indonesia & SE Asia Incoming Coffees
Central America Incoming Coffees