Stay up to date on coffee we have coming down the pipeline and our latest green coffee outlook and arrivals schedule.
With no less than a half dozen containers of coffee awaiting pickup at US Ports, and more than twice that shipping from originIn coffee talk, it refers to a coffee-producing region or country; such as, "I was just at origin." Of course "Origin" for most product we use is not a beautiful farm in a temperate climate,, I feel like we're just starting to see what we're facing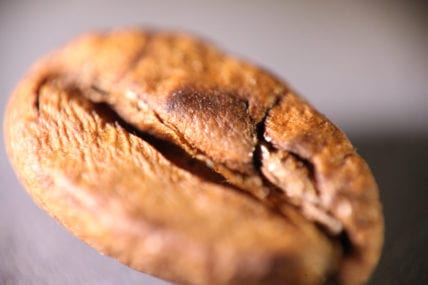 Facing can mean turning toward, standing up to, being brave. But in coffee roasting though, it means scorching a roast.: Facing refers to scorch marks found on the flat side or face of the coffee in terms of logistics bottlenecks and slowdowns. But being a glass half-full kind of guy, I'd like to lead with good news, which there is quite a bit of at this moment!
As of today (5/10), we have 6 new arrival containers that have either made their way to Oakland from Texas and New Jersey, or have already been unloaded at Continental Terminals Annex, where we store most of our coffee.
A full box of direct tradeA term used by coffee sellers to indicate that the coffee was purchased through a direct relationship with the farmer. Unlike Fair Trade and Organic certifications, Direct Trade is not an official, third-party certification. Our coffees from Timor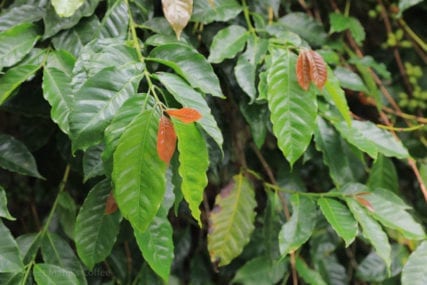 Hibrido de Timor abbreviated HdT is the interspecies hybrid of C. Arabica and C. Canephora (Robusta) that was found in Timor Leste in the 1940s. It has been the bases of plant breeding for disease Leste are now in our position, and we'll list the first two lots next week. These include fully washed, honeyIn coffee, honey-like sweetness is often found, but we use terms such as refined honey (highly filtered and processed) as opposed to raw honey rustic honey sweetness. This form of sweetness is largely a dynamic, and dry processDry process coffee is a method for taking the fruit from the tree to an exportable green bean. The whole intact coffee cherry is dried in the sun with the green bean inside. Later it coffees, most of which are from newly erected processingThe removal of the cherry and parchment from the coffee seed.: Coffee is either wet-processed (also called washed or wet-milled) or dry-processed (also called wild, natural or natural dry, and we abbreviate it DP sometimes). stations who are buying whole coffee cherryOriginally coffee literature referred to the fruit of the tree as a "berry" but in time it became a cherry. It is of course neither. Nor is the seed of the coffee a bean. All from the local villages, and processing it in a uniform way. The outcomes from these projects are really impressive, and wet processWet-processing starts by removing the outer skin of the coffee cherry with a machine called a pulper, then fermenting the remaining fruit (with green bean inside) in water for 8-36 hours. The fermentation breaks down coffees like Daurfusu, which we're posting next week, fit right in with coffees from Central American, of which our list is a little light at the moment!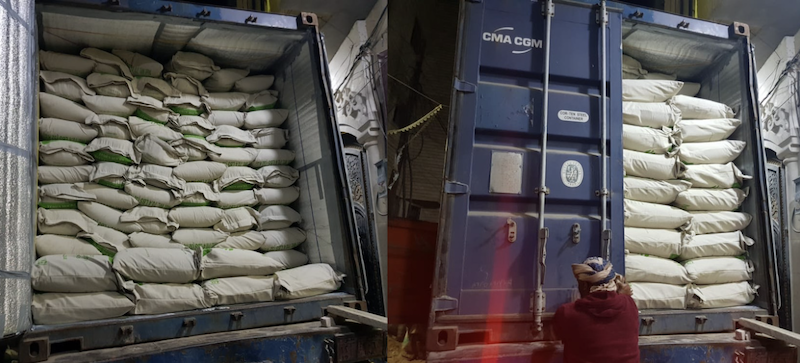 This week saw a container of Yemeni coffees arrive in Oakland, and we are expecting confirmation samples in the next couple of days. In past years, we've been conservative in our Yemeni coffee purchases, limiting volume to 1/3 – 1/2 of a shipping container at most (15-20k lbs.). But this year we went all in with 42k lbs. of coffee! The 6 lots we purchased come from distinct growing regions – Matari, Bani Haraz ("Harasi"), Khulani, Hawari, Al-Haimah, and Hajjah – and range in size range from 50 to 150 x 32 kg. bags.
While we work to list coffees from these latest arrivals, we await the transfers of coffees from ColombiaColombian coffee is highly marketed and widely available in the US. They have been largely successful at equating the name Colombian Coffee with "Good" Coffee. This is half-true. Colombian can be very balanced, with good, KenyaKenya is the East African powerhouse of the coffee world. Both in the cup, and the way they run their trade, everything is topnotch.: Kenya is the East African powerhouse of the coffee world. Both, TanzaniaIn terms of the Tanzania coffee character, it belongs to the Central/East African family of washed (wet-processed) coffees, bright (acidy), and mostly aggressively flavorful of which Kenya is certainly the dominant coffee. Peaberries are often, CongoKivu is the general name for East Congo (Kinshasa), covering a very broad geographical area, and the lake of the same name that divides them. It borders on Uganda, Rwanda, Burundi, and Lake Tanganyika on, and RwandaRwandan coffee was, at one time, rarely seen in the United States as either a Specialty grade or low-end commercial coffee. There simply was not that much coffee produced in Rwanda that went anywhere besides to our Oakland warehouse. We had the pleasure of tasting the Kenya arrivals last week, and look forward to rolling those out as soon as they become available to us.
From the Cupping Table
April shaped up to be a very busy month at the cupping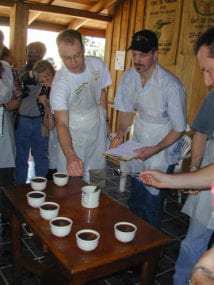 Cupping is a method of tasting coffee by steeping grounds in separate cups for discrete amounts of ground coffee, to reveal good flavors and defects to their fullest. It has formal elements and methodology in tables in both Oakland and Seattle, with a flurry of pre-shipment samples to confirm, and new offers from several origins. For those who don't know, "pre-shipment" samples are the final coffee samples we taste before a coffee is shipped, and our last opportunity to catch any inconsistencies in the physical coffee gradeThe rating of either a sample or a full lot, according to national standards for export. Nearly every county of origin has its own grading scale. It can be quite confusing! Sometimes the coffee earns (how it looks), and in the cup (how it tastes). We rarely have issues, but occasionally need to ask an exporter to run a coffee lotCoffee can be separated by lot in any number of ways usually by the processor to distinguish one area of the farm, a particular altitude, particular trees, a particular day's pickings, a particular processing method, through their milling equipment again to achieve the desired coffee gradingThe evaluation and scoring of physical coffee defects in green coffee.: Coffee grading is the technical skill of evaluating and scoring of physical coffee defects in green coffee. The sample is 300 grams, and there specifications.
Early Spring is typically a busy month for assessing pre-shipment samples with the tail end of our Ethiopian coffees preparing to ship, and final preparations underway for contracted coffees in Central American origins like GuatemalaGuatemalan coffee is considered a top quality coffee producer in Central America. Due to our proximity to Guatemala, some of the nicest coffees from this origin come to the United States. : Guatemalan growing regions, El SalvadorEl Salvador coffee had an undeservingly poor reputation for years, marred mostly by the inability to deliver coffee of high quality in an unstable political climate. Unfortunately, agriculture is the first to suffer in revolution,, Costa RicaCosta Rican coffee is typically very clean, sweet, with lots of floral accents. hey are prized for their high notes: bright citrus or berry-like flavors in the acidity, with distinct nut-to-chocolate roasty flavors.: Can a, and Nicaragua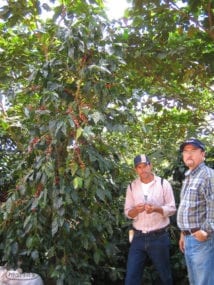 Nicaraguan coffees from the Segovia, Jinotega, Ocotal and Matagalpa regions are nice balanced cups. They often possess interesting cup character along with body and balance, outperforming many other balanced Central American and South American high-grown. These origins make up a huge chunk of our annual volume, and the samples behind them make for an incredible amount of our cupping!
Things will slow down for a few weeks here, only to pick back up with the confluence of arrivals from these origins starting to land, and harvest getting underway in BurundiBurundi coffee bears resemblance to neighboring Rwanda, in both cup character, but also the culture surrounding coffee. Burundi is a small landlocked country at the crossroads of East and Central Africa, straddling the crest of, Rwanda, and PeruPeruvian coffees have Central American brightness but in a South American coffee flavor package overall. The good organic lots do have more of a "rustic" coffee character.: Organic Peru ... you can get it anywhere.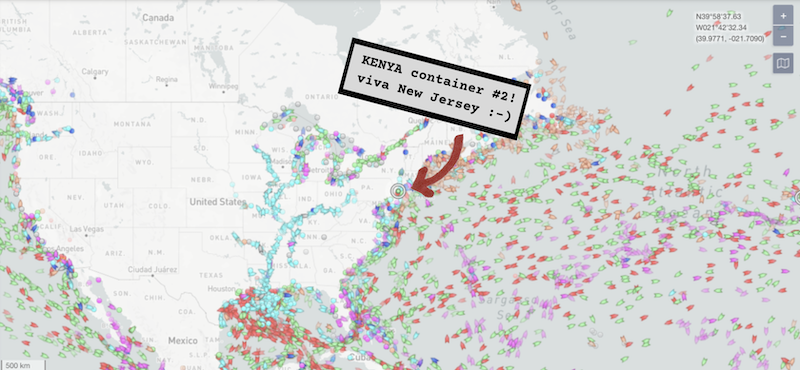 Origin Shipping Updates
Kenya: One container down, two more to go! OK, "down" isn't exactly accurate as our first box still has to move from Houston to Oakland before we are able to make these first arrivals available. That said, the arrival samples all taste fantastic, and we'll do our best to put up some larger lots to begin with so they don't sell out overnight (I'm eying Gathaithi AA, Kamwangi AB, and Kainamui Peaberry…). You can also see in the above image that our second box of Kenyas arrived in NJ, thought still likely a few weeks away from intermodal transit to Oakland.
Ethiopia

Ethiopia is the birthplace of coffee: it is in the forests of the Kaffa region that coffee arabica grew wild. Coffee is "Bun" or "Buna" in Ethiopia, so Coffee Bean is quite possibly a poor

: Getting coffee out of the country has proved increasingly difficult the last two months. The major decline of imported goods Ethiopia has seen amidst civil unrest and the pandemic has meant a serious lack of shipping containers, leaving exporters scrambling. It's also led to a limited amount of service from the major shipping lines, in some cases dropping their schedules from a weekly vessel, to a single vessel each month! All of this at a time when Ethiopian coffee exports are at their peak. We breathe a sigh of relief that our first container avoided these snags, and arrived in NJ yesterday (5/10), carrying coffees from Hambela Dabaye, Benti Nenka, and Buliye. Unfortunately, we're likely 3 weeks away from seeing those in Oakland, as it still needs to gate out at the Port, move to Continental Terminals in NJ, and then rail across the country.
Guatemala: All of our contracts for coffees from Huehuetenango ("Proyecto Xinabajul"), Antigua, and Chimaltenango are in place, the coffees milled, and ready to ship. The totality of these containers are scheduled to ship mid-May, headed for Houston where they will transfer to Oakland by rail. Our collective fingers are crossed that there are no hiccups along the way!
Costa Rica: Last month following elections, Costa Rica fell victim to a cyber security breach by the Russian cyber terrorist group, Conti. The attack has lasted several weeks now, disrupting government functions, including customs' ability to process documents required for exporting goods, which obviously includes coffee (our container included). The damage is widespread, affecting everything from issuance of social security, to the collection of taxes, and we hope they are able to restore services soon.
Upcoming green coffees currently on the schedule to be added to our website:
Please keep in mind that the coffees on the Upcoming Coffee Outlook schedule with a location status of "In Transit" are still a bit of a wild card, and the month we have them listed under is based on the current shipping ETA, and subject to interruptions out of our control. Thanks for your patience!
May Coffee Outlook
Coffee Lot
Bags
Size
Location
Brazil

Brazil is a coffee giant . As Frank Sinatra sang, "they grow an awful lot of coffee in Brazil".: Brazil is a coffee giant . As Frank Sinatra sang, "they grow an awful lot of

Patrocínio Fazenda

Fazenda is the Portuguese word for farm, hence it is the term used in Brazil. Fazenda is not a coffee-specific term.

Escalada
56
59 KG
Oakland
Burundi Gaterama Agahore Station
28
60 KG
Oakland
Burundi Gatare Masha
45
60 KG
Oakland
Congo Organic

Grown without the use of artificial fertilizers, herbicides, etc.: Organic coffee has been grown according to organic farming techniques, typically without the use of artificial fertilizers. Some farms have more local Organic Certification than the

Kirumba Kavisa
40
60 KG
Oakland
Ethiopia Dry Process Yirga Cheffe Mengesha Farm
50
60 KG
Oakland
Ethiopia Uraga Raro Boda
105
60 KG
Oakland
Ethiopia Yirga Cheffe Chelchele
120
60 KG
Oakland
Guatemala Huehuetenango Aguacatones Honey
6
69 KG
Oakland
Honduras

Honduran coffee was absent from the top ranks of the Specialty market, but that has changed. It has all the environmental factors on its side: soil, altitude, climate. All it's neighbors have sophisticated coffee production:

Las Vegas Mario Martinez
4
69 KG
Oakland
Honduras Las Flores

Flores is an Indonesian island, and as a coffee bears more resemblance to the coffees of Timor-Leste, New Guinea and Java than to the wet-hulled coffees of Sumatra and Sulawesi. It is sweet, with good

Nelson Parainema
4
69 KG
Oakland
Honduras Juan Carlos Sabillon Parainema
8
69 KG
Oakland
Nicaragua Dry Process Buenos Aires
5
69 KG
Oakland
Nicaragua Honey Process

"Red honey" process gesha at a coffee farm in Costa Rica's Central Valley growing region. The honey process has nothing to do with honey other than the fact that they're both sticky! It's a term

San Salvador Java

There are several types of Abyssinia, but they are not from Ethiopia but rather Indonesia. Abyssinia 3 = AB3. PJS Cramer, a Dutch plant researcher, introduced this variety in 1928, supposedly from Ethiopia seed stock. It was

5
69 KG
Oakland
Peru Bello Horizonte Andres Burga
29
69 KG
Oakland
Papua New Guinea

Papua New Guinea (PNG) occupies the eastern half of the island it shares with the Indonesian province of Irian Jaya, part of Indonesia. The two primary areas for coffee production can be grouped roughly as

Kuta Waghi
30
60 KG
Oakland
Peru Las Pirias Ramiro Vela
23
69 KG
Oakland
Rwanda Rusizi Gaseke
25
60 KG
Oakland
Rwanda Ngororero
25
60 KG
Oakland
Sumatra

Indonesians are available as a unique wet-hulled or dry-hulled (washed) coffees. Giling Basah is the name for the wet-hulling process in Bahasa language, and will have more body and often more of the "character" that

Dry Process Ribang Gayo

Gayo is ethnic group from the area of Aceh Sumatra around Lake Takengon. They use the name Gayo Coffee to market their production. The Acehnese are a different ethnic group, more centered in the lower

10
60 KG
Oakland
Timor Leste Dukurai Daurfusu
65
60 KG
Oakland
Timor Leste Dry Process Lulirema
18
60 KG
Oakland
Tanzania Sepukila Cooperative AB
39
60 KG
Oakland
Yemen

Yemen has a coffee culture like no other place, and perhaps some of what we enjoy in this cup is due to their old style of trade...: Technically, Yemen is on the Asian continent (on

Al Qafr Hawari
50
32 KG
Oakland
Yemen Mokha

The Yemeni type of coffee, both in terms of the family of cultivars planted there, and the general trade name.: Mokha Yemeni type of coffee, both in terms of the family of cultivars planted there,

Matari
150
32 KG
Oakland
June Coffee Outlook (so far!)
Coffee Lot
Bags
Size
Location
Brazil Cerrado Fred Terumi
35
60 KG
Oakland
Brazil Carmo Fazenda Furnas
74
59 KG
Oakland
Brazil Mogiana Vera Lucia
20
60 KG
Oakland
Burundi Dry Process Agahore
26
60 KG
Oakland
Burundi Yeast Fermentation

Yeast fermentation involves adding different types of external yeasts to the fermentation stage of wet processing in order to help control the outcome, and ultimately, how the coffee tastes. Naturally occurring yeasts are always a

Yandaro
20
60 KG
Oakland
Colombia Veradas Vecinas
79
70 KG
Transfering Houston
Colombia Inzá Vereda Guanacas
26
70 KG
Transfering Houston
Colombia Urrao John Alexander
13
70 KG
Transfering Houston
Colombia Urrao Heirloom Caturra

Catimor is a broad group of cultivars derived from a Hibrido de Timor (HdT) and Caturra cross, highly productive, sometimes with inferior cup flavor. The main issue is the Robusta content in HdT, although this

6
70 KG
Transfering Houston
Colombia Coop de Caldas EA Decaf
15
70 KG
Transfering Houston
Ethiopia Agaro Kedamai
25
60 KG
Oakland
Ethiopia Guji Gorebeti SWP

SWP means Swiss Water Process is a patented water filtration decaf method, not a chemical solvent method. The plant is in Vancouver, Canada.

Decaf
71
60 KG
Oakland
Kenya Nyeri Gathaithi AA
48
60 KG
Transfering Houston
Kenya Kirinyaga Kamwangi AB
60
60 KG
Transfering Houston
Kenya Kirinyaga Kainamui Peaberry

The Spanish-language term for Peaberry is the same for "snail". See Peaberry for more information on the single bean fruit of the coffee tree. A peaberry is the rounded singular seed found in the coffee

31
60 KG
Transfering Houston
Kenya Kirinyaga Thunguri Peaberry

A peaberry is a green coffee "bean" that has a rounded form: Coffee is the dried seed from the fruit of a flowering tree - each fruit having 2 seeds facing each other (the flat

9
60 KG
Transfering Houston
Kenya Thika Karatu Peaberry
6
60 KG
Transfering Houston
Timor Leste Dry Process Daurfusu
55
60 KG
Oakland
Yemen Bani Haraz
100
32 KG
Oakland
Sweet Maria's Moka Kadir Blend
n/a
n/a
Oakland
Sweet Maria's Moka Java SWP Decaf
n/a
n/a
Oakland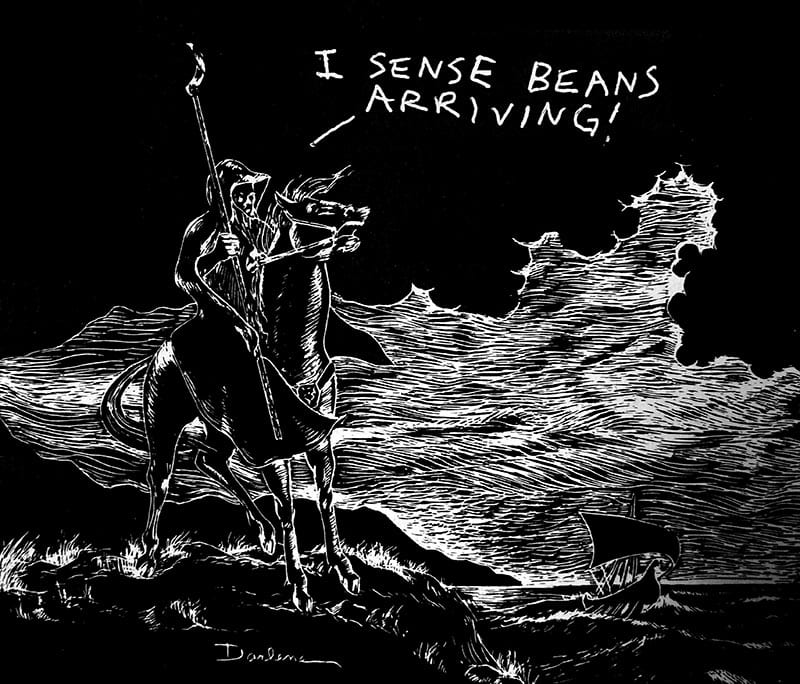 Incoming coffees currently on the water: March – May
Ethiopia Incoming Coffees
| | | | |
| --- | --- | --- | --- |
| Incoming Coffees | Bags | Size | ETA |
| Ethiopia Guji Hambela Dabaye | 100 | 60 KG | Arrived NJ 5/10 |
| Ethiopia Dry Process Hambela Buliye | 120 | 60 KG | Arrived NJ 5/10 |
| Ethiopia Dry Process Benti Nenka | 100 | 60 KG | Arrived NJ 5/10 |
| Ethiopia Guji Buku Sayisa | 50 | 60 KG | ETA 6/21 |
| Ethiopia Yirgacheffee Banko Gotiti | 70 | 60 KG | ETA 6/21 |
| Ethiopia Sidama Arsi Refisa | 100 | 60 KG | ETA 6/21 |
| Ethiopia Yirga Cheffe Chelbesa Danche | 100 | 60 KG | ETA 6/21 |
| Ethiopia Dry Process Yirga Cheffe Gedeb | 160 | 60 KG | ETA 6/21 |
| Ethiopia Dry Process Yirga Cheffe Idido | 160 | 60 KG | ETA 6/21 |
| Ethiopia Kayon Mountain Taaroo | 160 | 60 KG | ETA 6/23 |
| Ethiopia Dry Process Hambela Benti Nenka | 160 | 60 KG | ETA 6/23 |
| Ethiopia Limu Ayetu Gera Farm | 140 | 60 KG | ETA 6/6 |
| Ethiopia Agaro Kedamai | 60 | 60 KG | ETA 7/5 |
| Ethiopia Organic Agaro Hunda Oli | 80 | 60 KG | ETA 7/5 |
| Ethiopia Organic Geta Bore Cooperative | 80 | 60 KG | ETA 7/5 |
| Ethiopia Yukiro Cooperative | 50 | 60 KG | ETA 7/5 |
| Ethiopia Organic Gera Genji Challa | 50 | 60 KG | ETA 7/5 |
| Ethiopia Organic Gera Nano Challa | 80 | 60 KG | ETA 7/5 |
| Ethiopia Organic Agaro Duromina | 80 | 60 KG | ETA 7/5 |
| Ethiopia Organic Dry Process Beshasha Birbisa | 160 | 60 KG | ETA 7/5 |
| Ethiopia Organic Dry Process Burka Gudina | 200 | 60 KG | TBD |
| Ethiopia Dry Process Guji Gerba | 100 | 60 KG | SI Sent |
| Ethiopia Dry Process Buno Dambi Uddo | 120 | 60 KG | SI Sent |
| Ethiopia Dry Process Abiyot Bobea | 100 | 60 KG | SI Sent |
| Ethiopia Kecho Anderecha | 130 | 60 KG | SI Sent |
| Ethiopia Dry Process Mansur Aba Hikam | 50 | 60 KG | SI Sent |
| Ethiopia Dry Process Mahamed Aba Nura | 50 | 60 KG | SI Sent |
| Ethiopia Dry Process Aba Mecha | 20 | 60 KG | SI Sent |
| Ethiopia Dry Process Aba Bulgu | 70 | 60 KG | SI Sent |
| Ethiopia Dry Process Dehab | 150 | 60 KG | SI Sent |
Kenya Incoming Coffees
| | | | |
| --- | --- | --- | --- |
| Incoming Coffees | Bags | Size | ETA |
| Kenya Nyeri Kagumo AB | 42 | 60 KG | Arrived Houston 5/6 |
| Kenya Kirinyaga Kamwangi Peaberry | 25 | 60 KG | Arrived Houston 5/6 |
| Kenya Kirinyaga Kamwangi AB | 60 | 60 KG | Arrived Houston 5/6 |
| Kenya Muranga Riakiberu Peaberry | 16 | 60 KG | Arrived Houston 5/6 |
| Kenya Muranga Kagumoini AB | 40 | 60 KG | Arrived Houston 5/6 |
| Kenya Kirinyaga Kainamui Peaberry | 31 | 60 KG | Arrived Houston 5/6 |
| Kenya Nyeri Kagumo AA | 17 | 60 KG | Arrived Houston 5/6 |
| Kenya Kirinyaga Thunguri Peaberry | 9 | 60 KG | Arrived Houston 5/6 |
| Kenya Thika Karatu Peaberry | 6 | 60 KG | Arrived Houston 5/6 |
| Kenya Kiambu Ndumberi Peaberry | 25 | 60 KG | Arrived Houston 5/6 |
| Kenya Nyeri Gathaithi AA | 48 | 60 KG | Arrived Houston 5/6 |
| Kenya Nyeri Kagumo Peaberry | 27 | 60 KG | Arrived NJ 5/10 |
| Kenya Nyeri Gatomboya Peaberry | 16 | 60 KG | Arrived NJ 5/10 |
| Kenya Kirinyaga Kamwangi Peaberry | 33 | 60 KG | Arrived NJ 5/10 |
| Kenya Kiambu Ngaita Peaberry | 16 | 60 KG | Arrived NJ 5/10 |
| Kenya Kiambu Riabai AB | 14 | 60 KG | Arrived NJ 5/10 |
| Kenya Nyeri Kamoini AB | 53 | 60 KG | TBD |
| Kenya Nyeri Kamoini Peaberry | 12 | 60 KG | TBD |
| Kenya Nyeri Kagunyu AA | 5 | 60 KG | TBD |
| Kenya Nyeri Kagunyu AB | 13 | 60 KG | TBD |
| Kenya Nyeri Ichamama AA | 50 | 60 KG | TBD |
| Kenya Nyeri Ichamama PB | 21 | 60 KG | TBD |
| Kenya Nyeri Gichichi AA | 4 | 60 KG | TBD |
| Kenya Nyeri Gichichi AB | 11 | 60 KG | TBD |
| Kenya Nyeri Gaikundo AA | 14 | 60 KG | TBD |
| Kenya Kirinyaga Thunguri AB | 14 | 60 KG | TBD |
| Kenya Nyeri Rukira AB | 20 | 60 KG | TBD |
| Kenya Nyeri Maganjo AA | 9 | 60 KG | TBD |
| Kenya Nyeri Mahiga AA | 19 | 60 KG | TBD |
| Kenya Nyeri Mahiga PB | 7 | 60 KG | TBD |
| Kenya Nyeri Gatugi AA | 50 | 60 KG | TBD |
| Kenya Nyeri Gatugi AB | 70 | 60 KG | TBD |
| Kenya Nyeri Gatugi PB | 26 | 60 KG | TBD |
| Kenya Nyeri Kiaguthu AA | 27 | 60 KG | TBD |
| Kenya Nyeri Kiaguthu PB | 10 | 60 KG | TBD |
| Kenya Nyeri Kamoini AA | 34 | 60 KG | TBD |
| Kenya Thika Oreti AA | 12 | 60 KG | TBD |
| Kenya Thika Oreti AB | 19 | 60 KG | TBD |
| Kenya Thika Oreti Peaberry | 1 | 60 KG | TBD |
| Kenya Kirinyaga Wanja AA | 14 | 60 KG | TBD |
| Kenya Muranga Nguku AB | 45 | 60 KG | TBD |
| Kenya Muranga Nguku Peaberry | 4 | 60 KG | TBD |
| Kenya Kiambu Fram Farm AA | 18 | 60 KG | TBD |
| Kenya Kiambu Fram Farm AB | 66 | 60 KG | TBD |
| Kenya Kiambu Fram Farm Peaberry | 4 | 60 KG | TBD |
Africa / Arabia Incoming Coffees
| | | | |
| --- | --- | --- | --- |
| Incoming Coffees | Bags | Size | ETA |
| Rwanda Rubavu Rwinyoni | 60 | 60 KG | Arrived Oak 4/20 |
| Rwanda Rusizi Gaseke | 25 | 60 KG | Arrived Oak 4/20 |
| Rwanda Nyamasheke Nyakabingo | 25 | 60 KG | Arrived Oak 4/20 |
| Rwanda Ngororero | 25 | 60 KG | Arrived Oak 4/20 |
| Rwanda Nyamasheke Macuba | 45 | 60 KG | Arrived Oak 4/20 |
| Rwanda Dry Process Kanyege | 25 | 60 KG | Arrived Oak 4/20 |
| Rwanda Honey Process Kanyege | 30 | 60 KG | Arrived Oak 4/20 |
| Rwanda Dry Process Macuba | 40 | 60 KG | Arrived Oak 4/20 |
| Rwanda Dry Process Nyamiyaga | 20 | 60 KG | Arrived Oak 4/20 |
| Rwanda Honey Process Karambi | 30 | 60 KG | Arrived Oak 4/20 |
South America Incoming Coffees
Incoming Coffees
Bags
Size
ETA
Colombia Pavón Finca

Spanish 101: Finca is the Spanish word for farm. Sometimes the term Hacienda is used to imply an Estate, which would mean the farm has its own wet-mill. A Finca does not necessarily have a

Los Palomos
12
70 KG
Transfering Houston
Colombia Inzá Anibal Pillimue
2
70 KG
Transfering Houston
Colombia Urrao Heirloom Caturra

Caturra is an Arabica cultivar discovered as a natural mutant of Bourbon in Brazil in the first decade of the 20th century,  but wasn't studied until 1937. It has a good yield potential, but was

6
70 KG
Transfering Houston
Colombia Inzá Robinson Pillimué
12
70 KG
Transfering Houston
Colombia Urrao John Alexander
13
70 KG
Transfering Houston
Colombia Cajamarca Neftali Castro
15
70 KG
Transfering Houston
Colombia Inzá Rafael Rivas
28
70 KG
Transfering Houston
Colombia Cresta El Hato
15
70 KG
Transfering Houston
Colombia Vereda Guanacas
26
70 KG
Transfering Houston
Colombia Vereda San Antonio
23
70 KG
Transfering Houston
Colombia Honey Process Aponte
9
70 KG
Transfering Houston
Colombia Rio Chiquito Don Luis
22
70 KG
Transfering Houston
Colombia Veradas Vecinas
79
70 KG
Transfering Houston
Central America Incoming Coffees
Incoming Coffees
Bags
Size
ETA
Costa Rica La Pradera
75
69 KG
Transferring Houston
Costa Rica Cafetales de Dota Lot 2
75
69 KG
Transferring Houston
Costa Rica Cafetales de Dota Lot 3
50
69 KG
Transferring Houston
El Salvador Finca La Esperanza
75
69 KG
ETA 6/1
El Salvador Miravalle Centroamericaono
61
69 KG
ETA 6/1
El Salvador Finca Miravalle Tabi
41
69 KG
ETA 6/1
El Salvador Apaneca Finca Miravalle
48
69 KG
ETA 6/1
El Salvador Miravalle Sampacho
54
69 KG
ETA 6/1
El Salvador Dry Process Finca San Luis
6
69 KG
ETA 6/1
Guatemala Chimaltenango Tecpan
37
69 KG
ETD May 15
Guatemala Chimaltenango Jilotepeque
92
69 KG
ETD May 15
Guatemala Antigua Santa Ines
71
46 KG
ETD May 15
Guatemala Antigua Santa Ines Bourbon

A coffee cultivar; a cross between Typica and Bourbon, originally grown in Brazil: Mundo Novo is a commercial coffee cultivar; a natural hybrid between "Sumatra" and Red Bourbon, originally grown in Brazil. It was developed

26
46 KG
ETD May 15
Guatemala Antigua Santa Ines Catuaí
24
46 KG
ETD May 15
Guatemala Antigua Santa Ines Caturra
20
46 KG
ETD May 15
Guatemala Acatenango SDBV Bourbon
14
46 KG
ETD May 15
Guatemala Acatenango SDBV Red Bourbon
40
46 KG
ETD May 15
Guatemala Antigua Pulcal
40
46 KG
ETD May 15
Guatemala Antigua Pulcal Inteligente
20
46 KG
ETD May 15
Guatemala Antigua Cabrejo
50
46 KG
ETD May 15
Guatemala Patzun Finca Las Camelias
42
46 KG
ETD May 15
Guatemala Antigua La Parcela Melanie
5
46 KG
ETD May 15
Guatemala Acatenango Geisha AA
45
46 KG
ETD May 15
Guatemala Acatenango Geisha
40
46 KG
ETD May 15
Guatemala Xinabajulu Bojonalito
16
69 KG
ETD May 15
Guatemala Xinabajul Flavio Del Cerro
25
69 KG
ETD May 15
Guatemala Xinabajul Peña Roja
89
69 KG
ETD May 15
Guatemala Xinabajul Virgilio
25
69 KG
ETD May 15
Guatemala Xinabajul Producers
40
69 KG
ETD May 15
Guatemala Xinabajul Idmar de Jesus Velasquez
25
69 KG
ETD May 15
Guatemala Xinabajul El Paraiso
26
69 KG
ETD May 15
Guatemala Xinabajul Michicoy
29
69 KG
ETD May 15
Guatemala Xinabajul Aler Villatoro
66
69 KG
ETD May 15
Guatemala Xinabajul Aurelio Del Cerro
58
69 KG
ETD May 15
Guatemala Xinabajul Boqueroncito
50
69 KG
ETD May 15
Guatemala Xinabajul Rosalio Villatoro
56
69 KG
ETD May 15
Guatemala Xinabajul San Pedro Necta
25
69 KG
ETD May 15
Guatemala Xinabajul Jose Villatoro
20
69 KG
ETD May 15
Indonesia & SE Asia Incoming Coffees
Incoming Coffees
Bags
Size
ETA
Sulawesi

Sulawesi coffees are low-acid with great body and that deep, brooding cup profile akin to Sumatra. The coffee is sometimes known as Celebes, which was the Dutch colonial name for the island. Indonesians are available

Enrekang Rodo Rodo
17
60 KG
ETA 5/14
Sulawesi Wet Hulled Latimojong
40
60 KG
ETA 5/14
Sulawesi Panaikang Village Pak Sulaiman
8
60 KG
ETA 5/14
Sulawesi Desa Topidi
8
60 KG
ETA 5/14
Sulawesi Honey Process Gowa
5
60 KG
ETA 5/14
Sulawesi Dry Process Topidi
11
60 KG
ETA 5/14
Java Wet Hulled Siki Alit
30
60 KG
ETA 5/14
Java Wet Hulled Waspada
40
60 KG
ETA 5/14
Flores Wawo Muda
18
60 KG
ETA 5/14
Flores Gunung Waja Mala
18
60 KG
ETA 5/14
Flores Wolo Wio
38
60 KG
ETA 5/14
Flores Dry Process Bei Poso Village
7
60 KG
ETA 5/14
Java Wet Hulled Waspada
50
60 KG
ETA 5/14
Sumatra Kerinci Barokah Bersama
50
60 KG
TBD
Sumatra Wet Process Barokah Coop
30
60 KG
TBD
Sumatra Honey Process Barokah Coop
30
60 KG
TBD
Sumatra Honey Labu Barokah Bersama
30
60 KG
TBD
Sumatra Dry Process Barokah Coop
20
60 KG
TBD
Papua New Guinea Korgua Peaberry
26
60 KG
TBD