Minding the Crop Cycle
It's an odd time in the coffee crop cycleThe Coffee Crop Cycle refers to the period of growth of the cherry to maturation and harvest. Coffee has one harvest period a year, although in some there is a second small harvest. From the. Although new cropRefers to fresh shipments of green coffee within the first month or two of the earliest arrivals ... not quite the same as Current Crop, which means the most recent harvest. As a stable dried Central American coffees are available, these are from the low elevation regions and have correspondingly lower cup quality. We did find an exception from the Fraijanes region: new crop GuatemalaGuatemalan coffee is considered a top quality coffee producer in Central America. Due to our proximity to Guatemala, some of the nicest coffees from this origin come to the United States. : Guatemalan growing regions La Laguna estateA "coffee estate" is used to imply a farm that has its own processing facility, a wet-mill. In Spanish this is called an Hacienda. A Finca (farm) does not necessarily have a mill. (And Finca arriving around March 10th. New crop Ethiopians are here (Harar) or are coming soon (Yirgacheffe, Sidamo DP). It's a great time of the year to buy Indonesians like SumatraIndonesians are available as a unique wet-hulled or dry-hulled (washed) coffees. Giling Basah is the name for the wet-hulling process in Bahasa language, and will have more body and often more of the "character" that and SulawesiSulawesi coffees are low-acid with great body and that deep, brooding cup profile akin to Sumatra. The coffee is sometimes known as Celebes, which was the Dutch colonial name for the island. Indonesians are available … and in fact we will have an exciting new arrival by March 12th: wet-processed coffee from the island of BaliCoffee from the Indonesian island of Bali was formerly sold mainly to the Japanese market. Perhaps it is the changing face of world economics that finds the first exports of Balinese coffee arriving under exclusive! So my sageA flavor hint of sage found in coffee, either leafy sage, dried sage, or sage flower. This could indicate a more rustic cup quality, or even defect flavor in dried sage, or a very clean advice is to buy short on the Centrals, indulge in the Africans and Indonesians, and watch out for some interesting newcomers…
JamaicaJamaica coffee can be excellent mild, lush coffee... sometimes. Like Kona and Puerto Rican coffee, it is soft, mild, clean and well balanced when it is good.: Ah Jamaica, a great place to visit. But Blues?
Nothing pains me more than the subject of Jamaica Blue Mountain. When I hear people extol its virtues, all I can think is that they: a) can't tell the difference between an apple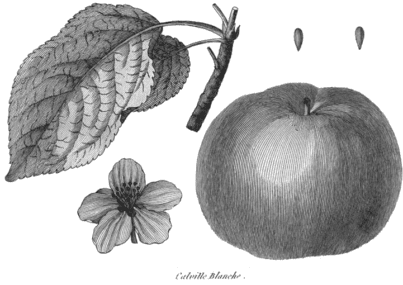 An acid that adds to favorable perceptions of cup quality; malic acid often adds apple-like acidity, and perhaps other taste aspects recalling apples. Malic acid is yet another of the many acids that adds to and an onion; b). think it's good because they have never tasted fresh-roasted coffee; or c) think it's good because they are blatantly conspicuous consumers and think cost determines quality. Yes, I know there is a mildly unique character to Jamaican coffee, when you can get some that isn't drilled with insect holes or doesn't cup like cabbage-water. I have cupped a lot of samples from this originIn coffee talk, it refers to a coffee-producing region or country; such as, "I was just at origin." Of course "Origin" for most product we use is not a beautiful farm in a temperate climate, over the years, and it is easily surpassed by good Mexican coffees in blind evaluation. But I told myself that if I did ever cup a Jamaican coffee that had unique character quality, I would offer it. And after 3 years I have found one that is good: Moy Hall Estate. It has mild spicy notes that emerge from behind an almondy roast flavor. When you rest it for 24-48 hours (better at 48) the bodyAssociated with and sensed by mouthfeel, body is sense of weight and thickness of the brew, caused by the percentage of soluble solids in the cup, including all organic compounds that are extracted from brewing thickens. Is it black pepper I taste? Some surprising Sulwesi-like wet humus? You need to be generous with the percentage of ground coffee in brewing, but the results are a very good (and yes, unique) mild coffee. Will a home roaster who loves the wild notes in Harar, the flowery Yirgacheffe, the soaring high-notes of KenyaKenya is the East African powerhouse of the coffee world. Both in the cup, and the way they run their trade, everything is topnotch.: Kenya is the East African powerhouse of the coffee world. Both, or the pungency of Lake Tawar be overwhelmed with the Moy Hall? No … But if you pay attention and let the coffee rest on your palate as it cools, you will find complexity and interest in this cup. At such a price, is it 5x better than other coffees? … No. But I can say that this Jamaican Moy Hall is not a rip off, and that alone makes it quite unique.
PanamaPanama coffee ranges from medium quality lower altitude farms to those at 1600 - 1800 meters centered in the area of Boquete in the Chirqui district near the border with Costa Rica. Some farms feature (…not the Van Halen song)
I have been a fan of Panamanian coffees for a long time. They cup better than many other Central Americans and are under-appreciated. We have featured excellent coffees from the estates of Lerida, Hartmann, La Berlina, Maunier, Boutet and others over the past 5 years. Cup quality with Panama coffees is no fluke: the farming methods for the Boquete/Chirqui coffees are quality-focused (not quantity-focused) and they use traditional seed stocks and milling methods. Aside from being a fan, we bought the auction-winning lot from last year's event. This year I'll be closer to the action: I get to act as a judge at the annual Coffee & Flower Festival in early April. That means I get a preview of the best coffees from the upcoming auction.
Underachieving at the SCAA
Dear (home)roaster: Let me know if you are going to be at the 2002 Specialty Coffee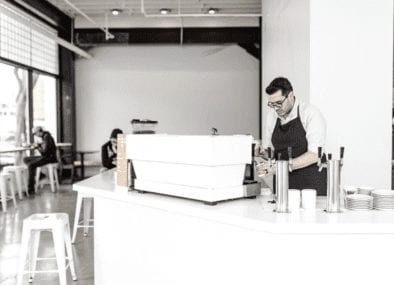 Specialty coffee was a term devised to mean higher levels of green coffee quality than average "industrial coffee" or "commercial coffee". At this point, the term is of limited use, since every multi-national coffee broker Association of America conference in Anaheim and I will try to meet up with you. But otherwise you might not see me because, unlike the Miami conference last year, I am not presenting or volunteering at all! No, it is not laziness or cynicism (although I display both daily)… I am just in need of a break. It has been such a busy year, and keeping up the quality of what we do takes all I've got. This was going to be a unique conference: Maria was going to attend with me. But taking note of all the marketing seminars and promotional shtick sessions, she politely declined. I don't understand or enroll in that stuff either. I always thought that a business should offer something good, something they like a lot and get excited about, and skip the "market strategy." Maybe we are just too naïve … or blissfully ignorant. We are lucky to be able to avoid that management and marketing gobbledegook. I just wish there was more emphasis on quality (and I don't mean "quality-speak" which is just another form of marketing, but real quality!) at the conference and in the trade.
Better Packaging?
We are trying to use less Styrofoam and more recycled Kraft paper in our packaging. Although our Styrofoam is made from recycled sources and is from a CFC-free plant, I still think it is a darn nuisance. All it takes is a windy day and you can spread this ugly stuff all over your neighborhood. On the flip side, Styro protects our fragile items better than anything else, and shipping it once is the best conservation of all. But if you have a coffee-only order, we're going to try using rumpled brown Kraft paper and see how it goes. Yes, we tried those starch peanuts but they just get crushed flat in transit. Let me know if you have any comments.
Sweet Maria's Coffee Inc.
9 E. 2nd Ave Columbus Ohio 43201
web: www.sweetmarias.com
Email: Contact us
Sweet Marias Green Coffee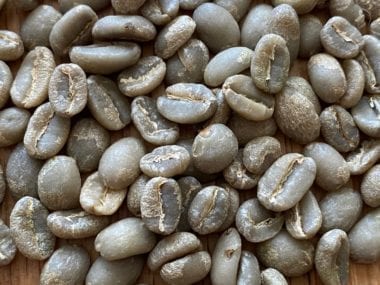 Green coffee refers to the processed seed of the coffee tree fruit. Coffee is a flowering shrub that produces fruit. The seeds of the fruit are processed, roasted, ground and prepared as an infusion.: Coffee Offerings on 3/3/02:
This list is always superceded by the current list on our web page! http://sweetmarias.com/prod.greencoffee.shtml
1000-Central American 1 lb 2 lb 5 lb 20 lb
Costa Rican La Minita Tarrazu $6.80 $12.92 $30.26 $108.80
Costa Rican Tarrazu -La Pastora $4.80 $9.12 $20.88 $73.92
Guatemalan Antigua -La Tacita Estate $5.60 $10.64 $24.36 $86.24
Guatemalan Finca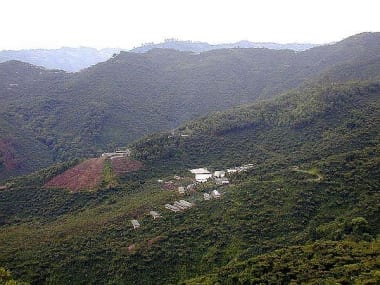 Spanish 101: Finca is the Spanish word for farm. Sometimes the term Hacienda is used to imply an Estate, which would mean the farm has its own wet-mill. A Finca does not necessarily have a El Injerto '01 $4.90 $9.31 $21.32 $75.46
Guatemalan Finca La Laguna BourbonA coffee cultivar; a cross between Typica and Bourbon, originally grown in Brazil: Mundo Novo is a commercial coffee cultivar; a natural hybrid between "Sumatra" and Red Bourbon, originally grown in Brazil. It was developed $4.70 $8.93 $20.45 $72.38
Guatemalan SHB Huehue -Finca Huixoc $4.60 $8.74 $20.01 $70.84
Mexican Oaxaca San Pablo Becafisa $4.60 $8.74 $20.01 $70.84
Nicaragua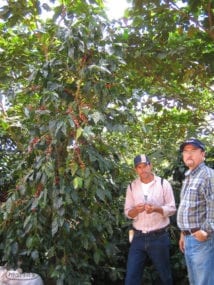 Nicaraguan coffees from the Segovia, Jinotega, Ocotal and Matagalpa regions are nice balanced cups. They often possess interesting cup character along with body and balance, outperforming many other balanced Central American and South American high-grown SHG Angelina Estate $4.40 $8.36 $19.14 $67.76
-South American 1 lb 2 lb 5 lb 20 lb
BrazilBrazil is a coffee giant . As Frank Sinatra sang, "they grow an awful lot of coffee in Brazil".: Brazil is a coffee giant . As Frank Sinatra sang, "they grow an awful lot of Mogiani Bourbon $4.80 $9.12 $20.88 $73.92
Brazil Cerrado-Monte Carmelo $4.20 $7.98 $18.27 $64.68
Brazil OrganicGrown without the use of artificial fertilizers, herbicides, etc.: Organic coffee has been grown according to organic farming techniques, typically without the use of artificial fertilizers. Some farms have more local Organic Certification than the – FazendaFazenda is the Portuguese word for farm, hence it is the term used in Brazil. Fazenda is not a coffee-specific term. Cachoeira $4.80 $9.12 $20.88 $73.92
Colombian FNCThe FNC is the Federación Nacional de Cafeteros de Colombia, the coffee association of Colombia. They fund CENICAFE research institute, which has an extensive cultivar collection. Antioquia Peaberry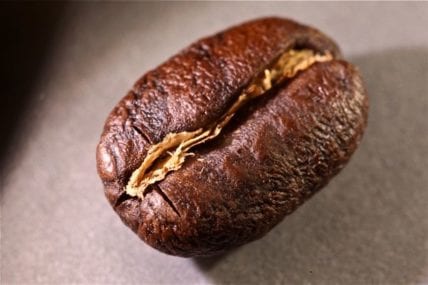 The Spanish-language term for Peaberry is the same for "snail". See Peaberry for more information on the single bean fruit of the coffee tree. A peaberry is the rounded singular seed found in the coffee $5.30 $10.07 $23.06 $81.62
Colombian Caracol del Abuelo-Peaberry $5.30 $10.07 $23.06 $81.62
Colombian Mesa de los Santos $5.30 $10.07 $23.06 $81.62
Colombian Narino del Abuelo $5.20 $9.88 $22.62 $80.08
Colombian Santa Isabella Var.Typica $4.80 $9.12 $20.88 $73.92
PeruPeruvian coffees have Central American brightness but in a South American coffee flavor package overall. The good organic lots do have more of a "rustic" coffee character.: Organic Peru ... you can get it anywhere Org-FT Chanchamayo La Florida $5.00 $9.50 $21.75 $77.00
1040-African- Arabian 1 lb 2 lb 5 lb 20 lb
BurundiBurundi coffee bears resemblance to neighboring Rwanda, in both cup character, but also the culture surrounding coffee. Burundi is a small landlocked country at the crossroads of East and Central Africa, straddling the crest of AA Buyendi FWS $5.00 $9.50 $21.75 $77.00
Ethiopian Harar Longberry Lot 2956 $5.20 $9.88 $22.62 $80.08
Ethiopian Organic Limmu -Oromia $5.20 $9.88 $22.62 $80.08
Ethiopian Ghimbi DP '01 $5.00 $9.50 $21.75 $77.00
Ethiopian Yirgacheffe -Lot 957 $5.50 $10.45 $23.93 $84.70
Kenya AB Gakui Auction Lot'01 $5.70 $10.83 $24.80 $87.78
Kenya AA Auction '01 – Lot 82 $5.30 $10.07 $23.06 $81.62
Kenya AA Kirigara Auction Lot'01 $5.50 $10.45 $23.93 $84.70
Tanzanian Southern PeaberryA peaberry is a green coffee "bean" that has a rounded form: Coffee is the dried seed from the fruit of a flowering tree - each fruit having 2 seeds facing each other (the flat $4.90 $9.31 $21.32 $75.46
Tanzanian Ruvuma AAA $4.90 $9.31 $21.32 $75.46
UgandaWhile Arabica was introduced at the beginning of the 1900's, Robusta coffee is indigenous to the country, and has been a part of Ugandan life for centuries. The variety of Wild Robusta Coffee still growing Budadiri AA-S Specialty $4.50 $8.55 $19.58 $69.30
YemenYemen has a coffee culture like no other place, and perhaps some of what we enjoy in this cup is due to their old style of trade...: Technically, Yemen is on the Asian continent (on MokhaThe Yemeni type of coffee, both in terms of the family of cultivars planted there, and the general trade name.: Mokha Yemeni type of coffee, both in terms of the family of cultivars planted there, Ismaili (Hirazi) $7.90 $15.01 $36.74 $126.40
Yemen Mokha Raimi (Rimy) $6.90 $13.11 $30.02 $110.40
1060-Indonesian- Indian 1 lb 2 lb 5 lb 20 lb
Indian Monsooned Malabar AA $5.50 $10.45 $23.93 $84.70
Indian Pearl Mountain Flatbean $4.50 $8.55 $19.58 $69.30
Java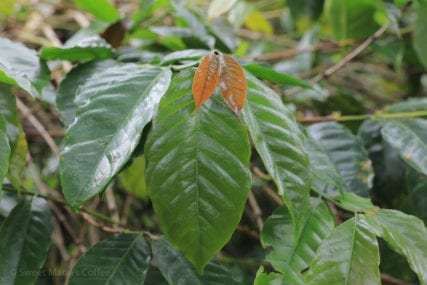 There are several types of Abyssinia, but they are not from Ethiopia but rather Indonesia. Abyssinia 3 = AB3. PJS Cramer, a Dutch plant researcher, introduced this variety in 1928, supposedly from Ethiopia seed stock. It was Govt. Estate -Jampit '01 $4.80 $9.12 $20.88 $73.92
Papua New GuineaPapua New Guinea (PNG) occupies the eastern half of the island it shares with the Indonesian province of Irian Jaya, part of Indonesia. The two primary areas for coffee production can be grouped roughly as Kimel AA $5.00 $9.50 $21.75 $77.00
Sulawesi Toraja Gr. 1 '01-02 $4.80 $9.12 $20.88 $73.92
Sumatra Lake Tawar '02 $5.40 $10.26 $23.49 $83.16
Sumatra MandhelingA trade name used for wet-hulled Sumatra coffees. It is an area and a culture group as well (spelled Mandailing often) but there is not as much coffee production in this area anymore, south of DP Gr.1 '01-02 $4.75 $9.03 $20.66 $73.15
Aged Sumatra Mandheling '98 $6.20 $11.78 $26.97 $95.48
Timor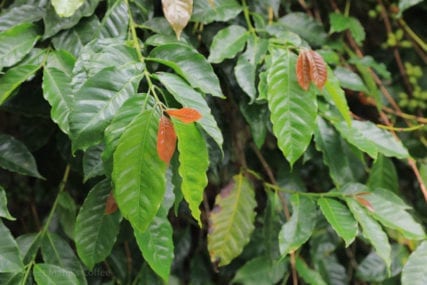 Hibrido de Timor abbreviated HdT is the interspecies hybrid of C. Arabica and C. Canephora (Robusta) that was found in Timor Leste in the 1940s. It has been the bases of plant breeding for disease Organic Aifu '01 $4.90 $9.31 $21.32 $75.46
1080-Islands- Blends -Etc. 1 lb 2 lb 5 lb 20 lb
Bali Shinzan Grade 1 $5.90 $11.21 $25.67 $90.86
HawaiiThe Kona district on the big island of Hawaii produces the best coffee from this state - clean, sweet and mild. : Ah, Hawaii... what a nice place. They grow nuts, fruit, and coffee. The Kona- Greenwell Farms '01-02 $15.00 $28.80 $69.75 –
Jamaica Blue Mtn -Moy Hall Estate $22.90 $43.97 $106.49 –
Puerto Rican Yauco Selecto AA '02 $10.90 $20.93 $49.60 $189.66
SM's Moka Kadir Blend $5.80 $11.02 $25.23 $89.32
SM's EspressoA small coffee beverage, about 20 ml, prepared on an espresso machine where pressurized hot water extracted through compressed coffee.: In its most stripped-down, basic form, this is a working definition for espresso: A small Monkey Blend $5.00 $9.50 $21.75 $77.00
SM's Classic Italian Espresso Blend $4.80 $9.12 $20.88 $73.92
SM's Decaf Espresso Blend $5.70 $10.83 $24.80 $87.78
SM's French RoastSugars are heavily caramelized (read as burned) and are degraded; the woody bean structure is carbonizing, the seed continues to expand and loose mass, the body of the resulting cup will be thinner/lighter as the Blend $5.50 $10.45 $23.93 $84.70
1100 -Decafs 1 lb 2 lb 5 lb 20 lb
Brazil Santos SWPSWP means Swiss Water Process is a patented water filtration decaf method, not a chemical solvent method. The plant is in Vancouver, Canada. Decaf $5.40 $10.26 $23.49 $83.16
Costa Rican SHB Natural Decaf $4.70 $8.93 $20.45 $72.38
Ethiopian MC Decaf- Ghimbi $5.10 $9.69 $22.19 $78.54
Guatemala Atitlan Org-FT SWP Decaf $6.20 $11.78 $26.97 $95.48
Indonesian Komodo Blend Org SWP D $6.10 $11.59 $26.54 $93.94
Kenya MC Decaf -German Coffein $5.25 $9.98 $22.84 $80.85
Mexican Cepco Co-op Natural Decaf $4.60 $8.74 $20.01 $70.84
Mexican Chiapas Org/FT SWP Decaf $6.10 $11.59 $26.54 $93.94
Sumatra Mandheling Natural Decaf $5.20 $9.88 $22.62 $80.08
Sumatra Gayo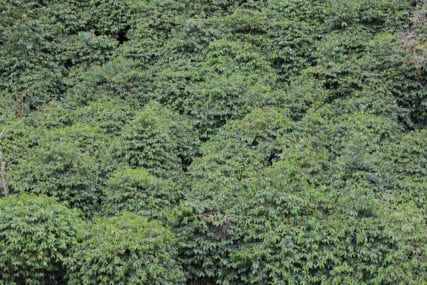 Gayo is ethnic group from the area of Aceh Sumatra around Lake Takengon. They use the name Gayo Coffee to market their production. The Acehnese are a different ethnic group, more centered in the lower Mtn. Org.SWP Decaf $5.80 $11.02 $25.23 $89.32
Premium Robustas 1 lb 2 lb 5 lb 20 lb
Indian Monsooned RobustaRobusta usually refers to Coffea Robusta, responsible for roughly 25% of the world's commercial coffee. Taxonomy of Robusta is debated: some sources use "Robusta" to refer to any variety of Coffea Canephora, and some use AA $5.20 $9.88 $22.62 $80.08
Mexican Washed Robusta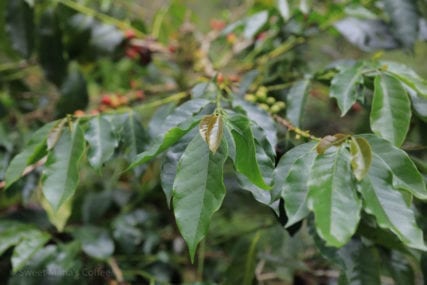 Ateng is a common name for Catimor coffees widely planted in Sumatra and other Indonesia isles.: Ateng, with several subtypes, is a common name for Catimor coffees widely planted in Sumatra and other Indonesia isles. $3.80 $7.22 $16.53 –
The Coffee Library
Sweet Maria's
Coffee Roasting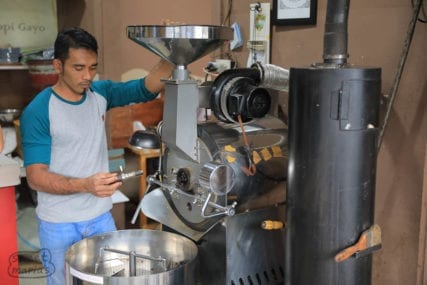 The application of heat to green coffee seeds (beans) to create palatable material for brewing a great cup!: Coffee roasting is a chemical process induced by heat, by which aromatics, acids, and other flavor components
Tip Sheets
* Roasting Basics Information Sheet
* Stovetop Popper Roasting (Whirley-Pop)
* Stovetop Pan or Wok Roasting
* Oven Roasting
* Air Popper Roasting
* Coffee Blending Basics
* "Degree of Roast" Pictorial
* Many more information sheets…
Sweet Maria's Roasting Appliance Tip Sheets:
Sweet Maria's
Coffee Brewing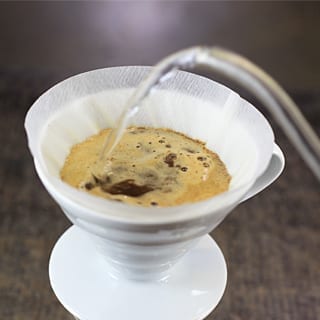 The process of making an infusion of water and roasted, ground coffee. In the most basic sense, hot water is added to coffee ground to produce a drink. Some brewing methods (espresso, turkish coffee) produce
Tip Sheets
Jump to:
Further Reading The Complete Sweet Maria's Coffee Library Page
– Coffee Travel Pictorials, New Product Reviews, Roasting Pictorials, Etc!
Interesting Coffee and Coffee Roasting Web Sites
– Links to Home Roasting Web Sites, Coffee Industry Sites, Great Coffee Books, Etc!
Coffee Book Recommendations
Sweet Maria's
Coffee Cupping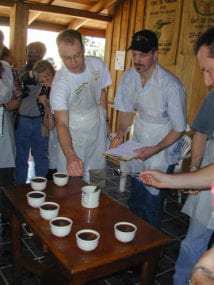 Cupping is a method of tasting coffee by steeping grounds in separate cups for discrete amounts of ground coffee, to reveal good flavors and defects to their fullest. It has formal elements and methodology in
Reviews
Central America: Costa RicaCosta Rican coffee is typically very clean, sweet, with lots of floral accents. hey are prized for their high notes: bright citrus or berry-like flavors in the acidity, with distinct nut-to-chocolate roasty flavors.: Can a | Guatemala | Honduras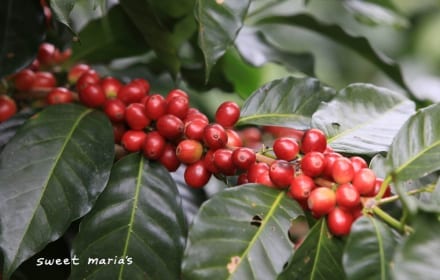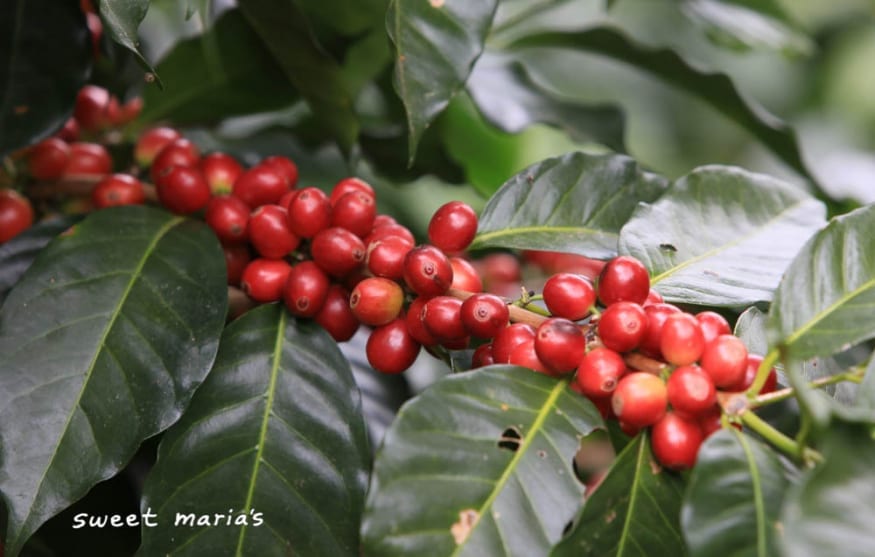 Honduran coffee was absent from the top ranks of the Specialty market, but that has changed. It has all the environmental factors on its side: soil, altitude, climate. All it's neighbors have sophisticated coffee production: | MexicoMexican coffee originates from South-central to Southern regions of the country. For that reason, coffees from Coatepec and Veracruz are much different from Oaxacan Plumas, which are in turn much different from the Southernmost region | Nicaragua | Panama | El SalvadorEl Salvador coffee had an undeservingly poor reputation for years, marred mostly by the inability to deliver coffee of high quality in an unstable political climate. Unfortunately, agriculture is the first to suffer in revolution,
South America: BoliviaBolivia has always been a coffee origin with great potential, the potential to have a unique Specialty coffee offering with unique cup character.: There's no better way to learn about a coffee-producing country than to | Brazil | ColombiaColombian coffee is highly marketed and widely available in the US. They have been largely successful at equating the name Colombian Coffee with "Good" Coffee. This is half-true. Colombian can be very balanced, with good | EcuadorEcuador has everything it takes to grow great coffee. Positioned between Colombia and Peru, the interior mountain ranges have plenty of altitude, weather patterns, and ideal soil for quality coffee production.: Coffee has a long | Peru
Africa/Arabia: Burundi | CongoKivu is the general name for East Congo (Kinshasa), covering a very broad geographical area, and the lake of the same name that divides them. It borders on Uganda, Rwanda, Burundi, and Lake Tanganyika on | Ethiopia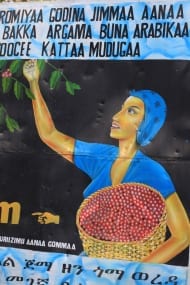 Ethiopia is the birthplace of coffee: it is in the forests of the Kaffa region that coffee arabica grew wild. Coffee is "Bun" or "Buna" in Ethiopia, so Coffee Bean is quite possibly a poor | Kenya | RwandaRwandan coffee was, at one time, rarely seen in the United States as either a Specialty grade or low-end commercial coffee. There simply was not that much coffee produced in Rwanda that went anywhere besides | TanzaniaIn terms of the Tanzania coffee character, it belongs to the Central/East African family of washed (wet-processed) coffees, bright (acidy), and mostly aggressively flavorful of which Kenya is certainly the dominant coffee. Peaberries are often | Uganda | ZambiaFrom the country formerly known as upper Rhodesia in a country now named for the Zambezi River, Zambian coffees range from Kenya-like brightness to subtle, balanced coffee with complexity, body and nuanced flavors... Zambia has | Zimbabwe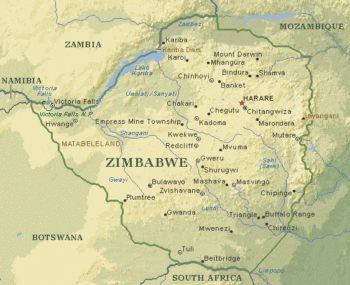 Zimbabwe, formerly known as lower Rhodesia until independence in 1980, has produced great coffee since production was introduced in the 1960s. Like Zambian coffees, these coffees are often overshadowed by the great East African coffee: | Yemen
Indonesia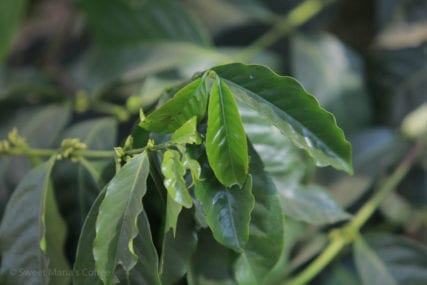 USDA is (obviously) the United States Department of Agriculture. USDA also had coffee plant breeding programs in the past and one variety they distributed to Indonesia and was widely planted is called USDA  (sounds like /Asia: Bali | India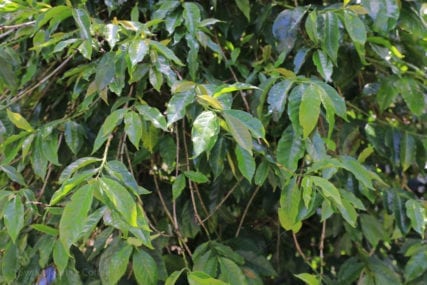 S-795 is a variety based on the " S-Line" coffees of India, and stands for Selection 795, It has a very fine cup, one of the best in Indonesia, but is not a high volume | Java | Papua New Guinea | Sumatra | Sulawesi | Timor
Islands/Blends/Others: Hawaii | Puerto RicoPuerto Rican coffee has the typical"island profile". These coffees, which include Jamaica and Kona, have a soft cup, not acidic, balanced, and mild. : I have tried other Puerto Rican coffees but only bought Yauco | Jamaica | Dominican | ChicoryChicory was a popular coffee substitute and economizer for 2 centuries, back when coffee was more prized, and pure coffee was a luxury. : Chicory was a popular coffee substitute and economizer for 2 centuries, | Saint Helena | Sweet Maria's Blends
Decafs: Water Process, Natural Decafs, MC Decafs, C0-2 Decafs
Robustas: India | Uganda Archives: 2008-2009 | 2007 | 2005-2006 | 2003-2004 | 2001-2002 | Pre-2000 Review Archive
This page is authored by Tom Owen and Sweet Maria's Coffee, Inc. and is not to be copied or reproduced without permission.
Green Coffee Beans 70+ Selections Hearthware I-Roast 2 Fresh Roast Home Coffee Roasters – Two Models Gene Caffe Drum RoasterA roaster with a rotating drum that provides agitation to the beans, while a heating element (typically either electric or gas) provides heat. The metal drum conducts heat to the beans, so drum roasters heat
BehmorA popular electric drum roaster designed for home use, with variable batch sizes (from 1/4 pound to 1 pound) and a smoke-reduction system. It has been modified and upgraded in refining the base model over the years. 1600 HotTopA home drum roaster with a 9oz capacity, adjustable heat and airflow profiling, and an external cooling tray.: A home drum roaster with a 9oz capacity, adjustable heat and airflow profiling, and an external cooling Drum Roaster Stovetop Popper Roasting Espresso Equipment & Accessories
Nesco Home Coffee RoasterA machine for roasting coffee. Or the person operating it! The basic requirements for a coffee roaster are a heating element that gets suitably hot and a mechanism for agitating the beans.: A mechanism for TechnivormThe Technivorm is a Dutch-made electric drip brewer for the home that is known for it's good design, and good results. You can find them for sale on our site, the only standard electric drip Electric Brewers Chemex Coffee Brewers Coffee Bags: for green and roasted
Zassenhaus Hand-Crank Mills Nissan & Zojirushi Travel Cups/ Bottles Vacuum Brewers: Cona, Yama Coffee Cleaning Supplies
Espresso Machines: Giotto Professional and Premium, Rancilio Silvia, Andreja Premium , Gaggia, Coffee Books
Miscellany and Sweet Maria's T-Shirts Electric Coffee Mills: Mazzer Mini, Maestro, Rancilio Rocky, Bodum Manual Drip Brewing
Our Weekly Roasted Coffee French PressA simple coffee brewer also called a Press Pot: grounds and hot water are added to a carafe, allowed to sit for several minutes, and then a filter is pushed down to hold the grounds Coffee Brewing IbrikA pot for making turkish coffee with wide bottom, narrow neck, and long handle."Ibrik" is the Turkish word for this coffee pot. It is usually made out of copper or brass and lined with tin.: Turkish CoffeeA strong preparation of coffee, finely ground, and often prepared in an Ibrik over a heat source like a gas stove. Traditionally it was placed in hot sands and the vessel itself would hold 1 Brewing Mokapot: Stovetop Espresso
Sweet Maria's Coffee Library (Tip Sheets, FAQs)
Sweet Maria's Coffee Cupping Reviews
Sweet Maria's Shopping Cart System
Search our Site