Our monthly digest from the Sweet Maria's Email list, announcing new coffees, new content and new events!
May 2021 offerings are all listed here for your reference. If you want to receive emails about our arriving coffee, events, product and news, sign up for our emailer.
---
April 2, 2021

Timor Leste Goulala Village – Goulala has a well-balanced flavor profile, sugar in the raw sweetness, moderate bittering bass notes, pistachio, almond meal, chocolatey dark roasts, and a mild acidic impression. Good for espresso.

Sulalwesi Toraja Pulu Pulu – A stand-out Sulawesi coffee, refined sweetness and brilliant acidity, aromatic clover honey, clean and bright hints of mandarin orange and citrus pith, and a sweet finish.

Brazil Dry Process Sitio Senhor Bom Jesus – There's so much flavor packed into the medium roasts, fruited chocolate, nutty sweetness, carob, creamy cocoa butter, peanut toffee and sesame sweets. Good for espresso.

Burundi Kazoza N'Ikawa Coop Lot 2 – Such a sweet coffee across the recommended roast spectrum, sugar cane juice, a sachet of clove powder and all spice, black currant tea, and an aromatic note of orange on the nose.

Brazil Dry Process Pedra Branca – Robust cocoa roast flavors are matched by unrefined, molasses-like sweetness, palm sugar, freeze dried fruit accents, and rum candy in the aroma. Good for espresso.

Burundi Dry Process Kibingo – Cooked fruit and wheat flavors that bring to mind raspberry pie, hints of barley malt syrup and dried prune. Soft acidity and bittersweet at Full City, a note of dark cacao bar with crisped rice.
---

Sweet Maria's customer, David Almond cooked up this minimal and functional kitchen coffee roaster. Sure, chaff and smoke are free to roam but it's pretty awesome considering you can probably build one for a few bucks in under an hour. This is actually an upgrade from David's original invention that roasted half the amount. Check out our blog post and video to see how this machine was born.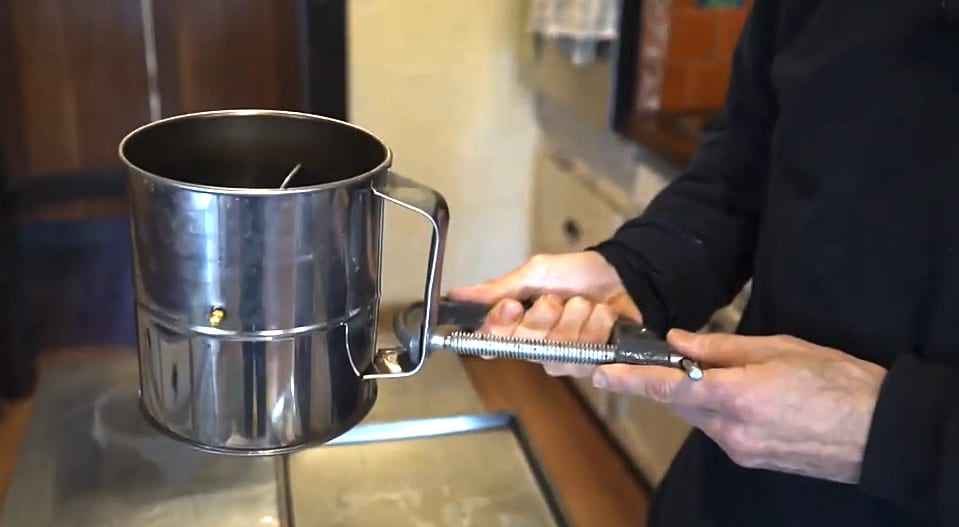 We added a limited supply of Liquid Amber to the list today but it's not a lot so we apologize if it's sold out by the time you read this. We care a lot about he quality of coffee that goes into this blend and have located a very high-quality Indian monsooned coffee (one of Liquid Amber's ingredients). We should have it and a healthier stock of Liquid Amber around early Summer.
---
April 7, 2021

Timor Leste Dry Process Kailitlau – Bold dry process character, berry aromatic hints with palm sugar sweetener underneath, opens up to freeze dried mango, natural dried apricot, and date.

Peru Huabal Ancelmo Guevara – Toasted sugars, accents of apple, walnut, and brown butter, acidity signals tartaric-type fruits. Dark roasts are well-balanced by bittering bass notes and subtle fruited sweetness.

East Africa Sample Set – High caliber coffees in their own right, the East Africa Sample Set emphasizes flavor diversity found in the coffees from the neighboring countries of Burundi and Rwanda.
---

Want to know what coffees are scheduled to land on our offerings page this month? Check out the April edition of our Green Coffee Outlook. You should take a look if you have been curious about Liquid Amber, Africas and Guatemalas.
---

Our current offerings from Flores are balanced and mellow with nice chocolate and spice notes. Check them out along with our article about Flores and it's coffee.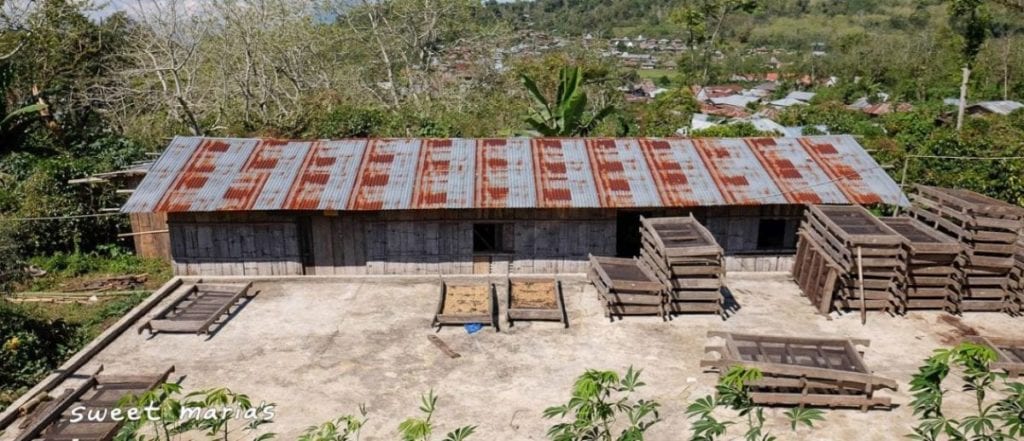 ---
April 9, 2021

Timor Leste Dukurai Loiludo – Crowd pleasing brew, molasses and rice syrup sweet notes, accented by roasted nut, and chocolate bittersweets like cacao nibs, hazelnut chocolate, and cocoa powder. Good for espresso.

Flores Gunung Waja Mala – Waja Mala has a bran muffin aspect in aroma, with flavors of turbinado sugar, walnut, cinnamon stick, a subtle earth tone, and the bittersweetness of flourless chocolate torte.

Sulalwesi Enrekang Angin Angin – Honeyed sweetness, herbal accents, moderate acidity, flavor notes of Russian tea cakes, orange, clove, Earl Grey, lemon, horehound and licorice root.

Java Wet Hulled Parahyangan – Finds parity with Lintong coffees, mossy aromatics, foresty 'green' notes, herbaceous, earthy hints of brown rice syrup, roasted barley, tobacco leaf, cedar, and bread malt.

Sulawesi Wet Hulled Toraja Sapan – Complex wet-hulled flavors at a wide roast range, unrefined sweetness, herbal aroma, hints of candied yam, overripe banana, citrus pith, woody sugar cane stalk, layers of cacao and fig.
---

For years I have thought that if Sweet Maria's ever stopped selling coffee, we should go into the bag business. People love bags! So many types of bags from paper to plastic to cloth to burlap – and so many things to put in them!

Of course, I jest. But basically as a re-packager of unroasted coffee – taking coffee from a very big 60kg or 70kg bag and putting it in little bags – we spend a lot of time thinking about bags. The current zip bags we use are #4 recyclable, and are sturdy enough to be re-used, washed and re-used again quite a few times. That is what I do.

But for some time now, we have been looking for biodegradable bags with a zip and the options have not been good. But that is changing and we hope to start introducing biodegradable bags for some of the smaller sizes of coffee. For larger sizes, our focus is on more durable bags that provide good barrier protection for coffee and are easily re-used.

– Maria

Brewing coffee is simple right? Coffee…water. Pour water. Drink. But then you realize it tastes better when you pour for 3 minutes instead of 1 and then you notice how you get different notes from your ceramic dripper compared to your Aeropress. You get the point. Check out our Coffee Brewing Framework page for general recipes for your favorite brewing techniques.
---
April 14, 2021

Sumatra Mandheling-Aceh Triple-Pick – Rustic sweetness, herbal and earthy accents, a layered chocolate roast taste unfolds to rustic sorghum syrup, date sugar, and mossy, earth-toned aroma. Good for espresso.

Guatemala La Libertad Finca Terrazas – Our first new crop Guatemala offers balance, refined sweetness, and versatility, notes of light brown sugar, caramel, chocolate bittersweets, dried apple and raw hazelnut. Good for espresso.
---

They say "the perfect is the enemy of the good"… That comes to mind with our rollout of the Ecotact Troiseal bags for 20 Lbs of coffee. They are not perfect, and some say they aren't even good! But they are keeping your coffee from tasting like cardboard. That's good, isn't it?

In 2021 we know green coffee is best stored in a high barrier container to preserve quality. In an arid or humid environment, your coffee stored in a cloth bag is going to drop in quality within a couple months, maybe sooner. The coffee industry used to think a breathable bag was good for green coffee storage. We were all wrong!

You probably already have something around the house that offers great protection. Like glass! Glass is great.

The Troiseal bag will protect your larger orders of coffee as well, but it's proven to be a bit of a hassle to reseal. We actually do not recommend using the adhesive seal strips. We have proven that rolling the bag from the top and using a clip (like a binder clip) is an airtight seal. And you can expect your coffee to be protected and maintain ideal equilibrium. Green coffee doesn't need a valve like roasted coffee, nor does it need oxygen to be flushed out ( though it doesn't hurt).

We think the Troiseal works. But we respect that some people just prefer some other packaging. So If you order 20 Lbs and do not want the order shipped in the Troiseal bag, please email us at [email protected] right away and we can send it in our woven poly bag (with an inner liner zip bag).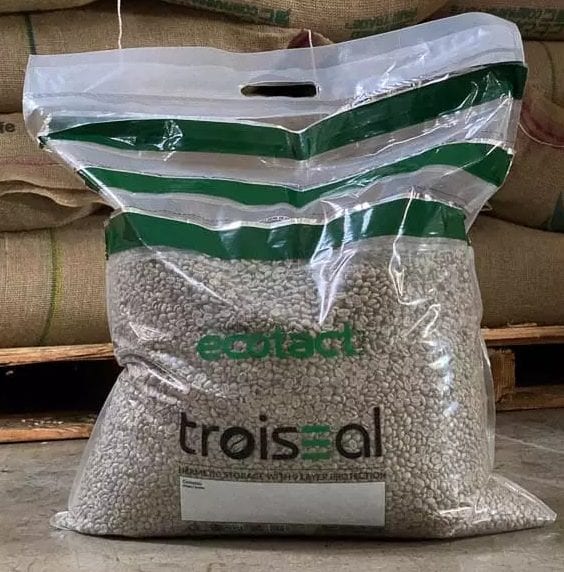 Deciding what roaster to purchase can be tough. We are here to help. Consider how much coffee you would like to roast, what your budget is, how much space you have to set up your roaster and if you are the perfectionist type. Knowing these personal facts can make choosing your next machine a breeze after reading our Home Roaster FAQ.
---
April 16, 2021

Peru Pueblo de Piñas – Exemplary of the flavor balance found in Peru, brown sugar is the underlying flavor tone, semi-sweet chocolate, hints of herbal tea and dried apple. Good for espresso.

Ethiopia Dry Process Taye Gedo – Complex fruit and wood spice aromatics, tamarind, dried berry and a bittersweet backdrop when roasted medium to dark. Stellar espresso blend component.

India Robusta Peaberry – What Robusta lacks in sweetness it makes up for in bold bittering roast flavors. Savory umami notes hint at toasted barley, buckwheat pancake, roasted corn and brewers yeast. Good for espresso blending.

Brazil Pulp Natural Fazenda do Sertao – Sugar-glazed almonds, baker's cocoa, and hints of sweetened almond milk. Dark roasts are blanketed in chocolate roast flavors. Good for espresso.
---

We are trying to make your green coffee buying experience even more enjoyable and want to know what you think about how we are doing things. If you have a minute, please fill out our survey. It's short and painless.
---

We pride ourselves on all the home roasting information we have to offer from videos, product descriptions to our tip sheets. Did you know you don't have to buy a coffee roaster to get a tip sheet? We offer them as PDFs for your printing pleasure. We even just added a new one for the Aillio Bullet.
---
April 21, 2021

Burundi Kabarore Commune Yandaro – Lighter roasts draw out potent aromatics, like whole clove and all spice, molasses sweetness, cola, and a brisk flavor of black tea with lemon. Good for espresso.

Rwanda Nyamasheke Gatare Peaberry – Aspects of semi-refined sugars, fruited acidity, laced with hints of warming spice, orange tea, and dried apple. Deep chocolate roast flavors with roasted dark. Good for espresso.

Moka Java Sample Set – The Moka Java blend is probably the most widely produced blend in the world, and certainly the oldest. We've grouped together our own coffees to make contemporary version of this old standby.
---

Have you had a chance to fill out our survey? It's pretty short and easy, we promise. Doing so will help us improve how we do things.
---

The Quest roaster is a bare bones, manual drum roaster that our Coffee Shrub customers like to use as a sample roaster. Quest user Maurice Nuñas recently released a great Quest handbook with roasting instructions, mods and roasting stages. Check out our short write up and links to the manual in our latest article.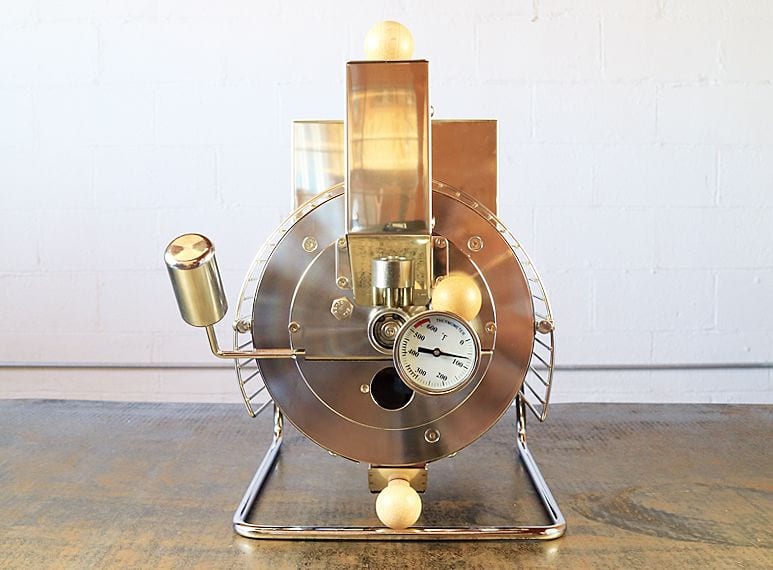 ---
April 23, 2021

Guatemala Huehuetenango Finca La Bolsa – Shows a refined balance of sweetness and bittering tones, honey glazed almond, milk chocolate, prailine nut, aromatic hints of almond cake and Baklava. Good for espresso.

Sulawesi Dry Process Topidi – Topidi dry process is intense with flavors of fruit leather, bittersweet cocoa, dried apricot, rustic prune and tamarind, with body so thick you could cut it with a knife!

Flores Wawo Muda Washed – City+ shows well developed sweetness, raw sugar and rustic dark chocolate, aromatic spots of chai spice and matcha tea, Mexican spiced cocoa.

Papua New Guinea Norikori – Light roasts show a malty sweetness, tea flavor accents like mango Sencha, cascara coffee fruit tea, and jamaica. Darker roasts have a delicious chocolate blackberry flavor.

Ethiopia Tebe Taye SWP Decaf – In a sea of decaf sameness, Tebe Taye offers a refreshing bit of difference. Look for rustic dried fruit, berry tones, a sappy pine note, bubble gum and dark pumpernickel bread. Good for espresso.

Brazil Café Condado SWP Decaf – Bold bittersweetness in the middle roasts, flavor notes consolidate to almond rolled in dark baking cocoa, cools to a light touch of cinnamon and smoked paprika. Good for espresso.
---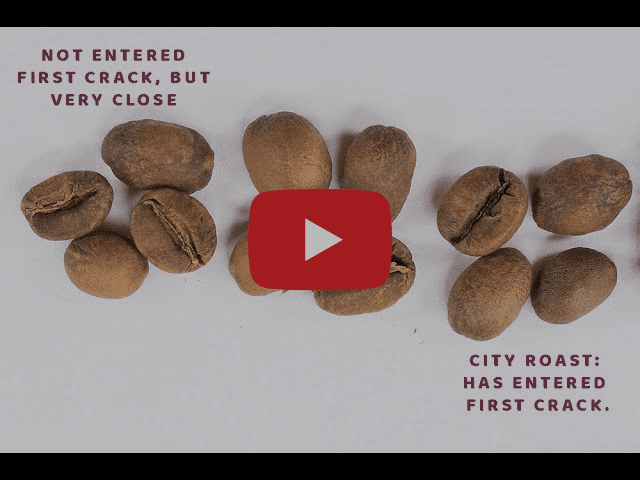 ---

The Behmor coffee roaster has a setting that allows the user to toggle between two different drum speeds. How much of a difference does it make in your roast? Take a look at our classic article and video describing how they can affect coffee coming from your Behmor.
---
April 28, 2021

Sumatra Wet Process Kerinci – Middle roasts yield a foundation of burned sugars and rustic chocolate roast flavors, accented by hints of custard, pumpkin, herbal notes of basil and dried sorrel, and surprisingly bright acidic impression.

Peru Huabal Santiago Tapia – Intoxicating aroma of fresh apricot and buttery brown sugar, the cup rooted in balanced sweetness, moderate brightness, and flavor notes of red apple, and pear accents.
---

Coffee is a crop. Crops are seasonal so it's normal to see coffees from different origins come and go on our offerings list. Did you find a new favorite and discover it was gone when you came back to our site to buy more. It happens. Check out our informative article on how to choose green coffee when your favorite is out of stock.
Our sample sets are all the coffee you probably want, curated into convenient bundles. We have a lot of choices from our standard sets, to espresso sets, to our DIY Moka Java set, Indonesia set and many more.
---
April 30, 2021

Yes! Colombias are finally back in stock. Thanks for all your patience. We are as happy as you are to have these sugary-delicious coffees on our offerings page again.
Brazil Pulp Natural Pedra Branca – Balanced flavors of raw sugar, layered chocolate roast tones and nutty sweetness, hints of chocolate hazelnut spread, marzipan, and nut brittle. Good for espresso.

Burundi Mutambu Colline Migoti – Elegant as it cools, dark sweetness is the focus, with hints of baking spice, raisin, aromatic black tea, and moderate acidity that's toned down in darker roasts. Good for espresso.

Colombia Inzá Veredas Vecinas – A framework of molasses sugars marked by hints of dried apple, walnut, and an aromatic almond note, dark chocolate with dark roast development and rounded mouthfeel. Good for espresso.

Colombia Urrao Valle de Penderisco – Brown sugar and roast bittering low tones open up to accents of red berry, date syrup, plum, sweetened cocoa, and black tea-like acidity that's somewhere between mild and moderate.

Colombia Urra Fray Moreno – This coffee is anything but 'neutral'! Berry-toned aroma, stone fruit accent of red plum, hints of mint and Yerba Mate, and a tangy-sweet pomegranate note that heightens acidic impression.

Colombia Urrao Finca San Carlos – The restrained sweetness opens up to perfumed honey as the coffee cools, Baklava pastry, honey cake, fresh fruited accent notes, raw panela, dark stone fruits and more.
---
What's that you say? Four new Colombias isn't enough Colombia for you. OK then. Stay tuned. We have a lot more coming down the pipeline in May including a Colombia Gesha.
---